2019 Department of Medicine Annual Report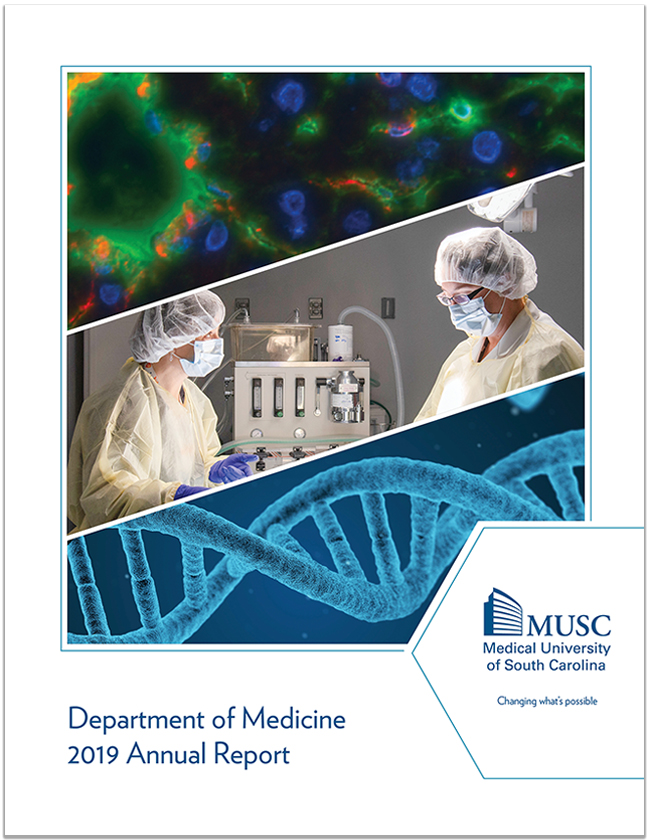 The 2019 Department of Medicine Annual Report highlights the outstanding work of our faculty, residents, and staff to improve patient care, drive scientific advances, and train the next generation of physician scientists.

The past academic year was one of extraordinary growth and progress across the Department of Medicine's tripartite mission of patient care, education, and research. In fact, by virtually every metric, this last year was one of the most successful in the Department's history - thanks to the commitment of our dedicated faculty, staff, and leadership.

Some particularly noteworthy Departmental highlights from this past year featured in this year's report include the following:

In March, after eight months in the making, the Department of Medicine opened its newly renovated Internal Medicine Residency Education space. The new space is a state-of-the-art educational area that offers an open, contemporary, and functional work space that is extremely welcoming and efficient. Since opening, this dedicated space for the full care team - including attending physicians, upper level residents, pharmacists, interns, and medical students - has garnered widespread accolades.

In research, FY19 was an outstanding year due to the success of the faculty who competed for a record high of $48M in external research funding and published over 388 articles to further advance that goal.

In patient care, we have been implementing innovative models of care that offer patients the right care in the right place at the right time through the use of telehealth services.

Working with the Center for Telehealth, the Department of Medicine is leading new, innovative telehealth initiatives, all aimed to improve the access, quality, and affordability of healthcare for South Carolinians. In this report, you'll learn about our new telehealth services being offered in Endocrinology, Cardiology, Infectious Diseases, Palliative Care, and Critical Care.
Download and read the 2019 Annual Report (PDF) or view the articles in the navigation toolbar.