Telehealth Services: Bringing Health Care Closer to Home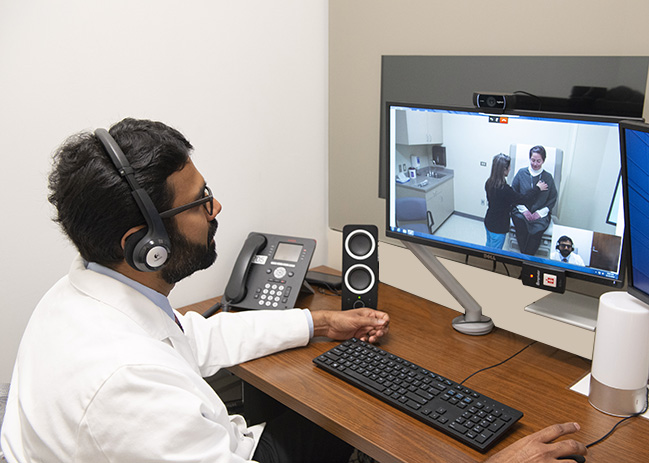 Providing clinical excellence also involves implementing innovative models of care that offer patients the right care in the right place at the right time. An important way MUSC is working to meet its service expansion goals is through the use of telehealth services.

Growing from 12 telehealth programs to more than 70, the MUSC Health Center for Telehealth is widely regarded as an industry leader in telemedicine and is one of only two National Telehealth Centers of Excellence designated by the Health Resources and Services Administration (HRSA).

Working with the Center for Telehealth, the Department of Medicine has made a specific commitment to lead new, innovative telehealth initiatives, all aimed to improve the access, quality, and affordability of healthcare for South Carolinians.
Diabetes: empowering patients to be involved in their own care
A new diabetes telehealth program offered through the MUSC Center for Health Disparities Research enables patients to monitor diabetes and blood pressure from their homes, with direct transmission of real-time data for viewing by their primary care doctors. This technology provides doctors and nurses with the information they need to make treatment recommendations over the phone between office visits.
"Our goal is to improve diabetic control for low income, rural adults in SC with type II diabetes who otherwise have difficulty accessing primary care," says Elizabeth B. Kirkland, M.D., MSCR, assistant professor and co-medical director of Technology Assisted Case Management for Low Income Adults with Type II Diabetes (TACM2).

Since inception, over 1,000 patients have been enrolled in the year-long program, and approximately 700 participants are still actively being monitored across the state of South Carolina. "What we found is that there are dramatic improvements in A1C levels in the first six months," says Dr. Kirkland. Kirkland attributes this success to patients being able to manage their own disease. Remote monitoring also reduces the barrier of having to continually go to the doctor's office, saving patients time and money.
Endocrinology Telemedicine Clinic
Beginning in July 2019, the Division of Endocrinology began offering endocrinology services via telemedicine at MUSC's specialty outpatient clinic in Murrells Inlet, SC. During these visits, patients consult with board-certified endocrinologist Harsha Karanchi, M.D., face-to-face via secure video conferencing. A certified medical assistant takes the patient's vital signs in person and the results are instantly provided to Dr. Karanchi, allowing him to provide the same level of care using telemedicine technology as he would during an in-person visit. Patients with diseases ranging from Addison's disease to diabetes to hypothyroidism will greatly benefit from this new service.
Infectious Diseases Telehealth
In June 2019, the Division of Infectious Diseases launched a new Telehealth Infectious Diseases program led by Amanda Parks, M.D., assistant professor of Medicine. To date, the team has conducted over 100 inpatient consults.
A typical telemedicine consult involves a face-to face-encounter between the physician specialist, the nurse, and the patient which includes a physical examination using state of the art equipment. In addition, the program also provides e-consult visits between the primary physician taking care of the patient and an infectious diseases specialist.

The program is tailored to the needs of each health system and patient, depending on size, resources and services offered, and includes comprehensive Infectious Diseases (ID) services. "Our primary service is providing expert inpatient consultation for ID cases," says Dr. Parks. "We also offer oversight, management, implementation and training for Infection Control and Antimicrobial Stewardship Programs."

In the future, the Division plans to expand its Tele-ID services to outpatient clinics as well.
Palliative Care Telehealth
Palliative care focuses on relieving symptoms and stress in patients with serious illnesses to improve the quality of life for both the patient and their family. MUSC has a robust palliative care team that is pioneering a new project with the Center for Telehealth.
In July 2018, the MUSC palliative care team received a 3-year, $1.26M grant from the Duke Endowment to create a statewide, palliative care telehealth program. This grant provides money to train and educate partner providers, as well as social workers and chaplains, to deliver true interdisciplinary palliative care, rather than strictly medical care.
"It's a big deal for South Carolina because there is a national shortage of palliative care physicians," says Patrick Coyne, MSN, ACHPN, ACNS-BC, FAAN, FPCN, program director of the Palliative Care Program at MUSC. "It's a new, exciting program. It will be one of the pioneers in the country."
Tele-ICU
MUSC Health offers 24/7 continuous patient monitoring for those in intensive care at partner hospitals. These critically ill patients are able to remain in their local communities and still be treated by experienced, board certified intensivists and critical care nurses.

Tele-ICU is a transformational program that uses proactive technology and two-way audiovisual communication to enable MUSC Health's critical care team to provide remote ICU care. Some hospitals use tele-ICU to gain access to intensivists while others use the service for an additional layer of critical care support. System alerts produced by sophisticated algorithm software alert the MUSC critical care team of important trends in a patient's condition, enabling proactive clinical decision-making and early identification of potential problems. The Division of Pulmonary, Critical Care, Allergy & Sleep Medicine provides key leadership for the Tele-ICU program where Dee Ford, M.D., professor of Medicine, is medical director and Nandita Nadig, M.D., assistant professor of Medicine, is associate medical director. Currently, there are six South Carolina hospitals enrolled in Tele-ICU program with plans to expand to 11 this fiscal year.
Cardiac Telehealth
In May 2019, MUSC launched a new partnership alliance with Hampton Regional Medical Center in Varnville, SC to bring specialty care services to the 32-bed rural hospital via MUSC's telehealth network. As part of this partnership, the Division of Cardiology now offers cardiac telehealth services at Hampton Regional. Cardiologists, Michael Craig, M.D., assistant professor and director of cardiac telehealth, and William Edwards, M.D., telecommunicate with an advanced practice provider at Hampton Regional to manage and provide care for a wide variety of cardiac disorders to both inpatients and outpatients with heart disease.
Hospitalist Telehealth
In 2019, the Division of General Internal Medicine launched a new Hospitalist Telehealth program at Hampton Regional Medical Center (HRMC). Through this program, MUSC's hospitalists round via telehealth daily with on-site advanced practice providers and are on-call as needed for teleconsultation coordinated by the on-site APPs. This service should substantially reduce costs and improve outcomes for HRMC.