Research Highlights: Fostering Innovation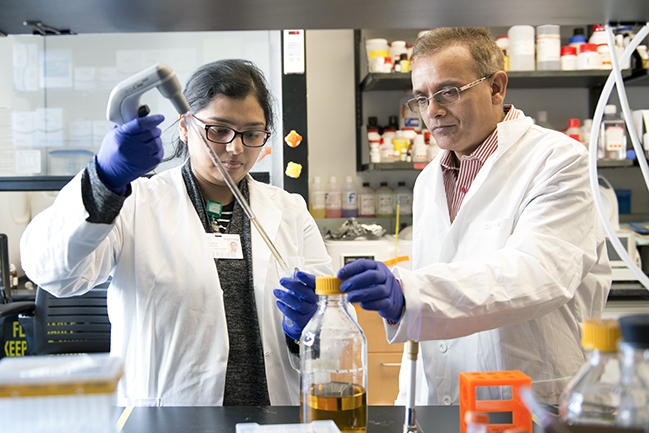 The Department of Medicine has a long tradition of conducting original and outstanding biomedical and clinical research, working to shape the future of medicine by forging new partnerships, developing scientific talent and supporting a culture of curiosity and collaboration.
Research Funding
FY19 was an outstanding year due to the success of the faculty who competed for a record high of $48M in external research funding and published over 388 articles to further advance that goal.
During the past academic year, the Department of Medicine's research portfolio totaled nearly $25.4 million in federal awards, $61.8 million in industry funded grants/clinical trial earnings and over $9.2 million in non-federal awards. In FY19, Medicine faculty acquired 18 new or competitively renewed federal awards resulting in a 21% increase in total federal grant funding as compared to the previous year. In demonstration of our commitment to advancing the careers of the next generation of researchers, four junior faculty members received a K or career development award.
Dom Research Symposium 2019
The 13th Annual Department of Medicine Research Symposium was held on April 26, 2019, with an outstanding presentation by Andrew Gewirtz, Ph.D., Professor, Institute for Biomedical Sciences, Georgia State University. A total of 65 abstracts were presented at this year's program by junior faculty, postdoctoral fellows, fellows, residents, graduate students, and medical students. Of those abstracts, five were selected for oral presentation awards. In addition, we instituted several new research-oriented awards which were presented at this year's Symposium.
View the 2019 Research Symposium Award Winners