The Susan Pearlstine Sarcoidosis Center of Excellence: Improving the Lives of Patients with Sarcoidosis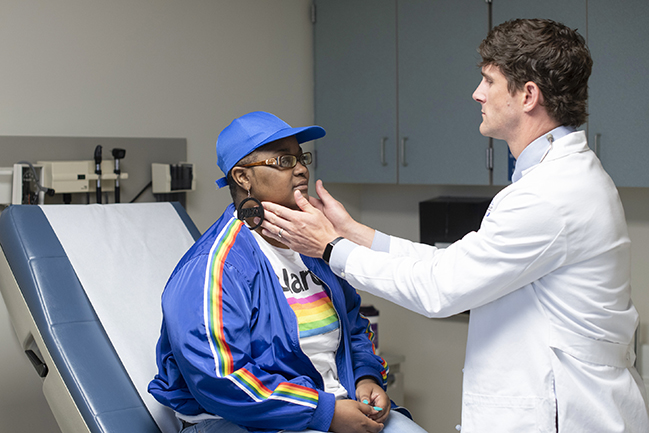 The Department of Medicine is deeply grateful for Susan Pearlstine's generous financial support in establishing the Susan Pearlstine Sarcoidosis Center of Excellence. MUSC now has a robust, nationally recognized sarcoidosis program as a direct result of Susan Pearlstine's vision and her $5 million gift to MUSC in 2013. The Center has enabled MUSC to significantly enhance treatment and care for patients with sarcoidosis while also engaging in clinical trials that could lead to new treatment options.
Under the direction of Ennis James, M.D., the Center has received numerous national honors and awards. In 2019, the Sarcoidosis Center at MUSC became the first clinic in the state to be recognized as a Foundation for Sarcoidosis Research (FSR) and World Association of Sarcoidosis and Other Granulomatous Disorders (WASOG) Sarcoidosis Center of Excellence. The designation provides formal recognition of MUSC's commitment to meeting the needs of sarcoidosis patients and efforts to keep abreast of the ongoing advances in sarcoidosis treatment and research.
Physicians specializing in sarcoidosis are available to see patients five days a week. MUSC uses a multidisciplinary team approach to make sure patients quickly see the best doctors for their case. Sarcoidosis care team members actively collaborate with other specialists, including those in dermatology, rheumatology, ophthalmology, cardiology, otolaryngology, and neurology. Over the past few years, the Center has increased its total patient encounters by over 40%, drawing patients from South Carolina, Florida, Georgia, Kentucky, North Carolina, and Tennessee.
In promising recent developments:
In 2019, the Center hired a new Program Manager, Maria Hoffman, MHA, to coordinate and streamline care for patients with sarcoidosis.
The Center holds quarterly patient support group meetings that serve as an educational and social forum for patients, caregivers, and family members of those affected by sarcoidosis.
In 2018, the Center was selected as one of 12 international sites to join the Foundation for Sarcoidosis Research Clinical Studies Network. 
Because of Susan Pearlstine's vision and financial support, the future is very bright for the Sarcoidosis Center at MUSC and the ever-increasing number of sarcoidosis patients who receive care at MUSC.


Support the Department of Medicine
There are many philanthropic opportunities to support our mission, and each gift to the Department makes an impact on our daily efforts. We hope that you will partner with us to advance education, expand research, and improve excellence in patient care.
Please contact Nat Howe, Director of Development, at 843-792-4280, howen@musc.edu or visit give.musc.edu/medicine/ar.