Transforming Medical Education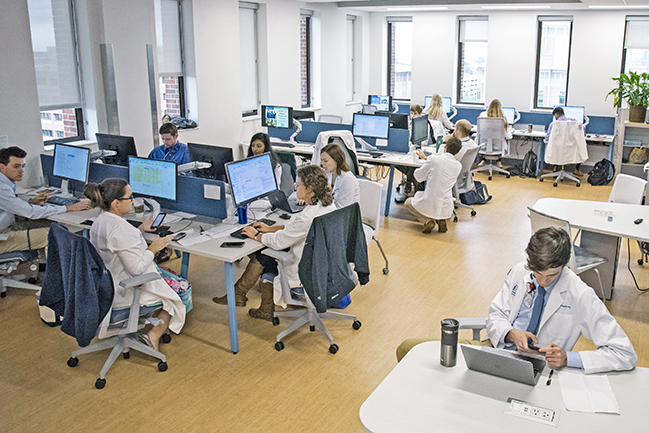 The Department of Medicine is deeply committed to the education and training of skilled clinicians, researchers, and educators bound to become the health care leaders of tomorrow. Under the leadership of Benjamin Clyburn, M.D., and Associate Program Directors, the Department of Medicine continues to pioneer evidence-based medicine training. With 99 internal medicine resident trainees, and 88 fellows across nine programs, outstanding training opportunities span the Department, College of Medicine, and beyond.

The Department offers fellowship programs across all nine divisions to provide extraordinary subspecialty training with focus for clinical, clinician-educator, and research careers. The program recruits trainees from the top medical schools and residency programs throughout the country, and its alumni are among the most distinguished medical professionals in the United States and abroad, including many of the current faculty of MUSC.
FY19 Highlights and Accomplishments
In 2018-19, the IM Residency achieved a 100% percent pass rate on the American Board of Internal Medicine (ABIM) Certification Examination.
In March 2019, the Department of Medicine opened its newly renovated Internal Medicine Residency Education space. The new space is an open, contemporary, functional work area that is extremely welcoming and efficient. "The core difference is that we now have much more dedicated space for the full care team — including attending physicians, upper level residents, pharmacists, interns, and medical students — to collaborate and coordinate care, which in turn enhances patient care and outcomes," said Devin Blankinship, M.D., one of the chief residents. The renovation also significantly expands and fully integrates technology usage throughout the teaching and research program. The space accommodates residents across multiple programs and enables the DOM to enhance both collaboration and innovation.


2019 Clinical Educator Awards Ceremony
The Department of Medicine's inaugural Clinical Educator Awards Ceremony was held on June 5, 2019, as a way to recognize and honor our outstanding residents and faculty for their achievements in the areas of clinical care and teaching. A critical goal of this event was to highlight the extraordinary contributions of our housestaff to the department, our hospitals, and the patients we serve. A further goal of this event was to recognize faculty members involved in patient care and education who contribute so much to the Department. Thus, we instituted several new excellence in clinical education awards, which were presented at this year's ceremony.