Albayram Research Lab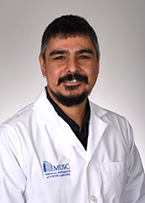 Assistant Professor
Division of Cardiology
Department of Neuroscience (Joint)
Dr. Albayram is an Assistant Professor in Medicine in the Department of Medicine, Division of Cardiology and Department of Neuroscience at the Medical University of South Carolina. He is also Affiliated Faculty of the Department of Medicine at Beth Israel Department of Medicine, Harvard Medical School in Boston. In 2009, Dr. Albayram has completed a M.S. in neuropharmacology at the Department of Pharmacological Sciences, University of Southern California in Los Angeles, California. In 2013, he has completed the Ph.D. in neurobiology at the Institute of Molecular Psychiatry, University of Bonn in Germany. During his PhD, he discovered the novel protective role of the hippocampal endocannabinoid signaling system in brain aging. Dr. Albayram completed his faculty training in Translational Neuroscience perspective at Harvard Medical School. During his time at Harvard Medical School, Dr. Albayram identified the unique cis conformation of tau protein as the early driver of disease in chronic traumatic encephalopathy (CTE) and traumatic brain injury (TBI).
He is developing an array of diagnostic tools to identify early pathogenic processes and also determine the primary mechanisms of progression of age-related degenerative disorders, like Alzheimer's disease, trauma, chronic cardiovascular disorders. His works were published in prominent journals and highlighted numerous press outlets, including Scientific American, Guardian, The Scientist, TIME and News Week amongst others.
Dr. Albayram's laboratory focuses on two principal areas: 1) understanding the roles of how endocannabinoid (eCB) signaling controls - and is affected by - normal aging and inflammatory and age-dependent degenerative disorders. 2) understanding the impacts of brain–gut–microbiota axis on cerebrovascular diseases, both age and trauma related.
People:
Onder Albayram, Ph.D. (Principal Investigator)
Justin Kiel (Research Associate)
Eda Karakaya (Research Associate)
Selected Publications
Albayram, O., MacIver, B., Mathai, J., Verstegen, A., Baxley, S., Qiu, C., Bell, C., Caldarone, B.J., Zhou, X.Z., Lu, K.P., Zeidel, M. (2019) Traumatic Brain Injury-related voiding dysfunction in mice is caused by damage to rostral pathways, altering inputs to the reflex pathways. Scientific Reports 9(1):8646.
Albayram, O., Kondo, A., Mannix. R., Smith, C., Li, C., Tsai, C.Y., Herbert, M.K., Qiu, J., Monuteaux, M., Driver, J.A., Yan, S., Gormley, W., Puccio, A.M., Okonkwo, D.O., Lucke-Wold, B., Bailes, J., Meehan, W., Zeidel, M., Lu, K.P. and Zhou, X.Z. (2017) Cis P-tau, induced after clinical neurotrauma, is a druggable target in preclinical neurotrauma models. Nature Communication8(1):1000.
Bilkei-Gorzo, A.,* Albayram, O.,* Draffehn, A., Michel, K., Piyanova, A., Oppenheimer, H., Dvir- Ginzberg, M., Rácz, I., Ulas, T., Imbeault, S., Bab, I., Schultze, J.L., Zimmer, A. (2017) A chronic low dose of Δ9-tetrahydrocannabinol (THC) restores cognitive function in old mice. Nature Medicine 23(6), 782-787. (* Equal contribution)
(Cover story; and News and Views Comments in Nature Medicine 12: 392-393.)
Albayram, O., Passlick, S., Bilkei-Gorzo, A., Zimmer, A., Steinhäuser, C. (2016) Physiological impact of CB1 receptor expression by hippocampal GABAergic interneurons. European Journal of Physiology 468(4), 727-37.
Kondo, A., Shahpasand, K., Mannix, R., Qiu, J., Moncaster, J., Chen, C. H., Yao, Y., Lin, Y. M., Driver, J. A., Wei, S., Man-Li, M., Albayram, O., Huang, P., Rotenberg, A., Ryo, A., Goldstein, L. E., Pascual-Leone, A., Mckee, A., Meehan, M., Zhou, X. Z., and Lu, K. P. (2015) An early driver of traumatic brain injury and neurodegeneration that can be effectively blocked by antibody. Nature 523(7561), 431-6.
Albayram, O., Alferink, J., Pitsch, J., Piyanova, A., Neitzert, K., Poppensieker, K., Mauer, D., Michel, K., Legler, A., Becker, A., Monory, K., Lutz, B., Zimmer, A., Bilkei-Gorzo, A. (2011) Role of CB1 receptors on GABAergic neurons in brain aging. Proc Natl Acad Sci U S A. 108(27), 11256-61.