Lobo Research Lab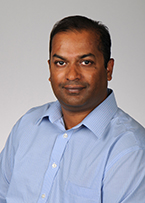 Glenn Lobo, Ph.D.
Assistant Professor
Division of Nephrology
The Lobo Research Lab is interested in studying molecular mechanisms of retinal cell degeneration and regeneration. Current research projects aim to investigate the role of novel receptors (STRA6l/ RBPR2) and mechanisms for systemic uptake of Vitamin A from its protein bound form (RBP4-ROL) and peripheral tissue storage of Vitamin A for chromophore production in sustaining human vision. In line with this, the Lobo lab's current research specifically focuses on understanding the mechanisms of retinal degeneration and injury associated with low systemic Vitamin A levels using mutant zebrafish and mouse models devoid of the RBPR2 Vitamin A transporter.
In collaboration with Baerbel Rohrer, Ph.D. and Joshua Lipschutz M.D., the Lobo lab is also investigating the role of the Exocyst complex in ciliogenesis, and mechanisms associated with pathologies of the eye. We apply state-of-the-art genomic, biochemical and molecular biology technologies, including CRISPR-generated mutant and knock-in zebrafish lines lacking novel receptors for Vitamin A uptake and previously established mouse models of Vitamin A deficiency, to determine the physiological consequences of low Vitamin A and its effects on vertebrate RPE and photoreceptor health. These studies will help elaborate potential underlying mechanisms responsible for linkages between systemic Vitamin A uptake and storage and chronic visual diseases and help to develop novel strategies in maintaining human visual functions. The laboratory is supported by grants from the NIH/NEI, Knights Templar Eye Foundation, Fight for Sight, MUSC start-up funds and the DCI.
Publications: