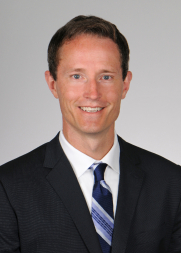 Lancer Scott, M.D.
Director, Center for Health Professional Training and Emergency Response
Chief, Emergency Medicine Section, VA Charleston
Founded by Dr. Scott in 2009, the Center for Health Professional Training for Emergency Response (CHPTER) is a ground-breaking community project, serving as South Carolina's first collaborative EPT center for health professionals. CHPTER has the potential to deliver advanced, timely, and cost-effective preparedness training to every health worker in the region.
With a goal to improve health professional preparedness and readiness around the state, CHPTER is attracting a long list of regional experts including the Department of Health and Environmental Control (DHEC), the South Carolina Hospital Association (SCHA), the South Carolina Medical Association (SCMA) and six Charleston hospitals. Interested public institutions, non-profit organizations, governmental entities, individuals or private ventures should contact Dr. Scott.
Contribute to the CHPTER Foundation
Publications
Scott LA, Madden, L., Wahlquist, A., & Fisher, D. Preparing for the Surge

:

A Half-Day Emergency Preparedness Training Course for the "Second Front". Disaster Medicine

and

Public Health Preparedness. Sep 2017. (PDF)
Scott LA. Disaster Medicine in the Post 9/11 Era. Southern Medical Journal. August 2017. (PDF)
Scott LA, Hutchison F. Mitigating Matthew

:

5 Lessons to Help Improve Hurricane Hospital Preparedness. Southern Medical Journal. August 2017. (PDF)
Jones J, Staub J, Seymore A, Scott LA,. Securing the Second Front

:

Achieving First Receiver Safety

and

Security through Competency-based Tools. Prehospital

and

Disaster Medicine, Vol. 29, No. 6, Dec 2014. (PDF)
Scott LA, Swartzentruber DA, Davis CA, Maddux PT, Schnellman J, Wahlquist AE. Competency in Chaos

:

Lifesaving Performance of Care Providers Utilizing a Competency-Based, Multi-Actor Emergency Preparedness Training Curriculum. Prehospital

and

Disaster Medicine, Vol. 28, No. 4, August 2013. (PDF)

Scott LA, Smith CE, Jones EM, Manaker LW, Seymore A. Regional Approach to Competency-Based Patient Care Provider Disaster Training: The Center for Health Professional Training and Emergency Response (CHPTER). Southern Medical Journal, 106(1):43 to 48, January 2013.

(PDF)
Scott LA, Maddux PT, Tolley J, Schnellmann JG, Wahlquist AE. High Fidelity Multi-Actor Emergency Preparedness Training for Patient Care Providers. American Journal of Disaster Medicine, Vol. 7, No. 2, Summer 2012. (PDF)

Scott LA, Haar CP, Schnellmann JG. Fostering Federal and Local Disaster Preparedness Partnerships: A novel use of AmeriCorps volunteers to support community-based disaster planning and training in South Carolina. The Journal of the South Carolina Medical Society. June 2012; Volume 108:69 to 75.

(PDF)

Scott LA, Crumpler J, Tolley J, Jones EM, Wahlquist AE. Disaster Care Provider Workforce Assessment. The Journal of the South Carolina Medical Society. June 2012; Volume 108: 81 to 83.

(PDF)

Scott LA, Ross AP, Schnellmann JG, Wahlquist AE. Surge Capability: CHPTER and the South Carolina Health care Worker Preparedness. The Journal of the South Carolina Medical Association. June 2011; Volume 107: 74 to 77.

(PDF)

Scott LA, Carson DS, Greenwell IR. Disaster 101: A Novel Approach to Disaster Medicine Training for Health Professionals. The Journal of Emergency Medicine. 2010 Aug;39(2):220 to 6. Epub 2010 Jan 15.

(PDF)

Scott LA. Letter. Disaster 101: A Novel Approach to Health care Students' Disaster Medicine and Emergency Preparedness Training. Disaster Medicine and Public Health Preparedness. 2009 Oct;3(3):139 to 40.

(PDF)