The May Lab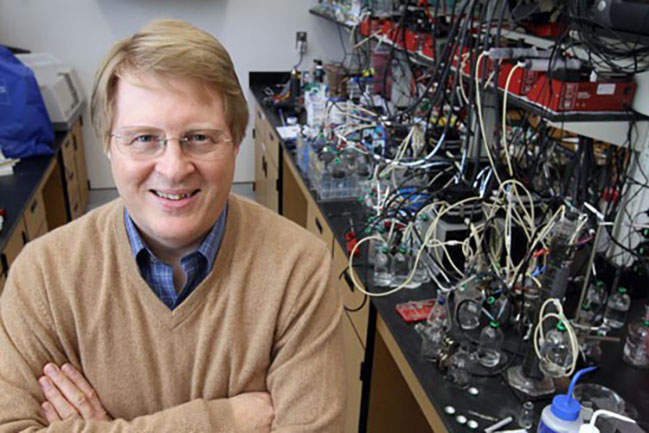 Harold May, Ph.D.
Professor
Microbiology & Immunology
1990-1994 Research Scientist, Celgene Corp., Warren, NJ
1987-1990 Post Doctoral, USDA, Albany, CA

Education
1987 Ph.D., Virginia Tech, Blacksburg, VA

Contact Info
mayh@musc.edu
Tel: 843-460-9888
Hollings Marine Laboratory, H212-E
331 Fort Johnson Road
Charleston, SC 29412

Research Interests
As an environmental microbiologist my research interests cover a wide range of topics and approaches investigating the action of microbes at the nexus of water, food, and energy. Much of our research has been aimed at bioremediation (e.g. the in situ degradation of polychlorinated biphenyls) and on bioenergy, but the table below indicates that the interests extend into many other topics of microbiology . For example, microbial electrochemistry is a specialty area of the lab and it is aimed at basic and applied research concerning deep sea microbiology as well as the production of fuels and chemicals. Collaborative study of microbiomes and metagenomes is another key component of our research. Often these interests overlap, indeed must be combined, to address a particular hypothesis or problem.

Recent Publications | Additional Publications
Payne RB, Ghosh U, May HD, Marshall CW, and Sowers KR. A pilot-scale field study: in situ treatment of PCB-Impacted sediments with bioamended activated carbon. Environ. Sci. Technol. 2019 Mar 5;53(5):2626-2634. doi: 10.1021/acs.est.8b05019. Epub 2019 Feb 18. PMID: 30698958

Jiang Y, May HD, Lu L, Liang P, Huang X, Ren ZJ. Carbon dioxide and organic waste valorization by microbial electrosynthesis and electrofermentation. Water Res. 2018 Feb 1;149:42-55. doi: 10.1016/j.watres.2018.10.092. Epub 2018 Nov 2. PMID: 30419466

Ross DE, Marshall CW, May HD, Norman RS. Metagenome-Assembled Genome Sequences of Acetobacterium sp. Strain MES1 and Desulfovibrio sp. Strain MES5 from a Cathode-Associated Acetogenic Microbial Community. Genome Announc. 2017 Sep 7;5(36). pii: e00938-17. doi: 10.1128/genomeA.00938-17. PMID:28883141

Marshall CW, Ross DE, Handley KM, Weisenhorn PB, Edirisinghe JN, Henry CS, Gilbert JA, May HD, Norman RS. Metabolic Reconstruction and Modeling Microbial Electrosynthesis. Sci Rep. 2017 Aug 21;7(1):8391. doi: 10.1038/s41598-017-08877-z. PMID:28827682

Payne RB, Ghosh U, May HD, Marshall CW, Sowers KR. Mesocosm Studies on the Efficacy of Bioamended Activated Carbon for Treating PCB-Impacted Sediment. Environ Sci Technol. 2017 Sep 19;51(18):10691-10699. doi: 10.1021/acs.est.7b01935. Epub 2017 Aug 30. PMID:28809549

LaBelle EV, May HD. Energy Efficiency and Productivity Enhancement of Microbial Electrosynthesis of Acetate. Front Microbiol. 2017 May 3;8:756. doi: 10.3389/fmicb.2017.00756. eCollection 2017. PMID:28515713

May HD, Evans PJ, LaBelle EV. The bioelectrosynthesis of acetate. Curr Opin Biotechnol. 2016 Dec;42:225-233. doi: 10.1016/j.copbio.2016.09.004. Epub 2016 Oct 13. Review. PMID:27743996