Neuromuscular Medicine Fellowship
The Medical University of South Carolina Neuromuscular Medicine Fellowship is offering a one-year program of advanced training in the clinical diagnosis, management, and pathology of neuromuscular disorders. Opportunity to pursue a second year of fellowship with advanced study and a focus on ALS research is available with special arrangement.
This fellowship will focus on the subspecialty of neurology and physical medicine and rehabilitation that includes abnormalities of the motor neurons, nerve roots, peripheral nerves, neuromuscular junction, and muscles, including disorders that affect adults, and children. Specialized knowledge in the science, clinical evaluation, diagnosis, pathology, and management of these disorders will be gained during this fellowship at a level that is significantly beyond that expected of a general neurologist, pediatric neurologist, or physiatrist. This fellowship is designed for individuals planning a career in academic neurology.
During the Neuromuscular Medicine Fellowship, you will:
Develop the skills, knowledge, and attitudes leading to proficiency in all aspects of neuromuscular clinical competency in outpatient neuromuscular clinics (visit the MUSC Health Neuromuscular Page for more information) and inpatient neuromuscular consultation.
Under guidance of experienced neuromuscular clinicians, evaluate and design treatment for patients with a full spectrum of neuromuscular diseases, with progressive responsibility during clinical work.
Participate in the laboratory evaluation of patients, including electromyography (EMG), muscle and nerve pathology, and genetic tests.
Learn the indications for and interpretation of muscle and nerve biopsies and genetic tests.
The fellowship includes a didactic course on neurophysiology, EMG conferences, neuromuscular pathology conferences, and journal clubs. There are opportunities for clinical research and fellows are encouraged to pursue a research project suitable for publication.
Fellowship Application Requirements
Applicants must have completed an accredited program in neurology, child neurology, or physical medicine and rehabilitation, or a program in one of these specialties that is located in Canada, and accredited by the Royal College of Physicians and Surgeons of Canada prior to fellowship.
Current Curriculum Vitae (CV).
Three letters of recommendation including one from the Neurology of Physical Medicine and Rehabilitation Chair.
Personal statement (2 pages maximum) describing your background, clinical & research interests, and career goals.
NIH or Other Support if available (current and pending grants).
Interview.
Faculty
Questions? Please Contact:
Amy Chen, M.D., Ph.D.
Neuromuscular Medicine Fellowship Program Director
chenia@musc.edu
Submit Application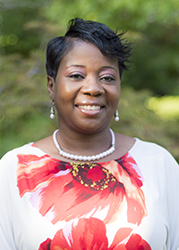 Jerri O'Banner
Fellowship Program Coordinator
stanleyj@musc.edu
843-792-0078
(application should be submitted as one PDF file)