A Message from the Director
Thank you for your interest in the MUSC Neurology Residency Program.
The Medical University of South Carolina, founded in 1824, is one of the oldest medical universities in the South East and one of the oldest neurology training programs in the country. The Division of Neurology has trained residents for more than 50 years. Our graduates have achieved distinguished careers in academics and private practice, throughout the United States and abroad.
At MUSC, we are committed to excellence in medical education, patient care, and cutting-edge research. Our facility is a 700-bed tertiary care center that boasts a Level 1 trauma center, a nationally recognized children's hospital, and a number of clinical centers of excellence. MUSC receives referrals from all parts of South Carolina, as well as North Carolina and Georgia.
Our residents learn from over 40 clinical neurologists representing all of the neurology subspecialties. MUSC is one of the highest volume stroke centers in the country, providing life-saving care to both local patients and to patients throughout the state of South Carolina via our robust and industry leading tele-stroke program. The Epilepsy program operates a newly-remodeled epilepsy monitoring unit, and our clinical neurophysiology lab has achieved accreditation in all possible areas of neurophysiology, including EEG, EMG, intraoperative monitoring, and cerebrovascular ultrasound. The department maintains active subspecialty clinics in movement disorders, neuromuscular diseases, epilepsy, multiple sclerosis, sleep medicine, headache, behavioral neurology, and cerebrovascular neurology. We also have a variety of fellowship opportunities, including vascular neurology, neurocritical care, movement disorders, epilepsy, and clinical neurophysiology.
The pages that follow offer a general overview of neurology training at MUSC, including the clinical and didactic components of our training program, and includes the answers to some frequently asked questions.
Thank you for taking the time to discover MUSC. We look forward to hearing from you.
Thank you,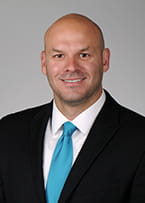 Nicholas Milano, M.D.
Assistant Professor of Neurology
Director, Neurology Residency Program