Chief Residents
Jacqueline Koshorek, D.O. 
Chief Neurology Resident
Welcome to MUSC Neurology! I feel fortunate to be a part of such a great program and group of individuals, and living in Charleston certainly does not hurt! I grew up in Berkley, Michigan and overtime have officially converted to the warm sunshine of the south. In choosing a residency I was looking for a supportive learning environment, exposure to all things neurology, and lifestyle. My main interest was neuroimmunology but I wanted to be at a program where I was exposed to everything and felt confident managing other sub specialty conditions. Being at the tertiary care center of South Carolina has given me the experience I hoped for, both with a variety of medical comorbidities and with neurological conditions themselves.
Wellness and lifestyle are also important to me and I have found that completing residency in Charleston has allowed me to feel balanced. It has given me the ease to ride bikes to the beach, travel, stay active, eat at one of the myriad of delicious restaurants, walk around the quaint streets of down town Charleston and spend time with my partner, family, friends, and our cats!

The relationships I have formed here have been unforgettable and will be greatly missed but I will be moving on to neuroimmunology fellowship next year. I will carry my excellent education and experiences with me and have no doubt that our program and my co-residents will continue to thrive!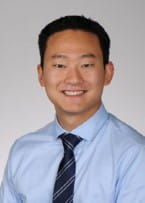 Jimmy Suh, M.D.
Chief Neurology Resident
Welcome to MUSC and Charleston! I grew up in Philadelphia, PA and have always lived within 2 hours from the city so moving down south was quite the change! I studied neuroscience at Johns Hopkins University and went to medical school at Penn State in Hershey, PA. After my interview at MUSC, I personally felt like this was the right fit; the residents were friendly, the attendings were outstanding, education was a priority (particularly being interested in vascular neurology with MUSC being at the buckle of the stroke belt), and the weather was second to none! Once my wife and I moved to Charleston, we adopted a Goldendoodle named Maddie and have enjoyed living here ever since. Being a tertiary care center and having been exposed to a variety of neurologic diseases and other sub-specialty conditions, I'm excited to say that I'll be pursuing a neurocritical care fellowship next year. Over the past 3+ years, not only have I learned how to become a better neurologist, but I have also enjoyed going to the beach, trying different restaurants, taking walks downtown, and hanging out with my fellow residents and nursing staff members. I can honestly say that I've enjoyed my time here at MUSC and have no doubt it'll provide you with a wonderful experience as well!
Our hope for this upcoming academic year is to continue the momentum our residency program has gained and foster a supportive environment for learning that has been continually improving. We feel like a static residency is one that is unable to grow. Open communication is key, thus, no one topic is too big or small to find ways to further our program for patients, residents, staff, and faculty. We hope you find yourself in Charleston and interested in our program, it's definitely a hidden gem!