Facilities
The MUSC Medical Center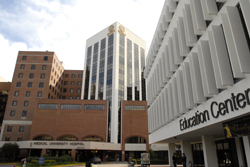 The Medical University of South Carolina (MUSC) has grown from a small private medical school founded in 1824 into one of the nation's top academic health science centers, with a 700-bed medical center (MUSC Health) and six colleges. As South Carolina's only comprehensive academic health center providing a full range of programs in the biomedical sciences, MUSC is engaged in activities statewide. Its campus is located on more than 80 acres in the city of Charleston, with an overall population of about 13,000 clinicians, faculty, staff and students. Nearly 3,000 students in six colleges (Dental Medicine, Graduate Studies, Health Professions, Medicine, Nursing, and Pharmacy) study for degrees at the baccalaureate, masters, doctoral, and other professional levels. The University also provides residency training for more than 700 graduate health professionals. The teaching staff is comprised of more than 1,700 full and part-time faculty.
Ralph H. Johnson Department of Veterans Affairs Medical Center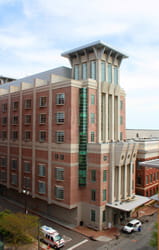 The Ralph H. Johnson DVAMC is a 117-bed primary, secondary and tertiary care medical center that provides acute medical, surgical, and psychiatric inpatient care, and both primary and specialized outpatient services in southeastern South Carolina.
The VA Medical Center also operates the outpatient clinics in Savannah, Georgia, and Myrtle Beach, South Carolina. Currently, the VA Medical Center is operating 87 beds and a 28-bed nursing home. The VA Medical Center is closely affiliated with MUSC and supports 76 medical residents in medical and dental specialties, as well students from nursing, pharmacy, social work, and allied health disciplines.