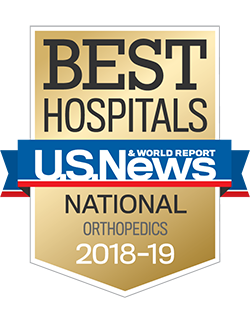 The Department mission is to provide exemplary and compassionate musculoskeletal care to our patients while educating tomorrow's physicians, nurturing an environment that encourages scientific inquiry, and serving our community.

As recognition of the commitment to the highest quality patient care, MUSC is proud to be ranked #37 among all orthopaedic programs in the country this year by U S News & World Report. This achievement is the direct result of the incredibly dedicated team that is MUSC Orthopaedics and Physical Medicine.
2018 By the Numbers!
Who We Are - Highlights and achievements of 2018 in the Department of Orthopaedics at a glance.
Education & Training
Education of learners at all levels is central to the academic mission. Included are 5-year ACGME residency and a new interventional spine fellowship.
Research
The Department of Orthopaedics receives research grants from federal sources, corporations and foundations. 2018 expenditures totaled $2.7 million.
Leadership
The Department chair leads the academic teaching and research functions and the ICCE chief leads the Integrated Center for Clinical Excellence.
Philanthropy
John A. Siegling Professor and Chair represents one of the highest honors an educator or researcher in the Department of Orthopaedics can receive.
Publications
MUSC Department of Orthopaedics faculty and residents have published scores of peer-reviewed articles in leading scientific journals
Faculty
The Department of Orthopaedics Faculty.