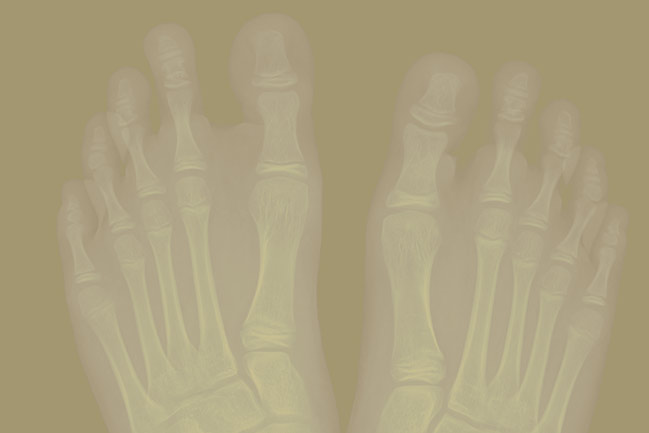 The Foot and Ankle Division is actively engaged in taking care of the patient across a multitude of disciplines, whether it be with limb salvage with vascular surgery, diabetic management with Endocrinology, or care of autoimmune issues and musculoskeletal pathology with Rheumatology.
The MUSC Health Foot and Ankle program specializes in treating a variety of injuries, including foot and ankle trauma, vehicular and sports injuries, as well as chronic conditions, such as arthritis and tendonitis. Patients include those who have been recently injured, as well as those who might have been injured in the past and now have chronic problems.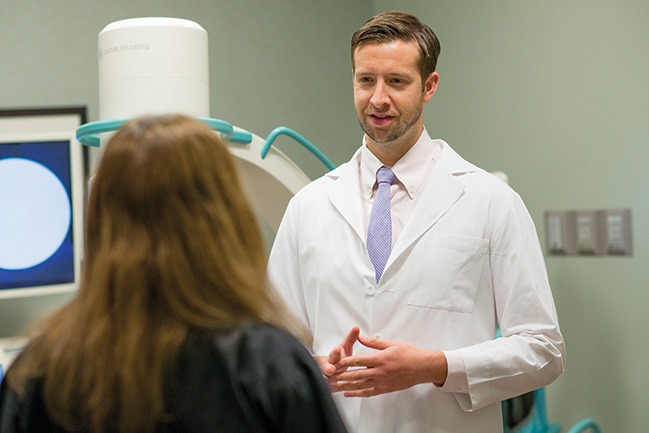 Christopher E. Gross, MD
Assistant Professor
Chief – Foot and Ankle Orthopaedics
Dr. Christopher Gross completed a fellowship at Duke University Medical Center after completing his residency training at Rush University Medical Center. He graduated from Harvard Medical School in 2009. He specializes in treating complex sports injuries, hindfoot deformities, ankle arthritis, and those who need revision surgery.
As a foot and ankle surgeon he is particularly interested in cartilage injuries that range from small defects to end-stage ankle arthritis. He hopes to develop and nurture a multidisciplinary research division within foot and ankle surgery with the goals of harnessing the power of biologics and improved implant design.
Clinical
Experienced orthopaedic surgeons in the Foot and Ankle Program at MUSC Health use a wide variety of non-surgical and surgical methods and techniques to treat foot and ankle injuries and conditions.
Minimally invasive surgery, such as ankle arthroscopy, may allow for earlier return to function after sports injuries.
For arthritis patients, ankle replacement surgery may be appropriate, which can preserve range of motion. Other patients may require reconstructive techniques such as bone fusion or tendon transfer to correct foot deformities.

Joining the team is a podiatrist to assist with the development of the Wound Care. He will streamline the care of the diabetic patients. In his elective practice, he will promote his minimally invasive approach to bunion correction which will be the first of its kind in South Carolina.
Regardless of the condition, the MUSC team practices proven techniques for bone and soft tissue healing, and cartilage preservation.
Research Highlights
Dr. Christopher Gross is the Principle Investigator for a grant awarded by the American Orthopaedic Foot and Ankle Society (AOFAS), the world's leading Orthopaedic Foot and Ankle Surgery society. He is investigating how genetic expression might be influenced by stretch on the Achilles tendon. Dr. Gross is recognized as one of the foremost authorities on ankle replacement. MUSC is now one of seven clinical sites in the country investigating the Wright Medical Infinity ankle replacement system in a prospective trial.

Dr. Gross has published extensively in the peer reviewed orthopaedic literature, including both original scientific research articles as well as authoring numerous chapters in textbooks. Additionally, he has presented his work both nationally and internationally this past year.

Other areas of current research include:
Achilles tendon degeneration
Safety of knee scooters
Driving after total ankle replacements
Radiographic outcomes following bunion surgery
Antimicrobial properties of orthopaedic hardware
Conditions treated 
Complex deformities
Sports injuries
Achilles tendonitis and ruptures
Fractures and dislocations
Infections
Gout
Chronic pain of the feet and ankles
Arthritis
Plantar fasciitis
Tendonitis
Foot and ankle deformities
Bunions and hammertoes
Heel pain
Arch problems
Congenital deformities
Nerve conditions
Ligament sprains and tears
Diabetic ulcers and Charcot deformities
Correction and salvage of previously failed surgeries
Procedures and treatments
3D printed surgery
Ankle fusion
Ankle replacement surgery
Arthroscopic ankle surgery
Cartiva
Joint immobilization
Orthotics
Splinting
Spur removal