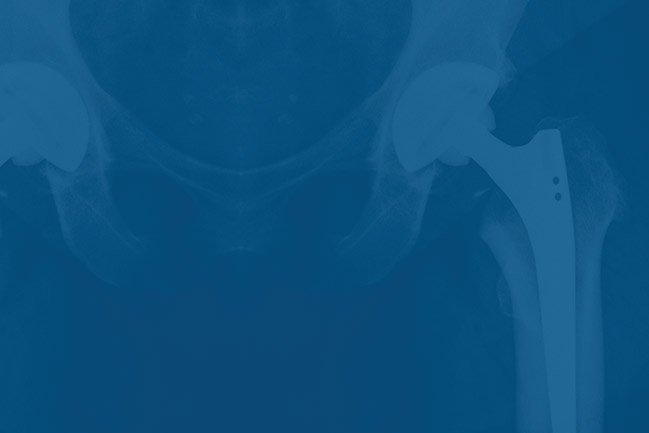 Adult Reconstruction and Arthritis is a comprehensive, multi-disciplinary program that spans the gamut from non-operative care of arthritis, to primary hip and knee joint replacement, to complex revision joint replacement surgeries and infection management.

MUSC Health is a tertiary referral center for such complex procedures and management of related complications, balancing the benefits of the most innovative techniques with proven technology to improve outcomes and facilitate recovery.

The multidisciplinary joint replacement team includes dedicated fellowship-trained orthopaedic surgeons, anesthesiologists with special expertise in regional techniques and nerve blocks, pain management specialists, hospitalists, physicians' assistants, nurses and nurse navigators, physical and occupational therapists, case managers, clinical research coordinators, and program manager and administrative support – all dedicated to the specific and multifaceted needs of joint replacement patients.
Faculty Leadership
Dr. Vincent Pellegrini is the Medical Director of the Orthopaedic and Joint Replacement inpatient unit at MUSC and Dr. Harry Demos is the Director of Quality Assurance and Process Improvement for the joint replacement program.
Vincent D. Pellegrini, JR. MD
John A. Siegling Professor and Chair – Department of Orthopaedics and Physical Medicine
Medical Director Inpatient Unit, Joint Replacement Division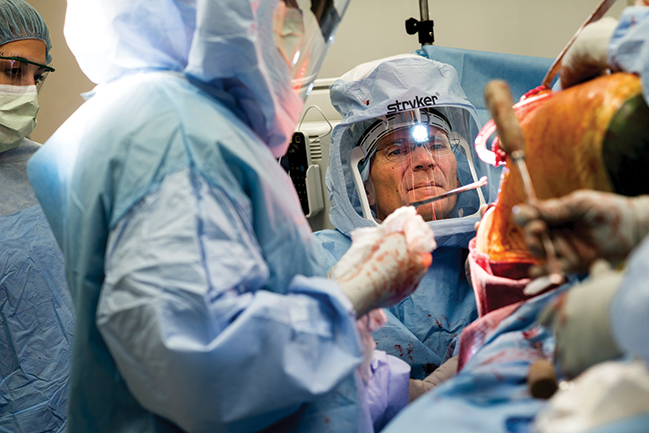 Dr. Vincent Pellegrini graduated from Dartmouth College summa cum laude with a BA and a double major in biology and economics, and received his medical degree from the Dartmouth Medical School with award of the Dean's Valedictory Medal. He was elected to the Phi Beta Kappa and Alpha Omega Alpha honor societies. After two years of general surgery at Hartford Hospital, he completed an orthopaedic surgery residency and a postgraduate fellowship in surgery of the hand and upper extremity at the University of Rochester, Strong Memorial Hospital. He is a diplomat of the American Board of Orthopaedic Surgery and holds a certificate of added qualifications (CAQ) in surgery of the hand and upper extremity. For the past 26 years, since 1992, he has chaired three different university departments of orthopaedics at academic health centers, including the Pennsylvania State University College of Medicine, Milton S. Hershey Medical Center, and the University of Maryland School of Medicine. In April 2013, he assumed the position of John A. Siegling Professor and Chair of the Department of Orthopaedics at the Medical University of South Carolina and in 2015 was appointed as the Chief of the Musculoskeletal Institute of MUSC Health.

Harry A. Demos, MD
Associate Professor
Director of Quality, Joint Replacement Division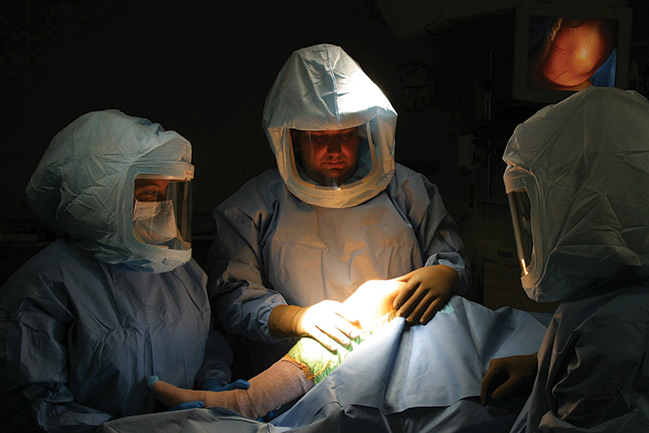 Dr. Harry Demos received his BS in computer science with an emphasis in bioengineering from Clemson University and his MD from the Medical University of South Carolina. He completed an orthopaedic research fellowship at Boston City Hospital and his internship at Boston University before pursuing an orthopaedic trauma fellowship in Birmingham. He then returned to the Medical University of South Carolina to complete his orthopaedic surgery residency, followed by a fellowship in adult reconstruction at the University of Western Ontario Medical Center in London, Ontario. Dr. Demos is passionate about his role as chair of the Quality Assurance and Process Improvement Committee for the joint replacement program and represents the department in multiple areas throughout MUSC Health, including his appointments to the health information services committee and EMR advisory board.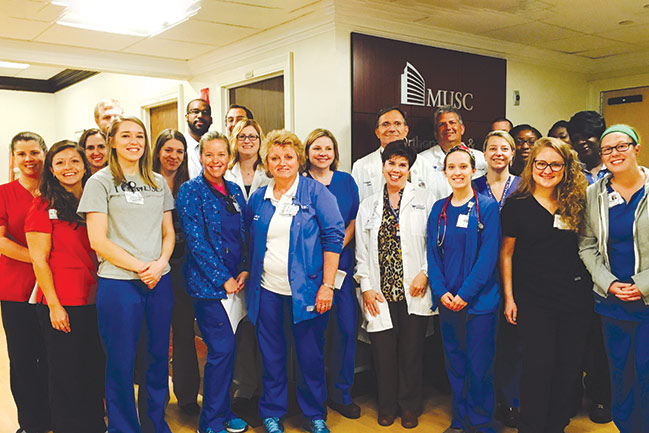 MUSC is one of only two hospitals in South Carolina to have its joint replacement program recognized with Joint Commission Advanced Certification for Total Hip and Knee Replacement. More than 700 primary and complex revision hip and knee replacement procedures were performed at MUSC last year. In addition to the #37 U.S. News & World Report overall ranking, the total joint replacement program received the highest designation as "High Performing."
702 total hip and knee replacements

15% revision cases
126 increase over 2016
55% TKA / 44% THA

No inpatient deaths – Mortality index 0.0
Average Length of Stay 2.4 days – LOS index 0.88
2.5% 30-day readmission rate
1.6% complication rate
HCAPS Overall Top Box Score >80%
81% of patients ambulating on day of surgery
90% of patients discharged home
99.6% adherence to antibiotic guidelines
Research Highlights
The division is committed to intellectual rigor and fostering a spirit of inquiry conducive to continuous improvement in patient care. MUSC is the lead institution for the Comparative Effectiveness of Pulmonary Embolism Prevention after HiP and KneE Replacement Trial, which is funded through a $14.35M Patient-Centered Outcomes Research Institute award. Additionally, MUSC serves as the central IRB for 25 of the 28 participating institutions, making MUSC one of the first institutions in the U.S. to sponsor a central IRB for a large multi-institutional clinical trial.

MUSC faculty members presented a collaborative instructional lecture entitled, "Preventing Hospital Readmissions and Limiting the Complications Associated with Total Hip Arthroplasty" at the American Academy of Orthopaedic Surgeons annual meeting during the past three years.

MUSC is also part of the American College of Surgeons Agency for Healthcare Research and Quality Safety Program for Improving Surgical Care and Recovery – supporting 700+ hospitals in implementing evidence-based perioperative pathways to improve clinical outcomes, reduce hospital length-of-stay, and optimize patient experience.