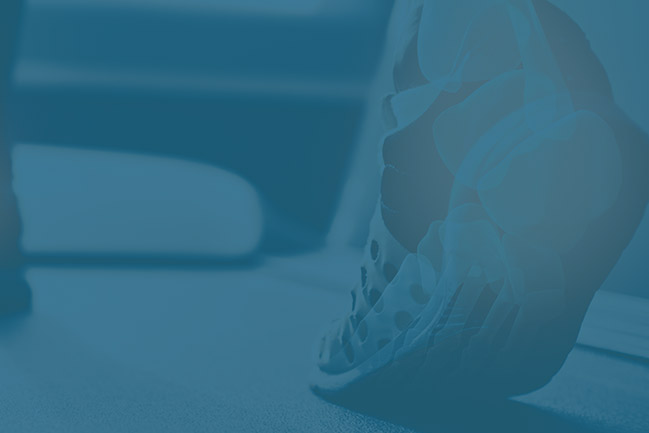 The MUSC Health Sports Medicine team is focused on restoring patients' ability to safely enjoy activity. It doesn't just patch up injured jocks; but is a fully comprehensive Sports Medicine service designed to prevent injuries, keep athletes at their best in their beloved activities and return them safely should they be injured. The patient population includes elite and professional athletes, weekend warriors, regular folks who just want to be active, and kids whose growing bodies need to be carefully prepared for participation in various sports.
MUSC Health Sports Medicine seeks to be regarded as a model system within our region for the delivery of integrated and high quality/high value medical care to our patients.The nucleus of the team consists of:
Orthopaedic surgeons and primary care physicians with fellowship training specific to sports medicine
Physician extenders dedicated to care of sports-related injury
Sports-specific physical therapists
Full-time athletic trainers dedicated to specific teams under our care
as well as other specialties that complete a comprehensive team including:
Sports neurologists and concussion experts
Musculoskeletal radiologists with skills specific to ligament, tendon, and joint injury
The MUSC Health Sports Medicine program is earning distinction as the premier resource for education of athletes and the community on injury prevention, diagnostic techniques, treatment methods, and general health/wellness.
The program's hallmark is a team-oriented approach to patient care, particularly for complex cases and we are often a referral center for difficult cases presenting locally and throughout the Southeast.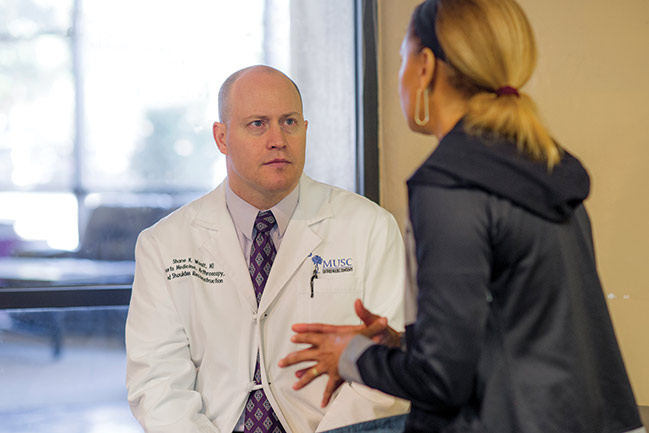 Shane K. Woolf, MD
Associate Professor
Chief – Sports Medicine
Dr. Shane Woolf is board-certified and holds the Certificate Of Added Qualification (CAQ) in orthopaedic sports medicine. He has served as chief of sports medicine at the Medical University of South Carolina since 2013. Along with other members of the MUSC Health sports medicine team, he provides medical coverage and support as head team physician to the Charleston Battery, chief tournament physician for the Volvo Car Open tennis tournament, as well as team physician for the Charleston RiverDogs, numerous local high schools, and other sports organizations. He is a member of the American Academy of Orthopaedic Surgeons, American Orthopaedic Society for Sports Medicine, Arthroscopy Association of North America, and the American Orthopaedic Association.
Woolf is president-elect of the South Carolina Orthopaedic Association and a past president of the Charleston County Medical Society. He has published numerous scientific articles on knee and shoulder research topics
Clinical
MUSC Health Sports medicine aligns with evidence-based and state-of-the-art practices. Among the interests that differentiate us are ACL graft selection, rotator cuff repair optimization, complex shoulder instability repair, concussion assessment and management and our service as a tertiary referral center for local and remote cases, second opinions, revision procedures, complex surgical cases, minimally invasive procedures, and high-quality care of athletes from all levels of competition.
As a tertiary care center, MUSC Health is positioned to be the best-organized comprehensive health care service in the region, with clinical access to specialty care across the Lowcountry. As a result, MUSC Health Sports Medicine is the only local/regional practice that includes unified access to all aspects of athletic care under one banner, including orthopaedics, physiatry, primary care sports, women's health, sports neurology, sports cardiology, and rehabilitation services.
Faculty Leadership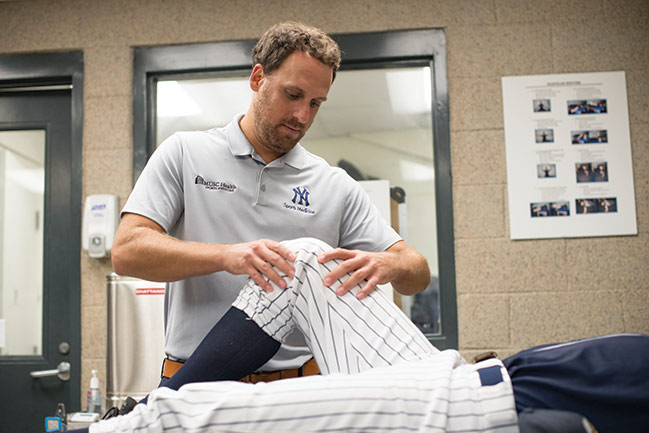 Harris S. Slone, MD
Assistant Professor
Dr. Harris Slone specializes in the operative and non-operative treatment of sports medicine injuries with a focus on arthroscopic and minimally invasive surgery of the shoulder and knee. He has provided care to several collegiate and professional teams, including Emory and Georgia Tech University (NCAA), the Charleston RiverDogs, the Charleston Battery and the Atlanta Falcons. As an active clinician scientist, he has published numerous peer-reviewed articles and textbook chapters as well as presented his research on ACL reconstruction with various graft options at national and international meetings.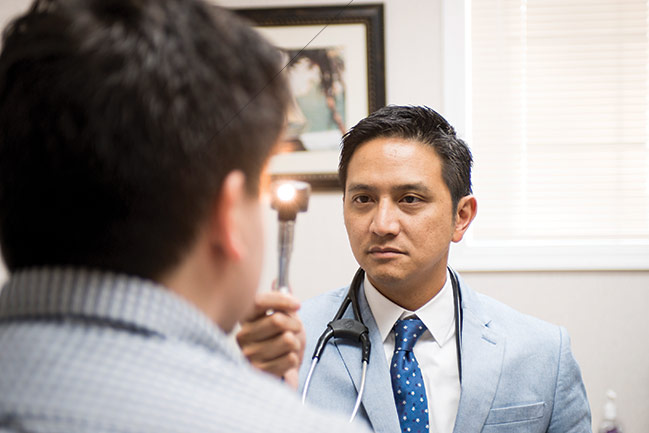 Alec O. DeCastro, MD
Primary Care Sports Medicine
Dr. Alec DeCastro is a primary care physician with a focus on sports medicine. He has extensive training in the non-operative management of musculoskeletal problems, from acute injury through rehabilitation, and is trained in the use of musculoskeletal ultrasound for diagnostic and treatment purposes. His main areas of interest are sports medicine, sports-related concussions, musculoskeletal ultrasound and medical education.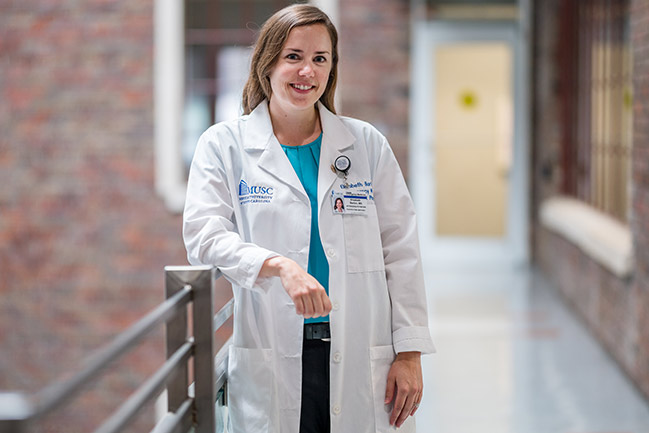 Elizabeth E. Barton, MD
Assistant Professor
Dr. Libby Barton splits her clinical time between the emergency department, sports medicine clinic, and event coverage. She specializes in non-surgical treatment of sports medicine injuries in the female athlete, including knee and shoulder injuries, but also medical conditions in athletes and physically active individuals. She has specific interests in emergent orthopaedic/sports medicine conditions and injuries, ultrasound applications in sports medicine, and medical education.
Eugene S. Hong, MD, MPH
Chief Physician Executive
Dr. Eugene Hong is a primary care sports medicine physician, board certified in both sports medicine and family medicine. His professional interests include the areas of concussions, tendinopathy, and tendinosis; injury prevention; acute and chronic injury and illness related to sports and exercise; exercise science; and the health and wellness of athletes of all ages and abilities. He has served as a team physician for several universities and colleges, two national U.S. lacrosse teams, and a number of high schools.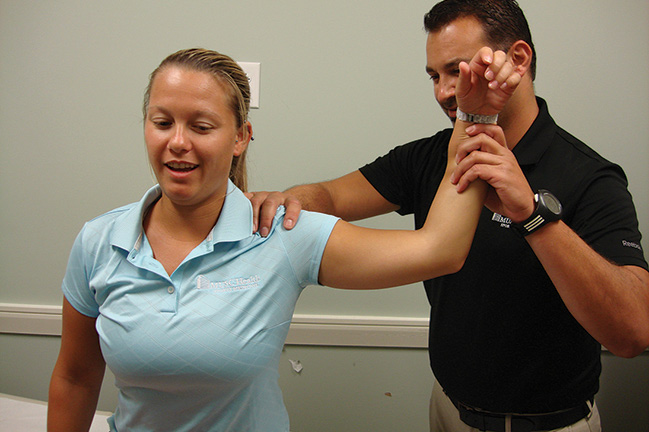 Michael J. Barr, PT, DPT, MSR
Manager, Sports Medicine
Mike Barr is the Sports Medicine Manager and a physical therapist at MUSC Health. He is responsible for the day-to-day operations of the Sports Medicine division, including overseeing MUSC Health's athletic trainers, outreach program, and event coverage.
Services offered
Orthopaedics – coordinated referral center for complex or routine ortho/sports conditions including all limbs and joints, hand, foot/ankle, spine
Primary Care Sports Medicine – general medical care with particular focus on athletes and active patients
Dedicated Program Manager – Michael Barr, DPT, who serves at the Primary Point of Triage and administrative partner to the Sports Medicine physicians
Sports Neurology – head injury/concussion program, advanced diagnostic and imaging capability, referral center for local and regional patients
Sports Cardiology/Pulmonology – full array of adult and pediatric specialists for screening of at-risk athletes and assessment of new-onset conditions
Women's Health – access to complete gynecologic services, female athlete triad assessment, and medical issues unique to our female athletes
Bone Health Program – coordination with rheumatology/endocrinology/orthopaedics
Dedicated Radiology/MSK Imaging Specialists – daily coordination with orthopaedic clinicians, weekly case reviews for quality assurance
Dental Medicine/Oral Surgery/ENT/Facial Plastics – specialists for face/mouth/tooth/jaw injury
Ophthalmology Services – for eye/globe injuries
Electronic Medical Records – all MUSC providers (physicians, ATs, PTs, staff) access same EMR to facilitate scheduling, orders, imaging studies, documentation, and communication
On-site at Schools – MUSC Health Sports Medicine ATs are on the "front lines" of the sports medicine community. They have the first contact with the injured athletes, their family members and coaches and communicate directly with our program manager and the MUSC Health Sports Medicine clinicians.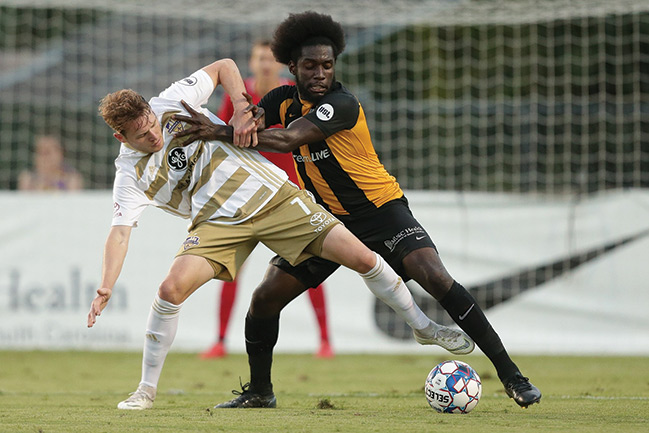 Sports Medicine Coverage
Professional Sports
Charleston Battery
Charleston RiverDogs
Volvo Car Open
Major League Lacrosse Championship 2018
Semi-Professional/Adult Teams
Lowcountry High Rollers – Roller Derby
Charleston Outlaws Rugby Football Club
Charleston Blockade Rugby Club

High Schools
Academic Magnet High School
Charleston Collegiate School
Charleston School of Math and Science
Coastal Christian Preparatory School
First Baptist School
James Island Charter High School
Palmetto Scholars Academy
Pinewood Preparatory School

Collegiate Club Teams
College of Charleston Club Sports

Youth Club Teams/Organizations
TMP Basketball
Charleston Battery Academy
Charleston Battery Camp
DAE Foundation

Recent Tournaments Covered
ACC Women's Soccer Semifinals and Championship
ACC Men's Soccer Championship
Charleston Boxing Club's Annual MOJA Cup
National Senior Women's Tennis Association Championships

Community Programs
Safe Kids Trident Area
Stop Sports Injuries, AOSSM program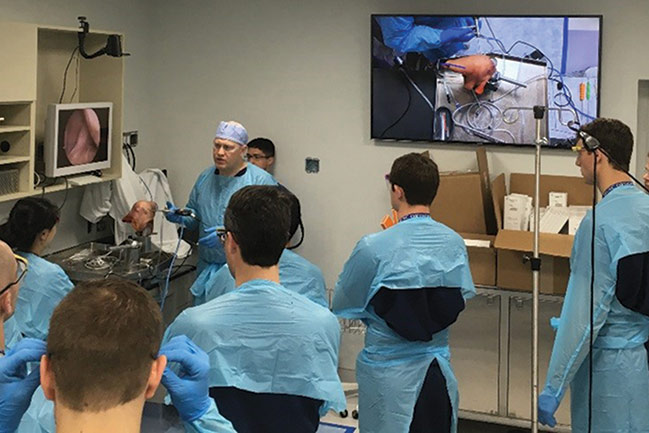 Training And Research
MUSC Health scientists and physicians are exploring new frontiers in sports medicine related clinical and basic science research.

The team collaborates on state-of-the-art-research in areas such as ACL graft advances, radiographic assessment of shoulder bone loss from instability, the impact of medical conditions such as diabetes and obesity on treatment outcomes, among many topics. New areas of collaboration with the Clemson University Bioengineering program are in development.

MUSC Health Sports Medicine and the Department of Orthopaedics and Physical Medicine recently concluded participation in a clinical trial sponsored by Flexion Therapeutics investigating the safety and efficacy of repeat dosing of a long-acting corticosteroid for knee arthritis. This product is now available and was shown to be effective for outpatient treatments.

The Department of Orthopaedics and Physical Medicine partnered with the Department of Regenerative Medicine and Cell Biology to create a unique and fully outfitted training facility that enables specific focus on arthroscopy and sports medicine, as well as other surgical techniques. The William B. Evins CASE Orthopaedic Bioskills Laboratory is the product of this collaboration. It provides training space for MUSC faculty, residents and students internally and for private industry-sponsored workshops and continuing education events.