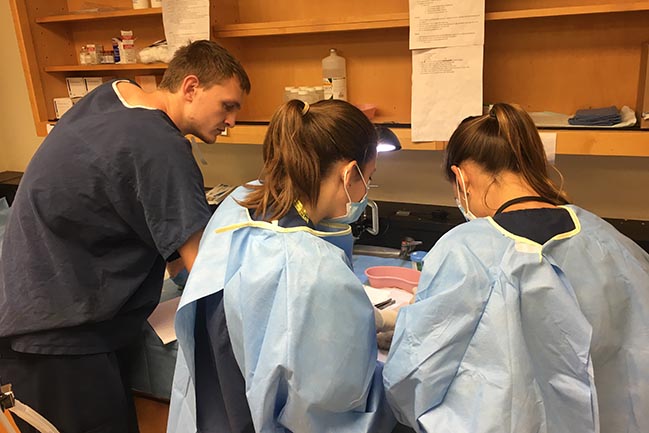 MUSC Orthopaedics leads medical education innovation to shorten residency training, improve competence, and reduce debt burden for students at graduation
Health care in the United States has changed dramatically over the past century. Surprisingly, the system of medical education responsible for training physicians has not kept pace. Courtesy of advances in our knowledge of disease, there is far more for the newly minted physician to learn. New technologies and less invasive techniques add to the list of skills that surgeons must master by the time they start practice. Yet, an increased awareness of the stress of medical training and the fatigue that accompanies long hours on the job has brought much needed reform in work hour limits for residents in training. While a typical work week ranged from 110 to 120 hours for a surgical resident 30 years ago, a maximum of 80 hours per week is now imposed by regulatory bodies. The net effect is a perfect storm. Residents have more to learn in a shorter period of time than was required one hundred years ago when the last serious review of medical education in the United States was undertaken.

And to make matters worse, medical education (like everything else) costs much more than it did one hundred years ago and physician pay has actually decreased over the past 30 years as a result of the health care reform movement. The average education debt of the graduating medical student in the United States was nearly $200,000 in 2018 and it appears that this reality has dampened the enthusiasm of the brightest and most talented students to pursue a career in medicine.

In an effort to mitigate this issue, as well as provide orthopaedic trainees with greater surgical experience and confidence in their own skills at the time of graduation, Dr. Pellegrini has pioneered an accelerated program of transition from medical school to residency. Educators at the Medical University of South Carolina in the Department of Orthopaedics and Physical Medicine are developing a new pathway of medical education by repurposing the fourth, and last, year of medical school. The program, called the Accelerated Curriculum For Orthopaedic Residency (ACFOR), was initiated by our Department with support of the Dean's office two years ago and has attracted national attention as an innovative approach to addressing some of the great challenges of contemporary medical education. It has enjoyed such popularity and acclaim on our campus that nearly every clinical department at MUSC will be launching similar accelerated transition to residency programs modeled after ACFOR next year.

Traditionally, the final year of medical school allows time for students to explore career options in different specialties and to visit other medical centers where they might be interested in pursuing residency training. This is a time consuming, and expensive, endeavor… particularly for students that have already decided which field they would like to pursue as a career, and even which program they would like to join for residency training.

The ACFOR program affords an opportunity to some of our most accomplished students, who have already decided upon the field of medicine that they wish to pursue as a career, to graduate a full year early and repurpose what would have been their fourth year of medical school towards residency training. The program requires adjustment of the order of courses in the third year of medical school, which is a complicated scheduling feat, so there is a limited number of interested students who can apply for the program. Once accepted as an applicant, the student's schedule of rotations is modified to have some of the most critical services occur early enough to support a decision about admission to the ACFOR program. Typically, this decision occurs in February of the third year of medical school. All of the required courses, which by mandate of the Licensing Committee on Medical Education (LCME) must include no less than 130 weeks of structured instruction, are completed in three academic years and the medical degree is awarded. Prior to graduation the ACFOR student has opportunity to do three or four elective rotations that are specifically designed to better prepare them for their chosen career in orthopaedics.

Ultimately, the year of medical school "saved" by early graduation is rolled forward into the residency program so the ACFOR resident will spend six rather than five years studying orthopaedics. However, in the final (sixth) year, the ACFOR resident can personalize their training by picking subspecialty areas in orthopaedics, such as hand surgery or sports medicine, in which to concentrate their studies. Presently, more than 90 percent of graduating orthopaedic residents already voluntarily choose to pursue an additional year of fellowship training after the conclusion of their traditional five-year residency. There is some evidence to suggest that one of the reasons for this is a lack of confidence by the graduating residents to start independent practice immediately upon completion of the residency. In many instances, we expect that this additional training in one or two areas chosen by the ACFOR resident will lessen the need and desire for an additional year of fellowship surgical training dedicated to a single specific subspecialty area. As such, the ACFOR graduates will have completed three years of medical school and six years of residency training in the period that currently includes four years of medical school and five years of residency. If a fellowship year is felt unnecessary by the ACFOR graduates, an entire year of training will be saved.

As envisioned, the net effect of the ACFOR program will be to graduate residents who are better prepared to enter independent practice upon completion of the residency program by virtue of the additional surgical experience gained in the sixth year. Moreover, they will pay one year less tuition by graduating in three years rather than four. And, if the fellowship year is foregone, the total time in training will be reduced from 10 to nine years so the practice life of newly minted physicians will be extended.

The ACFOR program is in its third year and has met with success and great enthusiasm thus far. It has attracted attention at a national level and was the centerpiece of a symposium concerned with deriving greater benefit from the fourth year of medical school at the 2017 Annual Meeting of the Association of American Medical Colleges. Locally, the popularity of the ACFOR program has led to an initiative to introduce accelerated transition to residency programs in almost every clinical department on the MUSC campus. ACFOR is poised to bring a simultaneous "win" to all constituencies involved in this discussion - the student and resident learners, the healthcare system, and our patients!