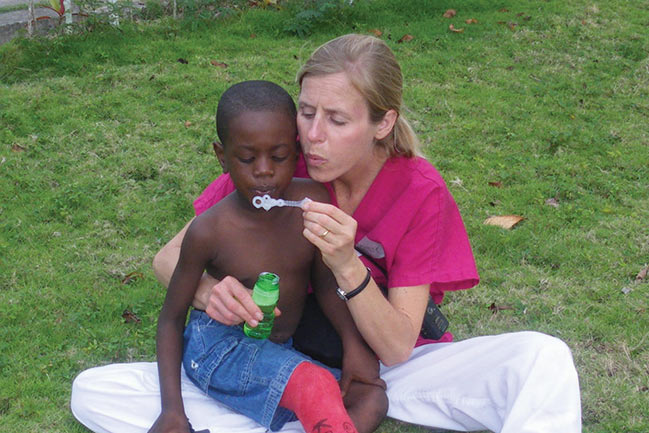 MUSC faculty and residents make annual trips to Haiti and participate in an exchange program with Haitian residents.
This program was started in 2015 by Robert Belding, M.D., with the enduring support of Shane Woolf, M.D. of MUSC Orthopaedics, and is organized and coordinated through the South Carolina Orthopaedic Association Foundation.
Twice a year as an adjunct to the orthopaedic trauma and pediatrics rotations, each South Carolina orthopaedic residency program sends a faculty member and upper level resident, plus various ancillary staff team members, to Port-au-Prince, where the team teaches on ward rounds and gives presentations at the Hospital de la Paix program.
The team then travels roughly four hours by land to Hospital Lumière in Bonne Fin, Haiti which is a small town in the mountains of the southern peninsula of the island. The hospital provides services to a local catchment area of over 30,000 and draws patients from over 100 miles away. The team cares for inpatients, emergent patients, orthopaedic clinic and ortho operating room cases for the week. Two Haitian ortho residents from de la Paix and a local Haitian surgeon are also at the hospital for teaching and patient care as part of the international team.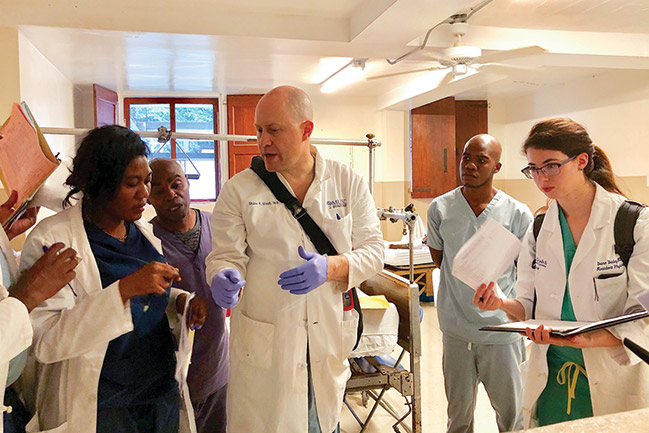 Six Haitian ortho residents (three separate pairs) later come to the U.S. to spend a one-week observership with one of the South Carolina ortho residency programs.
Part of the experience for the U.S. residents and team members is to review and plan in advance for complex cases, prepare for culturally and spiritually sensitive communications and behaviors, and to learn CDC recommendations for international travel and medical preparation.
Haiti is the poorest country in the western hemisphere. Its citizens' life experience is of third world conditions and austere medical care at best. In the U.S., the Accreditation Council for Graduate Medical Education (ACGME) guidelines for residency training require formal education of residents in five core competencies: professionalism, patient care, medical knowledge, interpersonal and communication skills, and system-based practice, which are formally taught by the attending surgeons during these rotations. Residents and team members are mentored to provide culturally competent care in a resource-poor region. Several studies have demonstrated that participation in international electives plays a positive and influential role in resident education. MUSC residents have described this experience as "life changing" and one of the best rotations during their five years.
To date, the South Carolina teams have seen over 2,000 patients in the orthopaedic clinic, supervised over 650 inpatients, and performed more than 550 surgeries. The surgical diversity is remarkable, especially given the fact that many traumatic injuries present to the clinic long after initial injury. The teams have specifically concentrated on teaching basic orthopaedic principles. Acute fractures, malunions, nonunions, acute and chronic infections, untreated congenital abnormalities, and soft tissue and osseous tumors are commonly encountered. For example, the teams have treated more than 175 fractures, nonunion and malunion repairs, 15 lower extremity amputations, and 27 femoral neck fractures managed with hemiarthroplasty. In addition, numerous osteotomies have been performed, along with other general cases such as carpal tunnel releases, posteromedial hindfoot releases, tendoachilles lengthenings and treatment for chronic osteomyelitis.
Residents who participated in the SCOA program:
Cory Messerschmidt
Steve Stacey
Max Mondestin
Sophia Traven
Dane Daley
Seth Bowman
John Neal
Lex Hanna