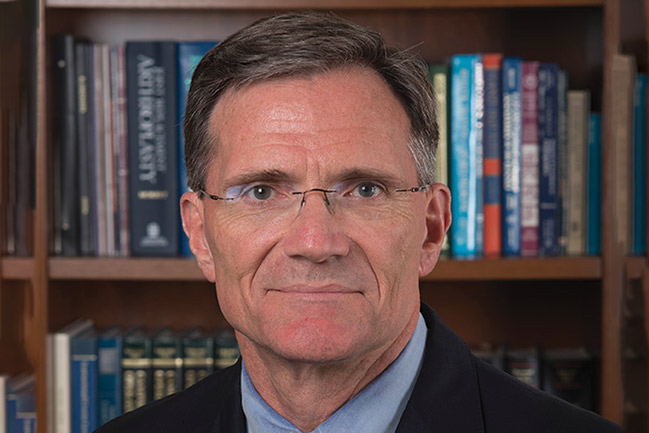 Dear Friends and Colleagues:
It is my pleasure to provide this introduction to the 2018 Annual Report of the Department of Orthopaedics and Physical Medicine at the Medical University of South Carolina. Engagement in pursuits unique to an academic health center differentiates us in the contemporary health care marketplace and, accordingly, these are some of the aspects of our Department about which we are most proud. Our mission is to provide exemplary and compassionate musculoskeletal care to our patients while educating tomorrow's physicians, nurturing an environment that encourages scientific inquiry, and serving our community.
As recognition of our commitment to the highest quality patient care, we are proud to be ranked #37 among all orthopaedic programs in the country this year by US News and World Report. This achievement is the direct result of the incredibly dedicated team that is MUSC Orthopaedics and Physical Medicine.
This year we are particularly pleased to acknowledge the expansion of the Department's clinical scope with the addition of "Physical Medicine" to our name. This clinical expansion will also benefit our academic agenda through rehabilitation education to both undergraduate students and graduate trainees in our new Interventional Spine Care fellowship program.
The most distinctive aspect of our clinical care is a firm commitment to intellectual rigor and discovery. Emblematic of this commitment is the PEPPER study of medications commonly used to prevent blood clots that result in pulmonary embolism, and sometimes death, after total hip and knee replacement. MUSC serves as the lead clinical site in this national trial, which is the largest federally
funded clinical trial ever to be conducted in orthopaedics. All six of our joint replacement surgeons at MUSC are deeply engaged in this endeavor and have made MUSC the leading enrollment site in the entire trial.
Our clinical research is complemented by a productive relationship with the Clemson Bioengineering program, which is housed on the MUSC campus and promises the development of new and better medical devices.
Some of our most rewarding endeavors occur in partnership with learners at all stages in their professional careers and include the mentoring of students and trainees who will be the healthcare thought leaders of tomorrow. This was the fifth consecutive year of a perfect performance by our residents on the certifying exam of the American Board of Orthopaedic Surgery. We have also received national attention for pioneering an accelerated program of transition from medical school to residency. It serves a dual purpose of reducing student debt and increasing surgical experience so that graduates are better prepared to pursue independent orthopaedic practice upon graduation.
Finally, our faculty harbor a strong service commitment motivated by a desire to lead and "give back" to both our profession and our local communities. We now boast two West Point graduates among our faculty ranks, as well as a resident member of the Board of Directors of the Society of Military Orthopaedic Surgeons. Through theirs and others' military deployment in service to our country, and the support of all our faculty in covering during their absence, we remain prominently engaged in the medical care of our servicemen.
On a more humanitarian note, we continue to send faculty and resident teams twice yearly to Haiti to provide orthopaedic care to underserved communities ravaged by the recent flurry of storms in the Caribbean. These engagements provide great societal good as well as unique educational experiences to expand our academic mission.
On behalf of the faculty and staff of MUSC Orthopaedics and Physical Medicine, I am delighted to share our accomplishments of the past year with you in the pages that follow.