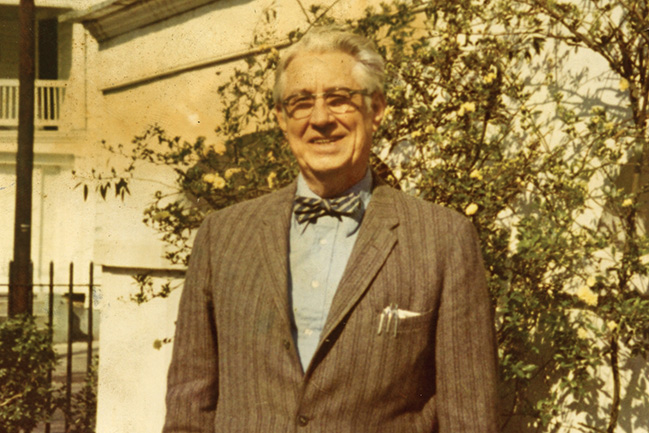 When Charleston native Dr. John A. Siegling returned to the Holy City in 1942, he could not have predicted that it would lead to a more than four-decade-long career at the Medical University of South Carolina, resulting in an orthopaedic chair endowment named in his honor.
Dr. Siegling's career in medicine began in 1932 when he earned his degree from MUSC, then known as the Medical College of South Carolina in Charleston. After a year of internship at Roper Hospital, he joined the Medical University as an instructor in pathology. Shortly afterwards, he entered the field of orthopaedic surgery, training for two years as an assistant resident at the University of Chicago Clinics and for one year at the Children's Orthopaedic Hospital at the University of Chicago.
Dr. Siegling completed his orthopaedic training in 1937 and practiced in Urbana, Illinois until 1942, when he rejoined the Medical University of South Carolina as an assistant professor of orthopaedic surgery. For the next 42 years, he devoted his life to training young orthopaedic surgeons in South Carolina. He was especially interested in treating physically disabled children, traveling often to Ladson and Orangeburg to see them – an interest that originated from his childhood, when, at the age of three, he himself was afflicted with polio.
From a young age, Dr. Siegling refused to believe he had a handicap and insisted on walking without a cane or assistance of a wheelchair. "He never let anything keep him from doing anything he wanted to do," said his daughter Missy Blocker. "And he encouraged children to do the same. Don't give up. Keep trying. Do what you can do."
It was this same conviction and hard work that he demonstrated as a child that followed him into adulthood, and his career success as one of Charleston's first orthopaedic surgeons and a leader throughout the field.
Now, more than three quarters of a century later, the John A. Siegling Professor & Chair of MUSC's Department of Orthopaedics and Physical Medicine, established in 2006, continues to honor the man who was widely recognized as one of South Carolina's more renowned educators in the field of orthopaedic surgery, having trained a goodly portion of the state's orthopaedic surgeons.
Dr. Siegling's daughter and fellow family members worked closely with MUSC's Development Office beginning in 1990, to help establish the fund that honored their well-loved father and husband. Through contributions from the Siegling family, MUSC faculty and staff, and former residents of Dr. Siegling's, the endowed orthopaedic professorhip became a reality within a few short years.
"I wanted to make sure it was established because it was something that my father always wanted. It was important to him," said Mrs. Blocker. "And, so we gave to make it a reality. And we continue to give every year."
Over the course of his medical career, Dr. Siegling established several residents' funds with his own private donations, helping many orthopaedic residents purchase books, attend conferences and continue their medical education through various opportunities. The creation of the professorship by his family after his passing in 1990 was a natural next step in giving back to the medical community and honoring his years of service to the hospital.
Since its funding, two orthopaedic surgeons have held the position of the John A. Siegling Professor and Chair, Langdon A. Hartsock, MD (2006-2013) and Vincent D. Pellegrini, Jr., MD (2013-Present), and represents one of the highest honors an educator or researcher can receive.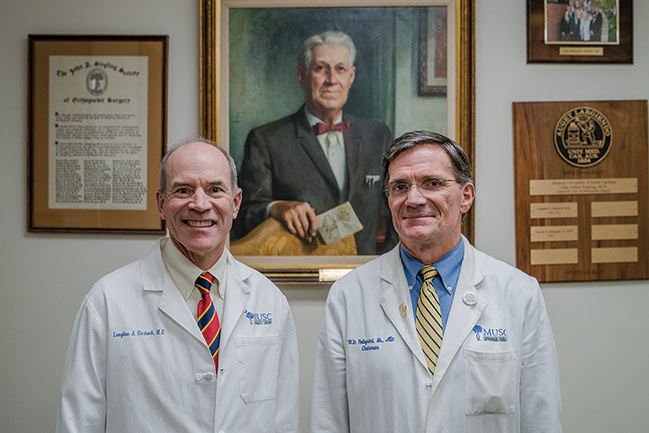 In 2013, the decision was made to attach the Siegling designation to the sitting active chair of the Department of Orthopaedics and Physical Medicine. As such, funding from the endowment provides critical monetary support for the academic activities of the chair, including research and resident education.
To learn more about the Dr. John A. Siegling Professor and Chair, please call 843-792-2677 or email giving@musc.edu.