Turner Lab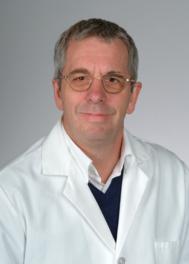 Assistant Professor, Department of Pathology & Laboratory Medicine
Director of shRNA Technology
 Lab Team Members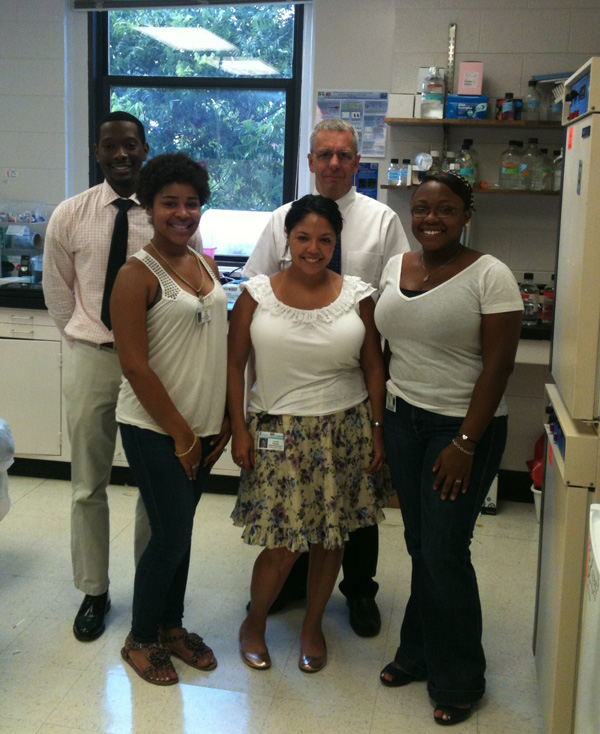 From left to right: Dion Foster (masters student), Deidre White (SURP student) Lourdes Nogueira, David Turner and Sylvia Bridges
Research Program
Research in the Turner laboratory is focused on two areas:
Basic/translational research studies into the causes and molecular mechanisms of cancer health disparities
Identifying potential biomarkers and novel therapeutic targets for the treatment of cancer
Cancer Health Disparities
Despite significant declines in cancer morbidity, racial health disparities in death rates still exist for many cancers. For example, in our state of South Carolina (SC), mortality rates between African American (AA) and European American (EA) prostate cancer patients are the highest rate in the country. AA prostate cancer patients in SC are three times more likely to die of prostate cancer than their European counterparts (EA). It is becoming increasingly apparent that racial disparity in cancer exists due to molecular and genetic differences in tumor biology as well as socioeconomic and standard of care issues. Though many molecular factors may cause racial specific differences in tumor biology, a potential role is provided by the mechanistic link between dietary sugars and cancer. Advanced glycation end products (AGE's) are reactive metabolites produced by the uncontrolled reaction between sugars and proteins in a process known as glycation. AGE's accumulate within our bodies as we grow older with pathogenic effects. Because proteins, lipids and DNA are present throughout the body, the destructive capacity of AGE's is enormous and their accumulation is a major factor contributing to the aging process. Accumulated AGE levels are implicated in most of the diseases associated with growing older such diseases include hyperglycemia, diabetes, neurodegenerative disorders, stroke and heart disease. Apart from normal metabolism, a major source of AGE accumulation in our bodies is through the ingestion of unhealthy and processed foods. This is racially significant as:
A family tradition of soul foods with a heavy use of fat, sugar and sodium exists for many AA families; this together with a less active lifestyle can promote elevated AGE levels and disease phenotypes.
Almost half of all AA's in the US are at or below the poverty line; low income promotes the use of high-fat, sugary or processed foods which are AGE laden and increase mortality risk.
AGE laden foods promote obesity and obese men are twice as likely to die of prostate cancer over lean men; a larger proportion of AA's (76percent) are overweight when compared to EA's (63percent).
Due to these socioeconomic and environmental factors our research group investigates if increases in advanced glycation end products in African American cancer patients make them susceptible to the development of aggressive disease and contribute to health disparity.
Prostate Cancer Biomarkers
Prostate cancer is the most commonly diagnosed and the second leading cause of cancer death among men in the western world. Advanced disease accounts for the majority of prostate cancer related deaths and is a result of lymphatic, local or contiguous spread. Patients with early stage prostate cancer may have slow growing tumors which are unlikely to cause any problems in the patient's lifetime or they may have tumors that progress to advanced disease and require immediate definitive therapy. Current markers for stratifying prostate cancer patients are unreliable so we therefore need to identify additional biomarkers that can aid in the stratification of early stage prostate cancer patients. This would allow the immediate treatment of patients with potentially aggressive tumors and save patients with indolent tumors from undergoing needless therapy with significant side effects. Androgen deprivation therapy (ADT) (medical castration, bilateral orchiectomy, or both) targets androgen receptor (AR) transcriptional activity by reducing available ligand (the hormone androgen) and is the standard of care for men with advanced prostate cancer. However, many patients undergoing ADT become resistant to its effects and progress to castrate (androgen/hormone) resistant prostate cancer (CRPC). Despite the recent additions of several new agents, treatment strategies for patients with CRPC are inadequate, with progression-free survival rates as low as 2 months. CRPC is dependent upon the reactivation of AR function after ADT. One mechanism thought to promote restoration of AR function in CRPC is increased co-factor recruitment to target gene promoters which can negate the requirement of ligand.
Mounting evidence associates members of the ETS (v-ets erythroblastosis virus E26 oncogene) family of transcription factors with AR transcriptional co-regulation and prostate cancer progression.
Elevated ETS1 correlates with high risk prostate cancer and increased baseline PSA levels.
Increased ETS1 expression occurs in prostate tumors Gleason 7 and above.
Increased ETS1 expression as well as MAPK-ERK mediated nuclear phosphorylation promotes cell invasion, contact independent growth and castrate resistance.
ETS1 loss in castrate resistant cells restores sensitivity to treatment with AR antagonist.
Androgen deprivation in castrate sensitive cells inhibits ETS1 expression but expression is restored upon acquisition of the castrate resistant phenotype.
Inhibition of AKT activity reduces ETS1 levels specifically in castrate resistant cells.
Our research examines if Elevated ETS1 expression is a potential biomarker for advanced prostate cancer and its increased activity is a critical co-regulatory factor restoring AR function in CRPC.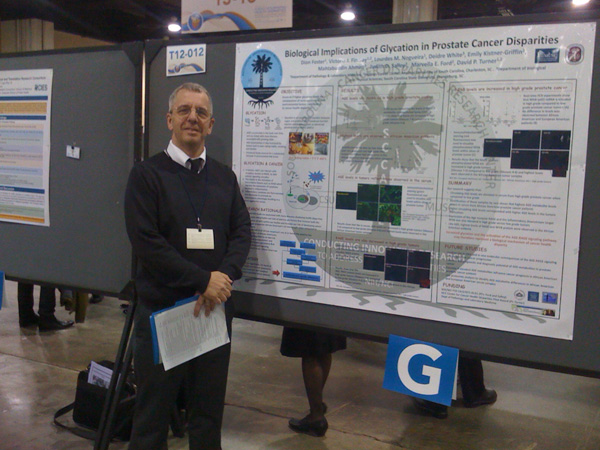 Dr. Turner presenting at the 2012 NIH Summit on The Science of Eliminating Health Disparities.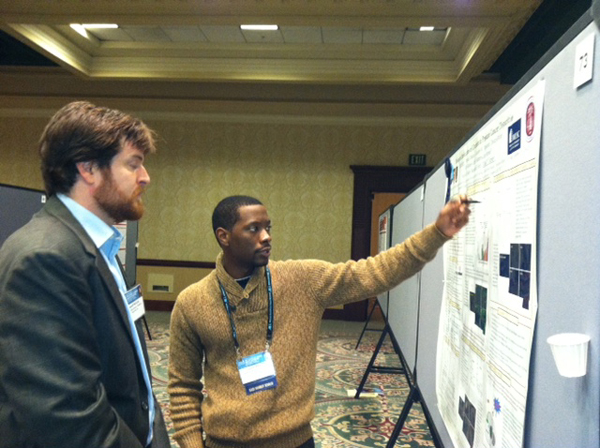 Dion Foster (masters student) presenting at the 2012 AACR Conference on The Science of Cancer Health Disparities.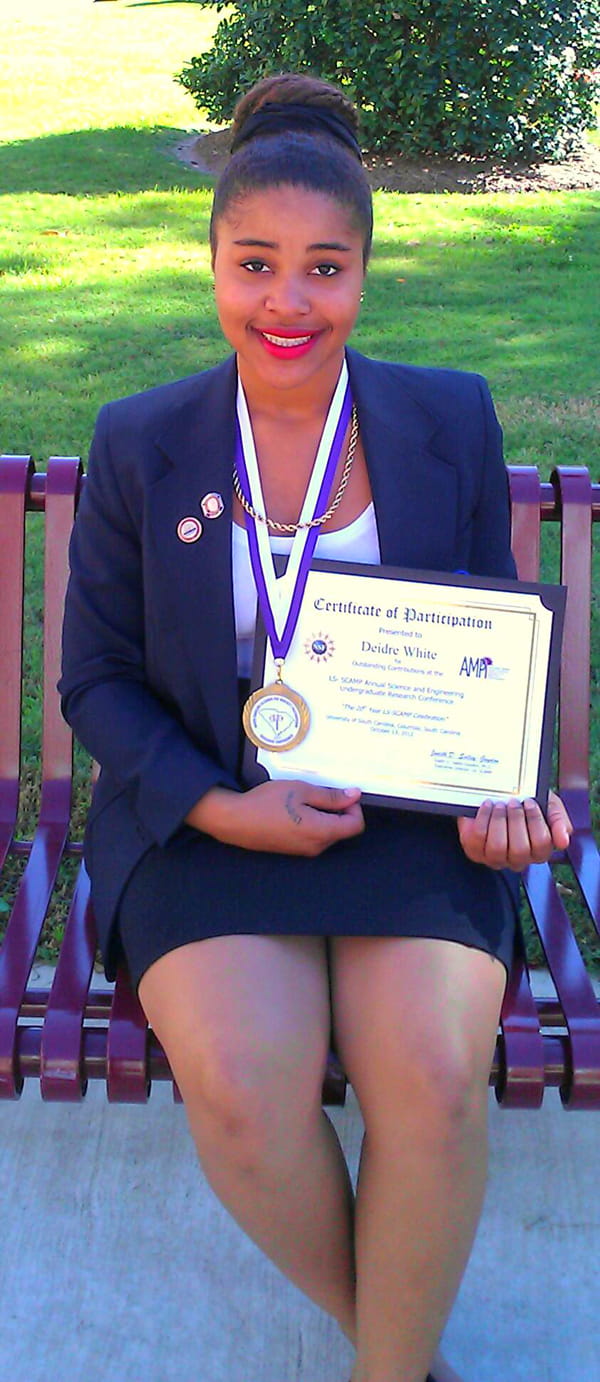 Deidre White (summer undergraduate student 2012) awarded first prize for her presentation at the 2012 LS-SCAMP Annual Science, Engineering and Research Conference.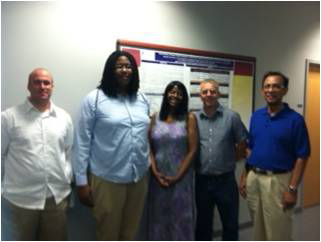 The P20 Pilot Research Project Team. From left to right: John Hepburn, Danzel Smith, Marvella Ford, David Turner, Mahtabuddin Ahmed.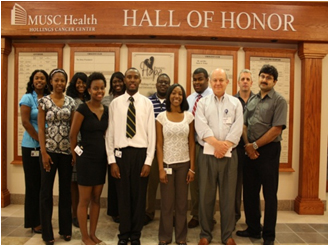 Sierra Brooks (summer undergraduate student 2011).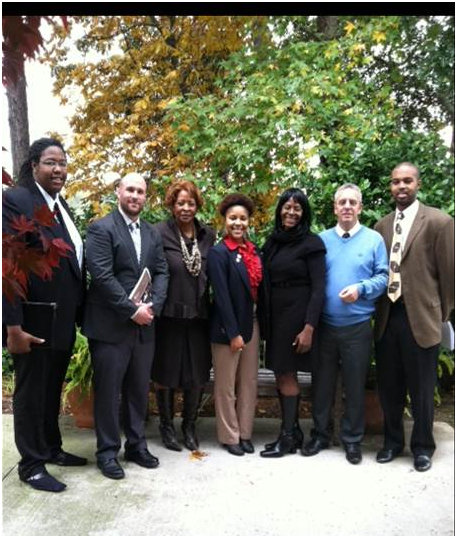 The P20 Pilot Research Project Team at the 2012 Hollings Cancer Center Annual Retreat. From left to right: Danzel Smith, John Hepburn, Judith Salley, Deidre White, Marvella Ford, David Turner, Mahtabuddin Ahmed.