Research Electron Microscopy Service Laboratory
Location: Walton Research Building, Room 213
Phone: 843-792-2812
Director:
Debra Hazen-Martin, Ph.D.
Research Specialist:
Nancy Smythe HT (ASCP)
Services
Processing of ResearchSpecimens including tissues and cells from in vivo experimental models in vitro cell preparations for routine transmission electron microscopy.
Preparation of thick sections for routine tissue review prior to ultra-microtomy.
Ultra-microtomy for production of thin sections.
Staining protocols including routine heavy metal stains and negative stains.
Production of high resolution images for diagnostic procedures.
Consultation, with the Director for development of protocols.
Charges
Fees are determined by experimental protocols. Click to Download Charge Sheet (PDF)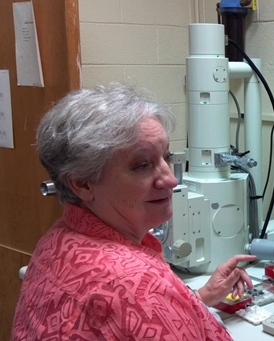 Ms. Smythe has over 30 years of experience as a histology and electron microscopy technologist working in both clinical and research settings. Her prior experience in both settings and wealth of knowledge about transmission and scanning electron microscopy facilitate protocol development for both experienced morphologists and new investigators.