Histology & Immunohistochemistry Laboratory
Location: Walton Research Building, Room 209
Phone: 843-792-5648
Director: Bradley A. Schulte Ph.D.

Research Specialist:
Margaret Romano HT (ASCP)
Services
Routine tissue and cell processing for fixed paraffin-embedded and/or cryopreserved samples
Special tissue processing including decalcification and special orientation
Microtomy for production of paraffin or frozen sections
Staining protocols including routine histochemical staining, special stains, and immunohistochemical procedures including immunofluorescence.
Consultation, with the Director, for immuno-protocol development with troubleshooting and assistance in analysis and interpretation of results.
Charges
PDF Format:
Clinical Trials - Corporate (PDF)
Clinical Trials - Non-Corporate (PDF)
Research - Non-Corporate (PDF)
Excel Format: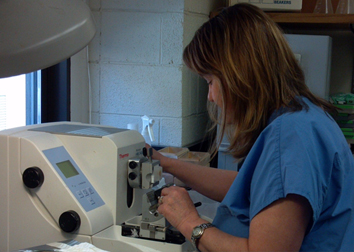 Ms. Romano
Ms. Romano has over 35 years of experience as a histo-technologist working in both clinical and research settings. Her prior experience within the surgical pathology setting facilitates her coordination of tissue collection and processing for routine and special staining protocols.