Message from the Chair
The Department of Pediatrics at MUSC represents the clinical department dedicated to the study and care of children within the College of Medicine. The department is committed to providing a broad educational experience in all aspects of pediatric medicine. Represented by more than 25 specialty areas, the Department of Pediatrics provides training for undergraduate, graduate and post-graduate students.

A message from our Chair

Dear Friend,

It is a very exciting time to be a Pediatrician at MUSC. We are actively building a new world class facility- The MUSC Shawn Jenkins Children's Hospital. To match this facility, you will find an experienced and energetic faculty composed of dedicated pediatricians and pediatric subspecialists. You will find that all pediatric subspecialties are represented and our faculty are eager to teach while providing quality care to their patients.

This year we ranked in the "Best Children's Hospital" US News & World Report rankings for six specialties:
Cardiology & Heart Surgery (#11)
Nephrology (#29)
Urology (#50)
Cancer (#25)
Pediatrics: Gastroenterology & GI Surgery (#45)
Pediatrics: Orthopedics (#43)
The US News rankings are made up of a combination of measures of outcome, structure and process. Outcomes most obviously include survival but can also include functional success, such as a reduction in bloodstream infections. Structure refers to hospital resources directly related to optimal patient care such as the ratio of nurses to patients and specialized clinics and programs certified by external organizations. The process of healthcare delivery encompasses overall rendering of diagnosis, treatment, prevention and patient education. This includes compliance with best practices and activities to prevent infections and other patient safety issues. The current MUSC Children's Hospital has 186 beds. The new MUSC Shawn Jenkins Hospital will open in 2019 with 250 beds.
Current annual statistics about us:
7,024 hospital admissions
9,210 pediatric surgeries
More than 110,000 outpatient clinic
25,330 emergency room visits
24,167 After Hours urgent care visits
30 care locations throughout the state
106 pediatric clinical trials
237 pediatric faculty, residents and fellows
We are extremely fortunate to have the diversity and quality of pediatric programs available at MUSC. The excellence in these areas provides an ideal environment in which to work and train. I am so proud to be a part of the talented team that provides world-class pediatric care to the children of South Carolina.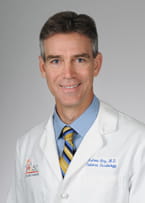 Sincerely yours,
Andrew Atz, MD
Chair, Department of Pediatrics