Director's Message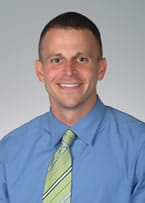 Welcome to our MUSC Pediatrics Residency Program! I am incredibly honored to be taking over as the Program Director, and am humbled to take on such an important role. I'm originally from Cleveland, Ohio, and migrated to Charleston in 2005 to start my residency here at MUSC. I've been here ever since, and the program has grown dramatically over that time.
What am I most proud of? Our amazing residents. We take pride in being a resident-led program, where not only are voices heard but changes are made based on resident input. The goal of our program is to develop diverse, well-rounded pediatricians who are capable of reaching their dreams. We pride ourselves on helping our residents to aim high and meet their career goals, no matter what field of pediatrics they choose to pursue.
Along those lines, about half of our graduates go into primary care, while half enter pediatric fellowships. We have some phenomenal curricula in place: weekly (protected) Academic Half Day, Global Health, Quality Improvement, Evidence-Based Medicine, a Procedural curriculum, a Resident-As-Teacher curriculum (with the new introduction of a Medical Education Track), Wellness, Child Advocacy…and more.
This is an exciting time for our program, as we are opening the state-of-the-art Shawn Jenkins Children's Hospital in October of 2019, a remarkable facility. In addition, we recently opened the MUSC Children's Summey Medical Pavilion, which offers comprehensive pediatric specialty clinics, outpatient surgery, and a host of other pediatric medical services.
We encourage you to review our information and contact us with any questions. I hope you'll consider applying to our program, and I look forward to meeting you on your visit to MUSC and to the incredible city of Charleston.
Dave Mills, MD
Program Director