Spring 2019 Alumni Newsletter
2019 Spring Department of Psychiatry and Behavioral Sciences Alumni Newsletter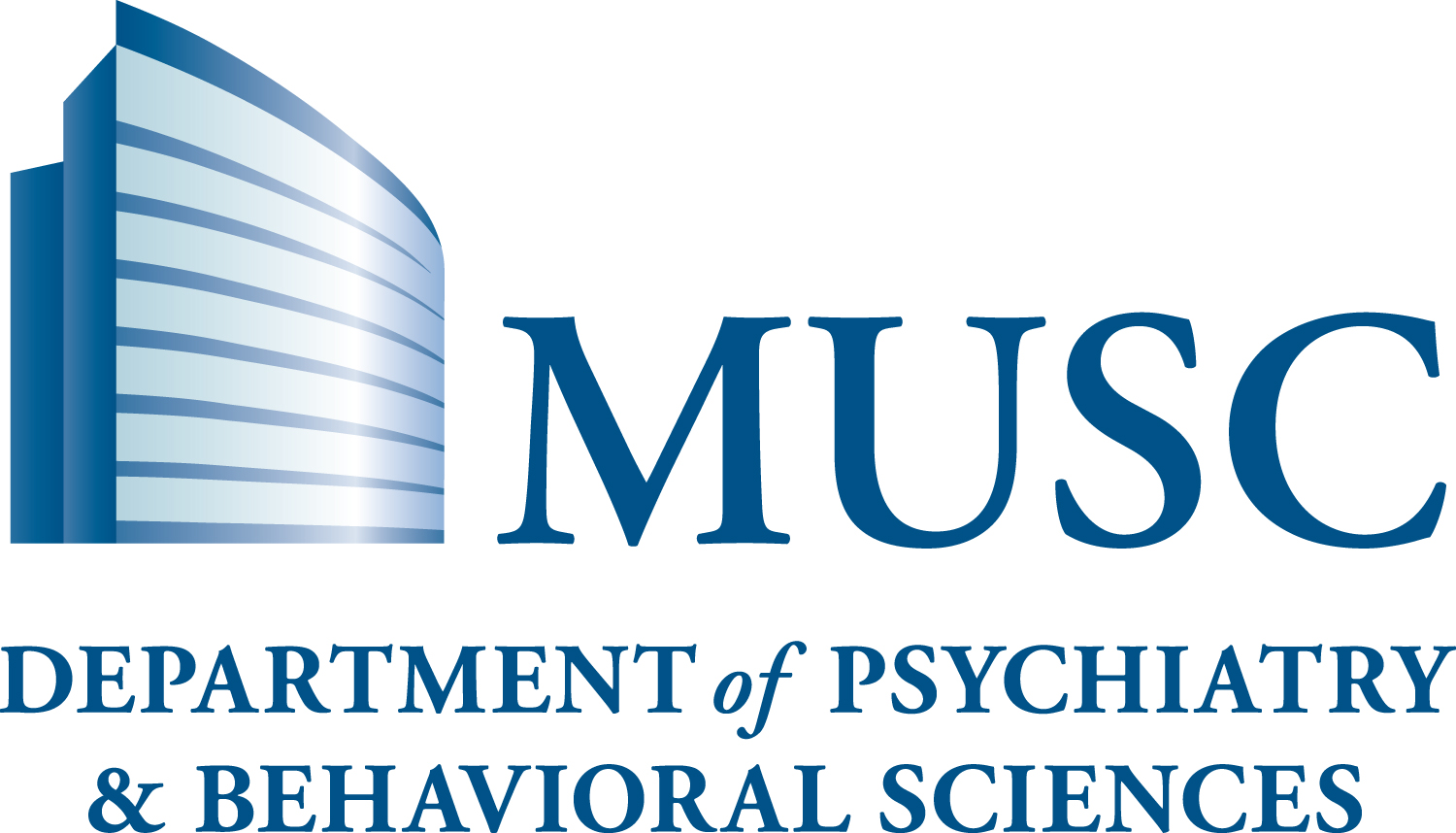 Department of Psychiatry & Behavioral Sciences
Hello from MUSC's Department of Psychiatry and Behavioral Sciences. It's been a busy winter here in Charleston! Please enjoy reading about some of our events. We hope to see you soon!
Letter from Dr. McCurdy and Dr. Lewis

 We are pleased to share our first 2019 newsletter with you. It has been a busy kickoff to the year in our department, and we are working hard to share important updates with our alumni. We hope you will enjoy reading through the selected highlights in the pages that follow.
Our strategic planning is ongoing; this year we are focusing on facilitating ways to better link our clinical and research missions. We are also proud to be ranked number one for the State of South Carolina Medical facilities!
Each year, we enjoy sharing updates from a selection of our many top-notch training programs and invite you to meet some of our current trainees. While we expand our global outreach work, we are also working to further enrich our current programs and opportunities.
You will find other highlights of our research, clinical and training activities throughout the newsletter. So much of this work is accomplished through key collaborations both within and outside of the department, and with other institutions. Support from alumni and friends like you represents the other critical collaboration that accelerates our progress. We are continually grateful for your interest and for your support.
Please stay connected as our department continues to provide outstanding clinical care, conduct quality research, and stand out as leaders training the future of mental health care.
Best,
Dr. Robert Layton McCurdy and Dr. Thomas Lewis,
Alumni Committee Co-Chairs
MUSC is ranked as the Number One Hospital
 Once again, U.S. News & World Report has ranked MUSC as the No. 1 hospital in South Carolina in its Best Hospitals Rankings and Ratings. This marks the fourth year in a row. Five specialties at MUSC Health got high marks as well. That's no small feat when you consider that the rankings and ratings include about 4,500 medical centers across the country. We would love to hear your success stories. To add content, please email psych-events@musc.edu
Join Us In Welcoming 2019-2020 Charleston Consortium Psychology Intern Class
 This year, the Charleston Consortium Psychology Internship placed 24 positions into the national match. These slots were spread across the seven tracks of our training program (General Internship, Adult Psychopathology, Behavioral Medicine, Child, Neuropsychology, Substance Abuse, and Traumatic Stress), and we filled all 24 of them! We are extremely pleased with, and proud of, this cohort. Some highlights of this group:
In terms of scholarly productivity, the incoming cohort of interns has already published, on average, 8.1 peer-reviewed publications. Two of the incoming interns have been awarded NIH Predoctoral Training (NRSA F31) grants, and a third has received an NIMH R36 grant to support her dissertation research.
With respect to geographical representation, this is one of our more wide-ranging classes in some time. It include representatives from every region of the country, and one from Canada!
In terms of individual diversity, fully 25% of the class qualifies as "Under-Represented in Medicine" (African American, Hispanic, Pacific Islander/Native American) according to MUSC's definition, and beyond that, we also have interns of Asian and Southeast Asian descent in the class.
We look forward to welcoming this group to campus in August, and expect them to carry on the fine traditions of the program!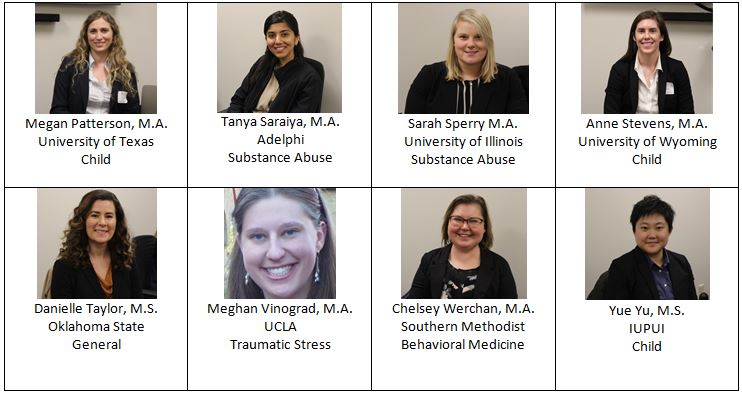 32nd Annual Update in Psychiatry:
 Management of Pain During the Opioid Crisis
Thursday, June 6 - Friday, June 7, 2019
MUSC | College of Nursing 202 Offering 12.0 CME/CEU credits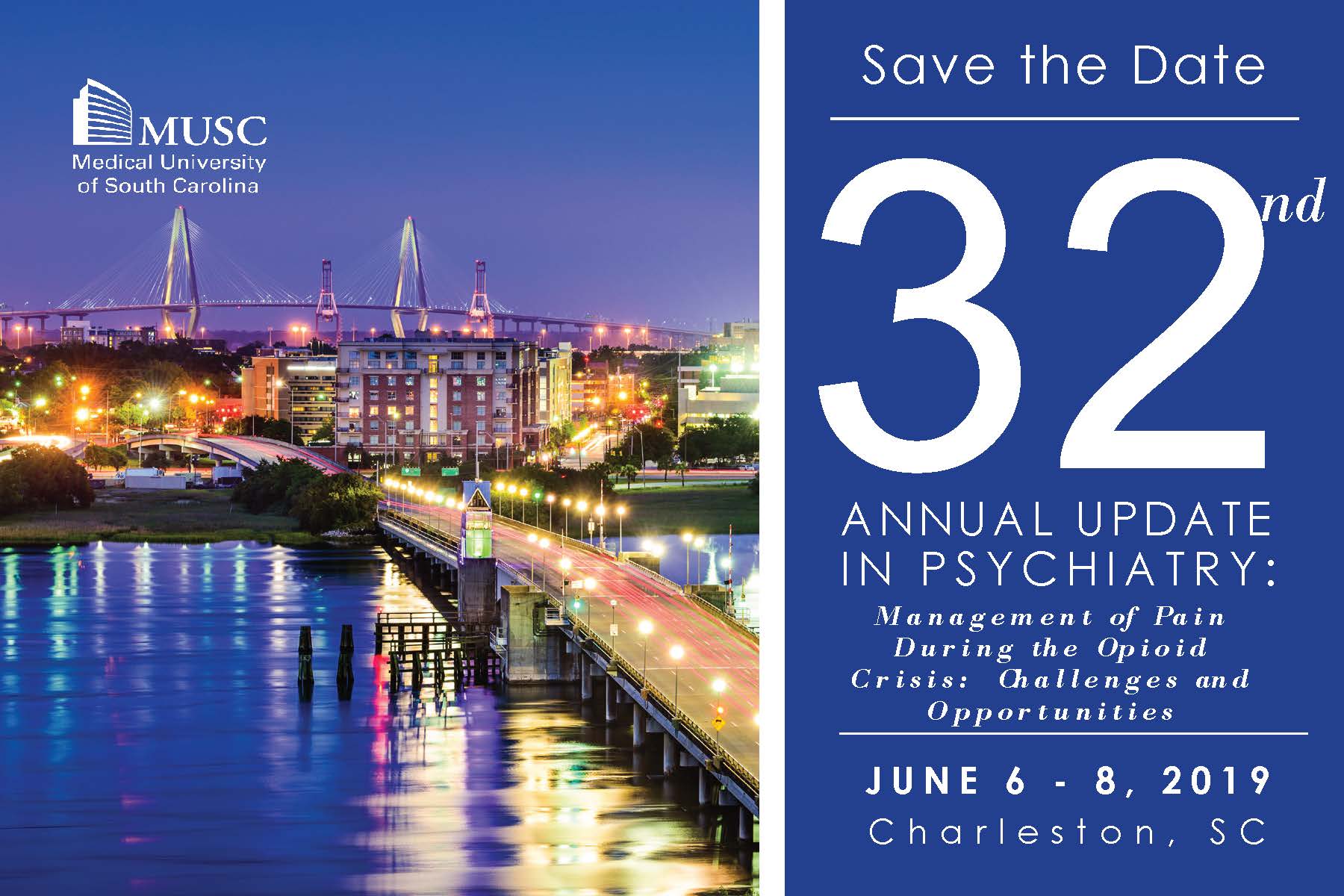 This conference will address the challenges on opportunities that arise for front-line providers treating patients with primary or co-morbid pain conditions during the opioid crisis. Expert speakers will review the history of pain management before and during the opioid crisis, current guideline-recommended treatments for chronic pain, including evidence-based psychotherapeutic techniques, physical therapy techniques, pharmacologic approaches and comprehensive multidisciplinary programs.
Speakers will also review common clinical challenges including opioid discontinuation, identification and treatment of opioid use disorder, peri-surgical management and multidisciplinary management, and managing co-morbid psychiatric conditions including PTSD.
Two concurrent 4-hour workshops will be offered: Acceptance and Commitment Therapy for Pain and Identification and Treatment of Opioid Use Disorder (qualifies for 4 hours towards official training for DATA 2000 Waiver to prescribe Buprenorphine and Controlled Substance Prescribing CME).
Inga Taylor Grand Rounds Event
 Friday, April 19, 2019
12:00-1:00 pm
Institute of Psychiatry Auditorium First Floor
Dr. Inga Taylor was born in Washington, D.C. on December 28, 1943 to Karin G. and Rufus L. Taylor, Jr.
After receiving her Bachelor's degree from the University of Maryland, she went on to study at the Medical
University of South Carolina, where she would earn her M.D. Dr. Taylor served...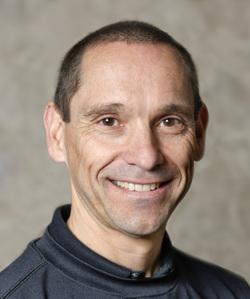 For More Information or To Join Us For The Lecture
Grand Rounds Dates
March 8 Dr. Benjamin Kalivas
April 19 Inga Taylor Visiting Professorship Dr. Martin Paulus
April 26 CPSPD Fellows
May 10 Dr. Meng Liu
May 17 Dr. Robert Vorona
Spreading Love In Psychiatry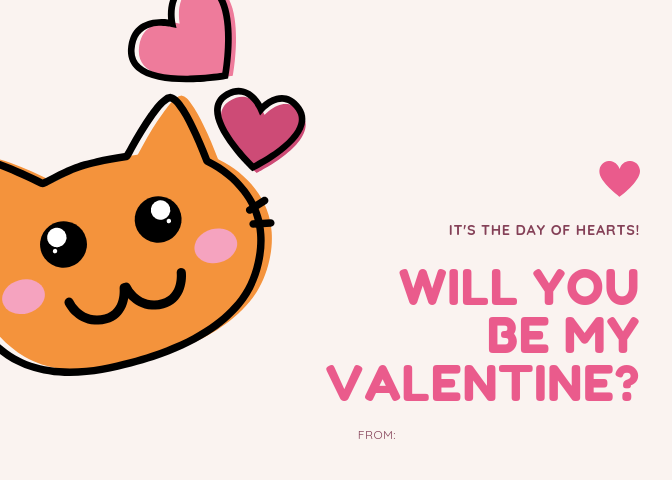 I love you a "waffle lot" said one Belgian breakfast staple to his warm and toasty Valentine, as they held hands and stared into each other's eyes. That's just one of the choices of cute and punny Valentine's Day cards that was sent to a patient in an MUSC hospital on Valentine's Day.      Everyone loves to receive Valentine's Day cards, especially those in the hospital who are not around friends or loved ones on the special day. Staff members at the Institute of Psychiatry designed a page of Valentine's Day cards and then then hand-delivered the cards to patients on Valentine's Day.
"It really did mean so much to all of the patients, and to the staff that was able to help pass them out," said Jessica Carter, Director of Marketing for the CECAR office for the Department of Psychiatry and Behavioral Sciences. She came up with the idea, knowing it would make many of our patients' days brighter. Over 3,000 Valentines were passed out to patients all over the hospital.
Psychiatry Services
The MUSC Institute of Psychiatry offers patients, caregivers, and their professional providers access to the latest evidence-based practices and advances in research. The IOP has been named Hospital of the Year by the National Alliance on Mental Health South Carolina chapter four out of the last five times one was named, and the MUSC Department of Psychiatry & Behavioral Sciences/Institute of Psychiatry is one of only 21 Centers of Excellence recognized by the National Network of Depression Centers.
Plan a Local Alumni Event!
Please contact us at psych-events@musc.edu if you would like to host an Alumni gathering in your area. We can help arrange for Departmental speakers/guests as appropriate.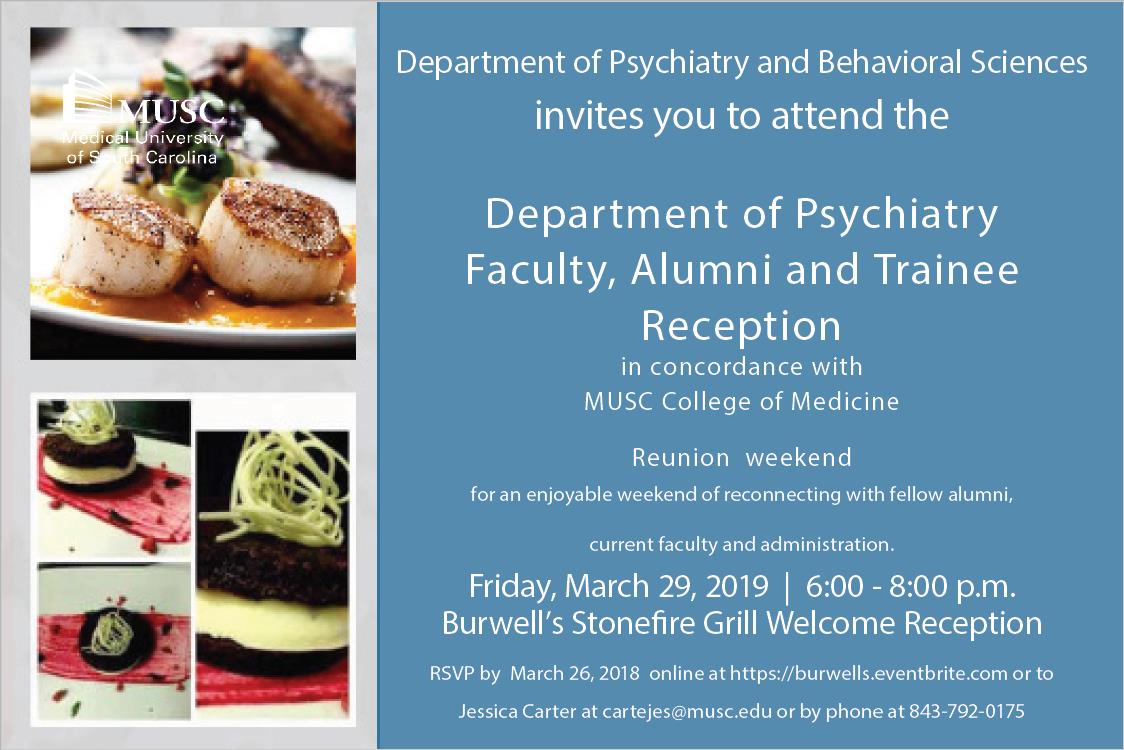 Sincerely,
The Office of Continuing Education and Alumni Relations
Have News to Share?
Please update us on your professional or personal successes by submitting a class note to us.