October 18 - Dr. Joseph Calabrese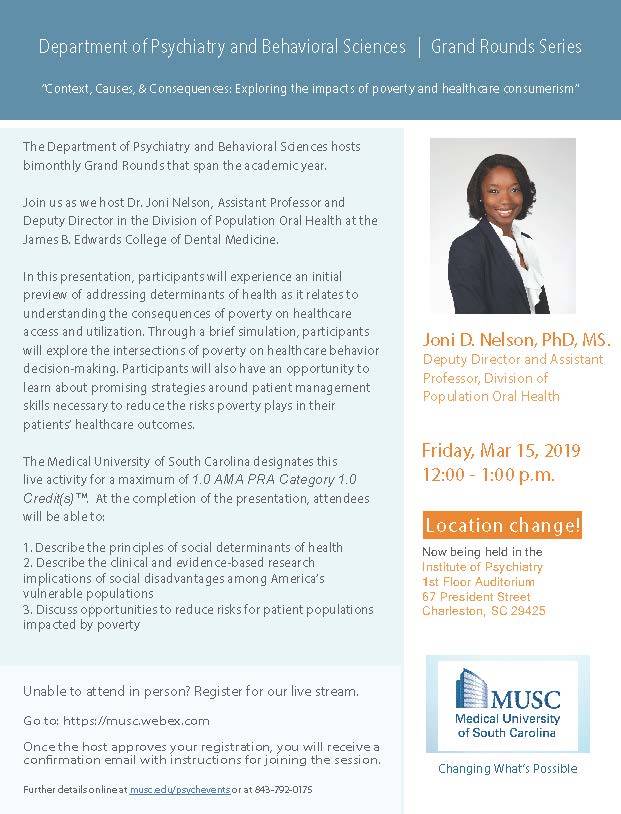 Department of Psychiatry and Behavioral Sciences   |  Grand Rounds Series
12th Annual Jason Pressley Visiting Professorship
"Bipolar Depression: Clinical Characteristics and Unmet Needs of a Complex Treatment Refractory Disorder"
Friday, Oct 18, 2019 12:00 p.m. - 1:00 p.m.
Location Institute of Psychiatry-1st Floor Auditorium, 67 President Street Charleston, SC 29425
The Department of Psychiatry and Behavioral Sciences hosts bimonthly Grand Rounds that span the academic year.
The Jason Pressley Visiting Professorship honors the memory of then 26 year-old Jason Pressley, who was diagnosed with Bipolar Disorder at a young age. Jason's life was sadly taken by Bipolar Disorder in April of 2000. His family and friends share the goal of encouraging and supporting research that will help patients with Bipolar Disorder and their families better understand the illness, and discover even more effect ive means of treating it. The Jason Pressley Visiting Professorship is the first endowment of its kind for the MUSC Department of Psychiatry and Behavioral Sciences.
Join us as we welcome Dr. Joseph R. Calabrese, M.D. , recipient of the Bipolar Disorders Research Chair, the director the Bipolar Disorders Research Centre, and the director of the Mood Disorders Program at Case Western Reserve University School of Medicine in Cleveland, Ohio. His primary research focus is clinical outcomes in under-served populations of bipolar disorder. Dr. Calabrese has been awarded from the Web of Science the "Highly Cited Researchers Program for 2018" which identifies scientists and social scientists who have demonstrated significant influence through publications of multiple highly cited papers during the last decade. Since the inception of this ranking methodology in 2014, Dr. Calabrese has been included within the Thomson Reuters annual reports of the world's most influential scientific minds listed within the section entitled: "Psychiatry/Psychology". From 2014-2018, Dr. Calabrese has been recognized for his scientific productivity as defined by ranking in the top 1% of citations for Psychiatry/Psychology in the Web of Science.
The Medical University of South Carolina designates this live activity for a maximum of 1.0 AMA PRA Category 1.0 Credit(s)™. 
Unable to attend in person? Register for our live stream. Go to: https://musc.webex.com    
Session Number: 641 207 056
Once the host approves your registration, you will receive a confirmation email with instructions for joining the session.
Biography
Joseph R. Calabrese, M.D. is the recipient of the Bipolar Disorders Research Chair, the director the Bipolar Disorders Research Centre, and the director of the Mood Disorders Program at Case Western Reserve University School of Medicine in Cleveland, Ohio. His primary research focus is clinical outcomes in under-served populations of bipolar disorder. Dr. Calabrese has been awarded from the Web of Science the "Highly Cited Researchers Program for 2018" which identifies scientists and social scientists who have demonstrated significant influence through publications of multiple highly cited papers during the last decade. Researchers were selected for their exceptional performance in one or more of 21 fields (those used in Essential Science Indicators or across several fields). Awardees were selected for their exceptional research performance, determined by production of multiple highly cited papers that rank in the top 1% by citations for field and year. The Clarivate Analytics Highly Cited researchers are one in 1,000. A total of ~ 120,000 highly cited papers are identified as papers ranked in the top 1% of worldwide citations according to their ESI field assignment and year of publication. Since the inception of this ranking methodology in 2014, Dr. Calabrese has been included within the Thomson Reuters annual reports of the world's most influential scientific minds listed within the section entitled: "Psychiatry/Psychology". From 2014-2018, Dr. Calabrese has been recognized for his scientific productivity as defined by ranking in the top 1% of citations for Psychiatry/Psychology in the Web of Science. See https://hcr.clarivate.com/#