New Procedure Improves Recovery Time for LVAD Patients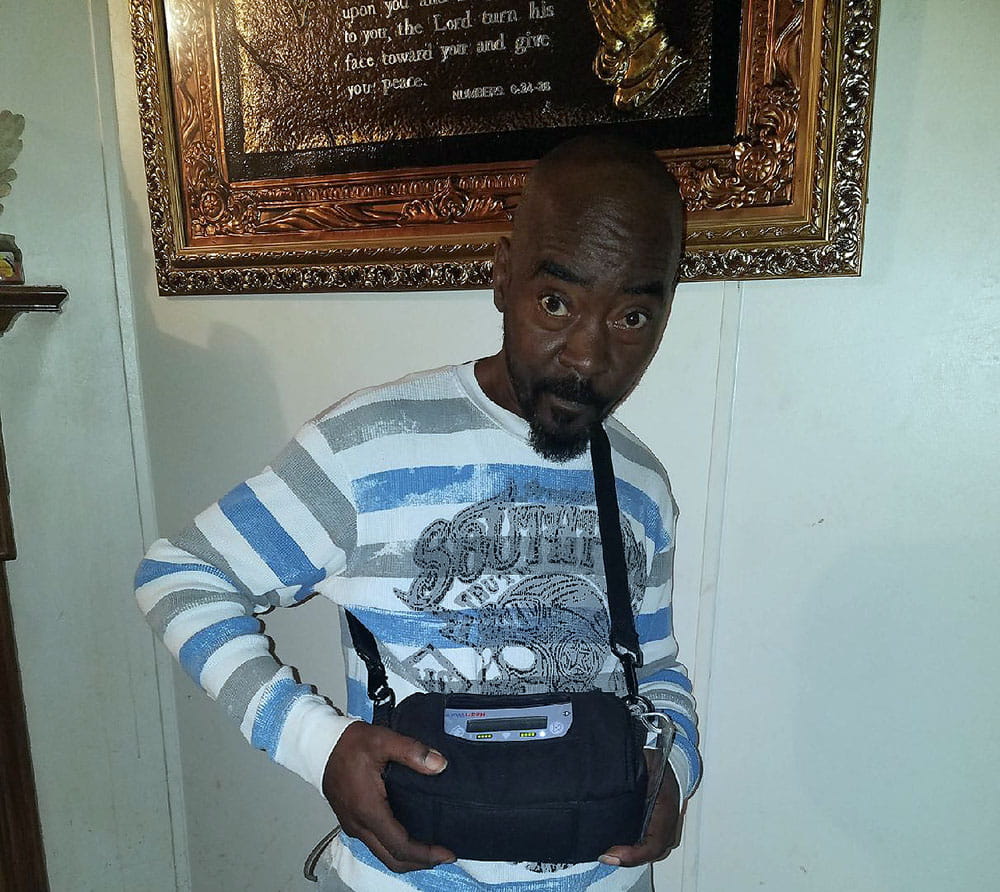 If there's ever a good place for your heart to stop beating, it's probably your cardiologist's office. And if there's ever agood time for this to happen,it's probably just as a world-class surgeon is about to start offering a new way of performing an existing heart procedure that drastically reduces recovery time.
Douglas Cox, 53, is the first MUSC patient to have a pump implanted via thoracotomies, which are small incisions between the ribs, instead of the traditional sternotomy, in which the chest is cracked wide open.
The Food and Drug Administration approved the new procedure this summer. Lucian Lozonschi, M.D. director of Surgical Heart Failure and Cardiac Transplantation, performed the surgery in which he threaded a Medtronic HeartWare HVAD Pump through the ribs into place below Cox's heart to keep blood moving from the left ventricle into the aorta.
Cox, who lives in Columbia, and Lozonschi met after Cox woke up in an MUSC ICU bed. Cox's doctor had referred him to cardiologist Michael Craig after Cox's legs and feet began to swell because he was retaining fluids. Cox's sons drove him to Charleston on Aug. 14 for his appointment. The three joked around in the waiting area until Cox was called back. Cox suddenly began to feel dizzy and lightheaded. He told the nurse he felt funny, and she directed him to a chair – except he couldn't see the chair. The nurse helped him to sit, and Craig came in to check on the situation.
"That's the only thing I can remember – when he said, 'Hey Mr.Cox, how you doing? How you feeling?' And next thing I know,when I woke up, he was doing compressions on my chest, and he said the defibrillator had shocked me and brought me back to life."Cox's sons, meanwhile, knew something bad was happening,because suddenly all the doctors and nurses began running in.Cox later learned he'd been technically dead for six minutes.Craig and Adrian B. Van Bakel, M.D., Ph.D. along with the clinic staff had sprung into action to get him defibrillated even before the hospital code team arrived.
Once he was conscious and in a bed, doctors said his heart was too weak and he'd need a left ventricular assist device to help his heart to pump. When Lozonschi met with Cox, he told him about the new way of implanting the pump. Cox would be the first person he would do the surgery on, but Cox readily agreed because he didn't want his chest split open and he trusted his surgeon.
Lozonschi was amazed himself at Cox's quick recovery."What surprised me with this patient was how easy it was for himto turn and twist his upper body.
You don't see that in patients who had a sternotomy," Lozonschi said.A sternotomy cuts through the breastbone. People who've had one can't twist their bodies, can't hold anything heavy for three monthsand can't even sleep on their sides for six weeks.
Lozonschi noted that a recent patient of his, a woman with a newborn, would have been a perfect candidate for this new procedure, because she couldn't hold her baby after she under went the traditional sternotomy.
Avoiding the breastbone is a big deal, Lozonschi said. Because the breastbone contains marrow, it will continue to bleed throughout the surgery. In a thoracotomy, the surgeon cuts through the muscles between the ribs. Muscles bleed less during surgery and heal faster. MUSC is one of about 20 hospitals across the country offering this new procedure.
Lozonschi noted it's more difficult for surgeons than the traditional method. "Minimally invasive procedures are less invasive for the patient and maximally painful for the surgeon," he joked.
However, he's enthusiastic about the results, and said he plans to offer the procedure whenever appropriate. Cox, too, is happy with the result. It was very easy for him to work with the MUSC therapists. "They were like, 'Mr. Cox, you're walking faster than I usually walk.' I said, 'Yeah I feel good; I feel great.' It revived me,this machine," Cox recalled. Cox said he would recommend that anyone in his shoes choose the new thoracotomy procedure. "I think it was great," he said.