Message from the Chair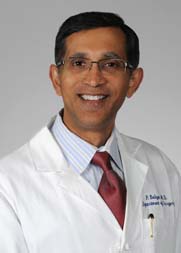 As we continue to strengthen and align our surgical leadership, Steve Kahn, M.D. joins us as the new Director of the Burn Program and Chief of Burn Surgery. As the newly appointed Burn Director, Kahn is charged with establishing the MUSC Burn Center that will provide comprehensive care for adults and children in both the inpatient and outpatient settings, with the vision of establishing an American Burn Association (ABA) certified burn center.
In our cover story, we provide a glimpse into a day in the life of a trauma surgeon through the eyes of reporter Bryce Donovan, who accompanied Heather Evans, M.D., MS, professor of Acute Care Surgery, during a busy night in the ER.
Also in this issue, we highlight the many ways our clinicians are improving patient care through innovation and technology. Whether it's participating in a clinical trial to improve the lives of patients with complex aortic aneurysms or changing what's possible for some of our tiniest patients in need of new hearts, our surgeons are on the leading edge, providing the best possible patient care to our most needed populations.
On the academic forefront, the department has had a run-away success with several of our investigators in Vascular, GI, Transplant and Oncology achieving new grants. Recent funding included Dr. Mark Rubinstein's R01 funding of nearly $2M from the NIH to expand immunotherapy research for lung cancer and Dr. Jean Ruddy's K08 Mentored Scientist Award allowing her to spend more time in the lab to investigate how signaling through the serum and glucocorticoid inducible kinase-1 (SGK-1) can promote development and progression of an abdominal aortic aneurysm.
The Residency program has established a complement increase in General Surgery and is applying for complement increases in Vascular and Cardiac Surgery. The undergraduate program has room to improve with new leadership, with Cindy Talley recruited as our new vice chair of Education.
New to this issue is a section we call "Towards the Clinic" highlighting the MUSC Department of Surgery Center for Cellular Therapy (CCT), an FDA registered cGMP level facility that meets the most rigorous standards in the aspect of processing of cells, including an overview of Dr. Gilkeson's current research and partnership with the CCT.
We highlight the Allen Family and the Patterson Barclay Memorial Foundation's significant contribution and commitment to surgical excellence through their generous gift to create the Transplant Research and ImmunoBiology Institute.
Also in our "Making a Difference" section, trauma survivor Charlie Hanna explains why he felt compelled to give back to MUSC and what he hopes his gift will accomplish.
And, of course, we take time to reconnect with colleagues old and new during our spring annual gatherings. We hope you joined us, and if not, we hope that you will make plans to visit next year!
Prabhakar Baliga, M.D., FACS
Fitts-Raja Professor of Surgery
Chair, MUSC Department of Surgery