Steve Kahn, M.D. joins Department of Surgery; named Burn Director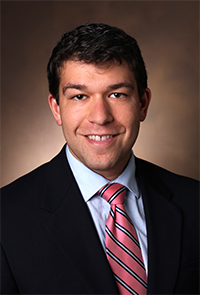 Steve Kahn, M.D. joins the MUSC Department of Surgery as the Director of the Burn Program and Chief of Burn Surgery, effective July 1, 2019. 
As the newly appointed Burn Director, Kahn is charged with establishing the MUSC Burn Center that will provide comprehensive care for adults and children in both the inpatient and outpatient settings, with the vision of establishing an American Burn Association (ABA) certified burn center.
Kahn joins MUSC with a strong background in the comprehensive care of the burn patient. Kahn is board certified in both General Surgery and Surgical Critical Care.
Upon completion of his Acute Care Surgery and Burn Fellowship at Vanderbilt University in 2015, Kahn joined the University of South Alabama as an Assistant Professor of Surgery and Director of the Arnold Luterman Regional Burn Center. During his tenure as the Burn Director, the burn center consistently achieved the #1 ranking in the United States for patient outcomes in one of the major national comparative databases.
According to Kahn, these top outcomes were achieved by building a skilled multi-disciplinary team, creating evidenced based care protocols, building a quality improvement program, providing robust outreach and education for the emergency providers in their three state referral areas along the Gulf Coast, and utilizing cutting-edge technology and techniques.
"At MUSC, I look forward to building a nationally-ranked burn center and providing an important – and much needed – public health service to the citizens of South Carolina," Kahn said. 
Clinically, Kahn's main area of interest is the comprehensive care of the burn patient. This includes not only their emergency and critical care needs, but also surgical management of their injuries from both an acute and reconstructive standpoint- and addressing their emotional scars after injury.
Kahn's main research interests are centered around fire-fighter safety, burn resuscitation, smoke inhalation injury, non-opiate methods of pain control, wound healing, regenerative medicine, and burn reconstruction. He has published over 50 peer-reviewed articles and has received several research awards for his work.
He serves as a medical advisor for the International Association of Firefighters Burn Fund, and has participated in the development of FEMA-funded firefighter safety programs such as "It Happened in Seconds," regarding situational awareness, gear limitations, and burn injury awareness.
Kahn received the Nashville Business Journal "Healthcare Heroes" Award in 2015 for his work regarding firefighter safety, followed by the Mobile Bay "40 Under 40 Award" in 2016.
He is an instructor for Advanced Trauma Life Support, Advanced Trauma Operative Management, and Advanced Surgical Skills for Exposure in Trauma.