Human Centered Design
The Human Centered Design Program at MUSC is an innovative initiative that aims to bring design thinking to the Department of Surgery. Using a Human-Centered Design approach, novel solutions are created in the healthcare space that solves unmet medical need for users such as patients and physicians.
The interdisciplinary HCD team leverages medical expertise, design experience, and advanced technologies such as 3D printing to iteratively problem solve.
Some projects that the HCD worked on includes a 3D-printed COVID-19 mask that is being used internationally, a deployable surgical wound light system to increase surgical site visualization, and a PPE reprocessing and sterilization unit.
For human centered designers, there's always a story behind the innovation.  That's because Human Centered Design begins with the people you are designing for and finding a solution that fits their needs. The designer methodology uses empathy as a core value and creates an innovative solution.
"Once you empathize with your user group, you start defining the problem, narrowing it down from something really big to something smaller and more measurable," explained Joshua Kim, Senior Human Center Designer in the Department of Surgery.  
The next step is the ideation process where the designers create new ideas. "One of our favorite exercises designers use is what we call a 'magic wand idea,'" said Kim. "Where we basically say if we have a magic wand and finances weren't an obstacle and technology was limitless what kind of solution could we create."
According to Kim, this ideation process really opens up the possibilities for your future design and can help kind of create new ideas that are a better fit for the end user. Moving into the next phase of design – prototyping and testing – it's critical to design without the fear of failure in order to discover the best possible prototype for the end user.
Latest News: Human Centered Design team leads initiative to design, create and provide open source plans 3D printed masks 
With the threat of a shortage of protective masks looming as the novel coronavirus pandemic grows, a team of  MUSC biomedical engineers and tinkerers came together and developed plans for 3D printed masks. The Self-Assembly Filter for Emergencies Cartridge System, a modular HEPA filtration system that can be fitted onto hospital masks such as the disposable AeroEclipse Aerosol Mask made by Monaghan Medical Corporation.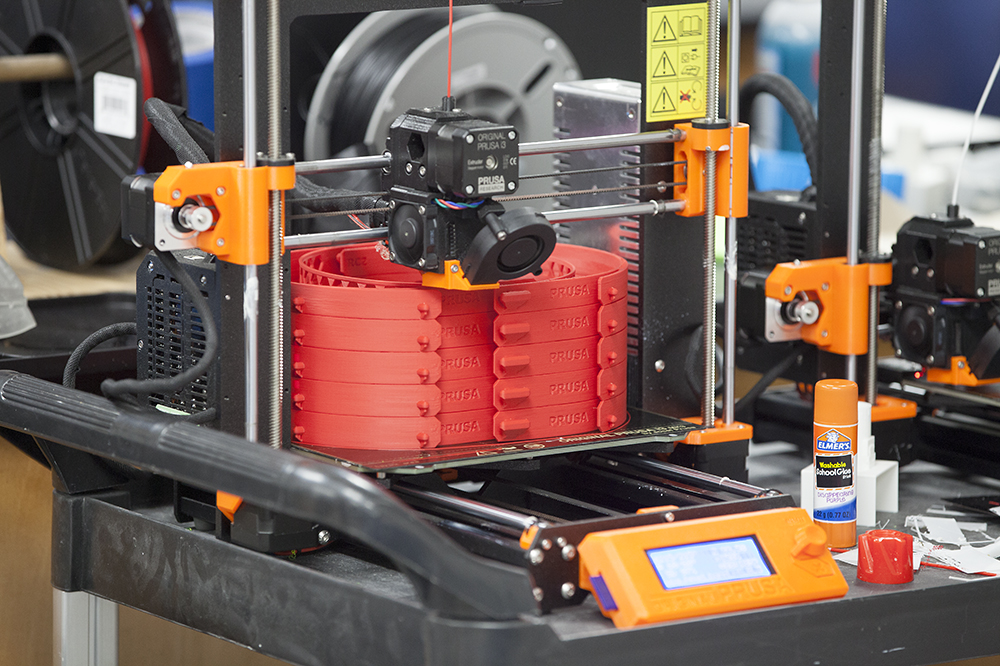 'Can-Do' Spirit
A team at MUSC developed a DIY protective mask that anyone with a 3D printer can copy.
3D Printing Masks
A team at MUSC developed a DIY protective mask that anyone with a 3D printer can copy.
The MUSC 3D Mask interdisciplinary team: 
Joshua Kim, HCD senior designer, HCD Program
John Yost, Trident Tech student and contractor at ZIANDr.
Mike Yost, vice chairman of Research, Department of Surgery
Dr. David Mahvi, Oncology ICCE Chief
Dr. Wally Renne, professor, College of Dental Medicine
Dr. Christian Brenes Vega, associate professor, College of Dental Medicine
LEGAL DISCLAIMER - USE AT YOUR OWN RISK
These technologies should NOT be used as replacements for conventional and approved Personal Protective Equipment ("PPE").  All technologies highlighted on this page were created as exploratory studies conducted at the Medical University of South Carolina in an effort to further protect the safety, health and well-being of our care team members and patients in response to the COVID-19 pandemic. Unless otherwise noted, these technologies have not been industry tested, have not been NIOSH approved, have not been otherwise certified to provide any level of personal protection, and have not been FDA cleared.
THESE TECHNOLOGIES ARE EXPERIMENTAL IN NATURE AND ARE PROVIDED BY THE MEDICAL UNIVERSITY OF SOUTH CAROLINA, ITS AFFILIATES AND DIRECT SUPPORT ORGANIZATIONS, INCLUDING BUT NOT LIMITED TO THE MEDICAL UNIVERSITY HOSPITAL AUTHORITY AND UNIVERSITY MEDICAL ASSOCIATES OF THE MEDICAL UNIVERSITY OF SOUTH CAROLINA, AND THE AUTHORS AND CREATORS (collectively "MUSC") "AS IS."  MUSC MAKES NO REPRESENTATIONS AND EXTENDS NO WARRANTIES OF ANY KIND, EITHER EXPRESS OR IMPLIED.  THERE ARE NO EXPRESS OR IMPLIED WARRANTIES OF MERCHANTABILITY OR FITNESS FOR A PARTICULAR PURPOSE, OR THAT THE USE OF THESE TECHNOLOGIES WILL NOT INFRINGE ANY PATENT, COPYRIGHT, TRADEMARK, OR OTHER PROPRIETARY RIGHTS.
IN NO EVENT SHALL MUSC BE LIABLE FOR ANY DIRECT, INDIRECT, INCIDENTAL, SPECIAL, EXEMPLARY, OR CONSEQUENTIAL DAMAGES HOWEVER CAUSED AND ON ANY THEORY OF LIABILITY, WHETHER IN CONTRACT, STRICT LIABILITY, OR TORT (INCLUDING NEGLIGENCE OR OTHERWISE) ARISING IN ANY WAY OUT OF THE USE OF THESE TECHNOLOGIES, EVEN IF ADVISED OF THE POSSIBILITY OF SUCH DAMAGE.
YOU SHALL HOLD HARMLESS AND INDEMNIFY MUSC AGAINST ANY AND ALL CLAIMS BROUGHT AGAINST MUSC ARISING FROM YOUR USE OF THESE TECHNOLOGIES.