Grading Policy Preclerkship
Policy ID Number: N/A
Policy Title: FLEX Grading and Assessment Policy – Preclerkship Phase
Classification: University
Approval Authority: Undergraduate Curriculum Committee
Responsible Entity: College of Medicine
Policy Owner: Preclerkship Planning and Evaluation Committee
I. Policy Statement
Student grades are reported to the registrar at the end of each semester. Preclerkship students receive four (4) grades each semester: 3 Block grades and 1 Clinical Skills grade. Block grades will be recorded as H, HP, P, or NP. The Clinical Skills grade will be recorded P or NP in each of the first three semesters. A Comprehensive Clinical Skills Assessment grade will be recorded at the end of the fourth semester (Fall II) as H, HP, P or NP.


II. Scope
This policy applies to Medical University of South Carolina College of Medicine students enrolled in the preclerkship curriculum in the College of Medicine's MD degree or dual degree programs.


III. Approval Authority
Undergraduate Curriculum Committee


IV. Purpose of This Policy
The purpose of the policy is to delineate how grades are determined for preclerkship students.


V. Who Should Be Knowledgeable about This Policy
College of Medicine students
College of Medicine Faculty and Course Directors
College of Medicine Undergraduate Medical Education Deans and Support Staff


The Policy
The Honors/High Pass/Pass/No Pass System: Student grades are reported to the registrar at the end of each semester. Preclerkship students receive a grade for each curriculum block. Grades are recorded as H, HP, P, or NP in the semester in which the block occurs.

 
Block Grades are awarded based on the following criteria (see Table 1).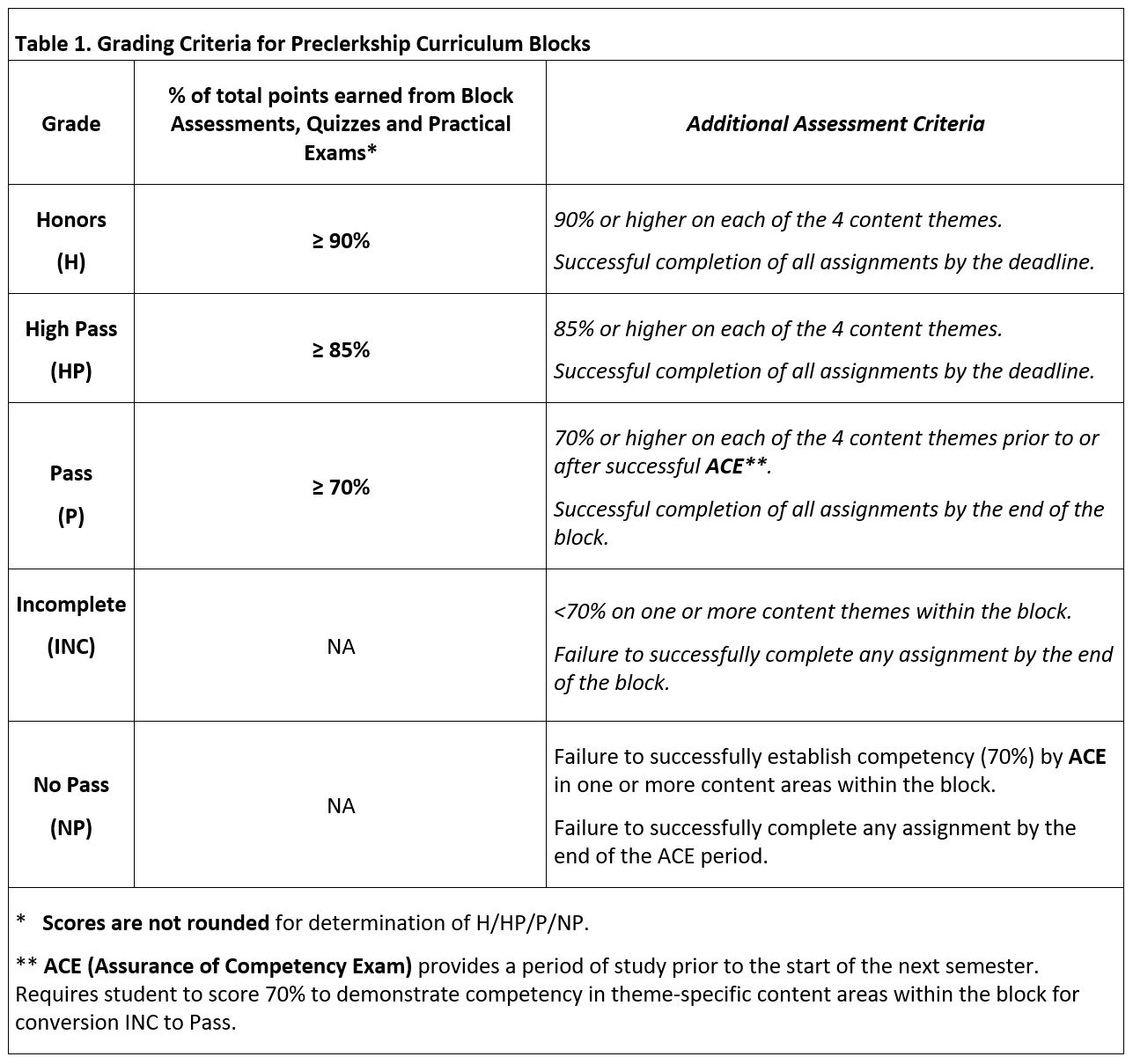 Block Assessments: Within and at the close of each block, students take fully integrated objective exams. Questions from subject matter of each of the themes are co-mingled and, in some cases, clustered under a single clinical scenario. The interim and end-of-block exams are designed to reflect USMLE Step I exam structure. (Formative self-assessment quizzes are provided during each block. The quizzes allow students to become familiar with the type and format of questions found on the Block Exams.)

Theme-specific content scores are established by combining points earned in block assessments, pre and post activity quizzes, and practical exams within each block. The theme-specific scores are used to demonstrate competency within each theme and to determine block Honors, High Pass, Pass, or need to participate in ACE.

Demonstration of Competency for each Block through ACE:

• If the overall average score for any theme-specific content area within the block is 70%, the student will receive Incomplete (INC) for that block until resolution through ACE prior to the start of the following semester.
• Students must demonstrate competency in each block by completing Assurance of Competency Exams (ACE) in the knowledge portion of the theme-specific content areas in order to pass the block and progress to the next academic semester. Each theme-specific ACE examines content from each of the blocks in which the student scored below 70%. In order to pass a block, a student must demonstrate competency by achieving a minimum score of 70% in each required ACE. Failure to achieve a minimum score of 70% in each ACE will result in a final Block grade of NP (No Pass) and the student will not progress to the next academic semester.
• Students who are repeating a semester are not eligible for ACE in the semester they are repeating.

Clinical Skills grade assignment and Comprehensive Clinical Skills Assessment grade

Competency of clinical skills must be demonstrated longitudinally throughout the semester to include the domains of history taking, communication skills with patients, communication and teamwork with peers and healthcare professionals, oral presentations, clinical reasoning, physical examination, physical diagnosis, medical documentation, and professionalism (Table 2). Not all domains will be assessed each semester. These domains are assessed within the following Fundamentals of Patient Care activities: small group activities, OSCEs, Teaching Rounds, Senior Mentor, Partner Visits and PICO assignments. Students will receive interim narrative feedback throughout the semester, midpoint feedback, and a final narrative assessment each semester. Students who receive a "No Pass" for any domain will receive a grade of No Pass for the Clinical Skills course, with the following exception of first semester. If a student receives a single No Pass in the Fall I semester in any one of the following domains, History Taking, Physical Exam, or Communication Skills, the student will receive an Incomplete (IN) and must remediate and demonstrate competency within a period of time defined by the course directors. Should the student fail to demonstrate competency by the end of the defined period, the IN will be converted to a No Pass for the course and will be referred to the College of Medicine Progress Committee. A student who receives a No Pass for the course will not progress to the next academic semester.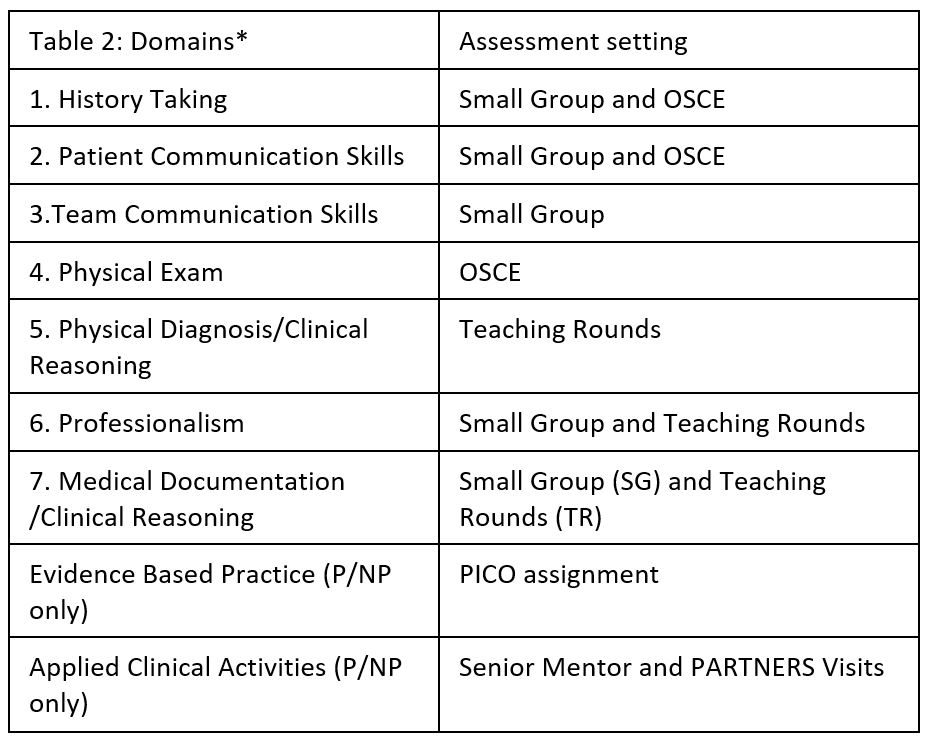 *Not all domains are offered in every semester

The Clinical Skills Grade for each semester is awarded based on the following criteria (see Table 2,).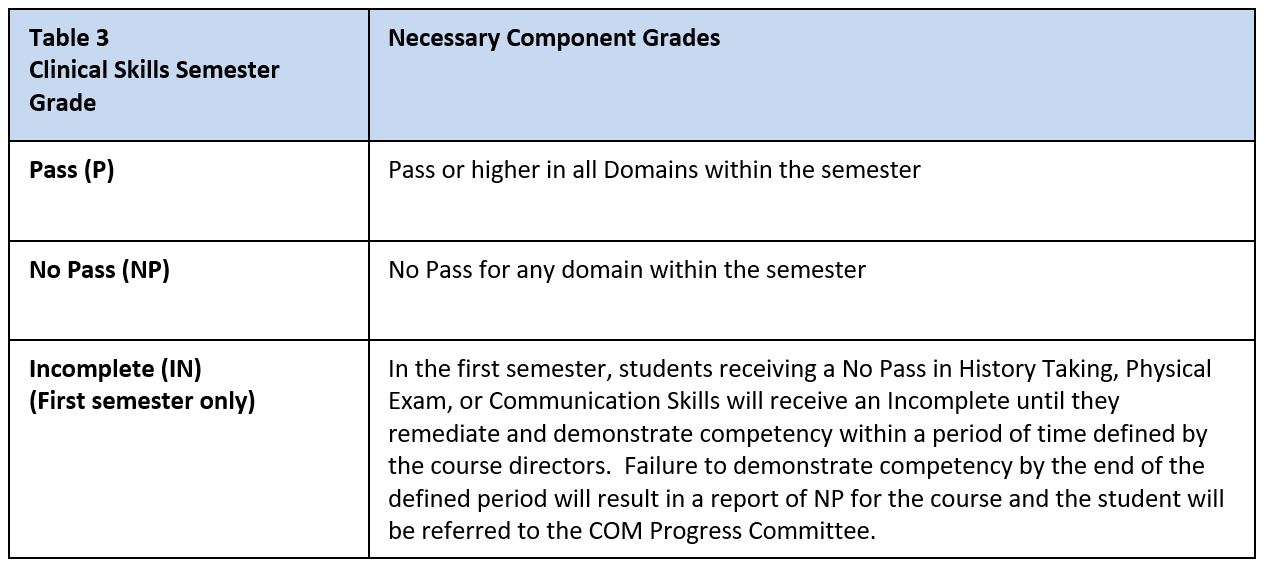 The Comprehensive Clinical Skills Assessment Grade is awarded based on the following criteria (see Table 4).




* Grade given in Fall II



Longitudinal Assessment of Professionalism, Professional Development and Communication Skills – a formative assessment.

Students must demonstrate progress in meeting the expected standards for Interpersonal and Communication Skills, Professionalism and Personal and Professional Development as articulated in the ILOs (Institutional Learning Objectives) for each of these learning domains. Student assessment in these domains will occur in theme-specific and integrated learning activities in each block. These assessments along with student reports (Physicianship forms, Concern Cards, Learning Environment cards, Praise Cards and E*value participation) will be used to provide formative feedback at interim periods and at the end of each semester. A final assessment will be available for inclusion in the MSPE. The assessments will be shared with the COM Progress Committee when necessary.

****E*Value Evaluation of the Blocks and Educators: Students will be given the opportunity to evaluate the overall blocks, theme specific content/activities and the teachers within each block using the on-line E*Value system. The Dean's Office will notify all students via email when these required evaluations become available. E*Value evaluations and comments are anonymous, but the software used in the course and faculty evaluation administration permits us to know which students have completed the evaluations. It is the professional responsibility of all students to complete assigned E*Value Evaluations. Failure to meet this and other professional responsibilities may result in a Physicianship form.


VI. Special situations
N/A


VII. Sanctions for Non-compliance
N/A


VIII. Related Information
N/A


IX. Communication Plan
Students enrolled in FLEX preclerkship courses will be educated about this policy at their orientation to each semester, following the first block exam, and any time a substantial update occurs. Information about this policy will be included in student orientation sessions, posted online, and shared annually with teaching faculty, fellows, and residents through required compliance modules.


X. Definitions
N/A


XI. Review Cycle
Policy will be reviewed every 2 years or more often as needed.


XII. Approval History
List original approval date and subsequent review dates

Approval Authority Date Approved
Undergraduate Curriculum Committee 2012
Joint Planning and Evaluation Committee June 21, 2017
Undergraduate Curriculum Committee June 22, 2017
Preclerkship Planning and Evaluation Committee February 28, 2018
Preclerkship Planning and Evaluation Committee July 18, 2018
Undergraduate Curriculum Committee July 20, 2018
Preclerkship Planning and Evaluation Committee July 3, 2019
Undergraduate Curriculum Committee July 19, 2019


XIII. Approval Signature

Donna Kern, MD July 19, 2019
Title: Senior Associate Dean for Medical Education