DKI Protocols
Theoretical Description
Diffusional kurtosis imaging (DKI) extends conventional diffusion tensor imaging (DTI) to the calculation of the diffusional kurtosis and related kurtosis metrics1 to 4. For a certain diffusion direction vector n and diffusion weighting b, the DKI approximation to diffusion signal intensity S (n,b) is given by:

with,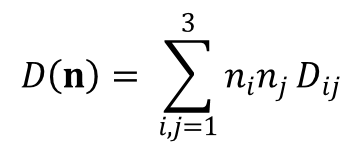 Where S0 is the signal intensity for b=0, Dij and Wijkl are the elements of the second order diffusion tensor D and fourth order kurtosis tensor W. Both tensors are fully symmetric8. Consequently D has 6 and W has 15 independent parameters. In order to solve the equation at least two nonzero b-values and 15 distinct gradient directions are required8.
Protocols
Recommended DKI protocols for Siemens scanners:
Example protocols from other vendors:
Bruker: Rats*** and Mice****
Note: It is important to keep TE the same for all signal acquisitions.
We thank Masaaki Hori, M.D* (Department of Radiology, Juntendo University School of Medicine) and Dr. Muftuler Tugan** (Medical College of Wisconsin) who provided us with their DKI protocols.
***For protocol details for rats we refer to Weber RA, Hui ES, Jensen JH, Nie X, Falangola MF, Helpern JA, Adkins DL. Diffusional kurtosis and diffusion tensor imaging reveal different time-sensitive stroke-induced microstructual changes. Stroke. 2015 Feb; 46(2): 545 to 50.
****For protocol detail for mice we refer to Nie X, Hamlett ED, Granholm AC, Hui ES, Helpern JA, Jensen JH, Boger HA, Collins HR, Falangola MF. Evidence of altered age-related brain cytoarchitecturein mouse models of down syndrome: a diffusional kurtosis imaging study. Magn Reson Imaging 2014 Dec 16.