Endocrinology Fellowship Training
Welcome to the MUSC Endocrinology Fellowship Program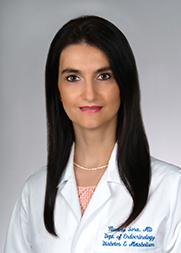 Dear Endocrine Fellowship Applicant,
Thank you for your interest in the MUSC Fellowship in Endocrinology, Diabetes and Metabolic Diseases, which is a 2-year program designed to provide a solid clinical training and broad opportunities for research.
Our fellowship training program is fully integrated at two participating institutions: MUSC University Hospital and the Ralph H. Johnson VA Medical Center (VAMC).
University Hospital: The University Hospital is the primary teaching hospital for our fellowship program. The 750-bed Medical Center currently has four major hospital facilities-University Hospital, MUSC Children's Hospital, Storm Eye Institute, and the Institute of Psychiatry as well as a range of specialized care centers, such as the Heart and Vascular Center, Digestive Disease Center, Hollings Cancer Center, Transplant Center, Center for Alcohol and Drug Programs, and a Level I Trauma Center.
The Ralph H. Johnson VA Medical Center (VAMC): The Ralph H. Johnson VAMC is located in Charleston adjacent to the MUSC campus. The VAMC is a primary, secondary, and tertiary referral medical center, providing acute medical, surgical, and psychiatric inpatient care as well as primary care and specialized outpatient services. Currently, there are 144 acute care beds and 28 nursing home care unit beds. The Charleston VAMC is closely affiliated with MUSC.
Consultation Services: On average, our subspecialty residents spend six months per year during a two-year fellowship learning inpatient management of diabetes mellitus and a host of complex endocrinopathies. At the University Hospital and VAMC, all patients with endocrine-related concerns are admitted to the General Internal Medicine/Hospitalist Service and receive endocrine consultation as appropriate. In addition, our residents participate in the Inpatient Diabetes Management Service (DMS) that provides concurrent care for the management of adult, inpatient hyperglycemia as part of a team approach to optimized care. DMS also provides consultative diabetes care to all adult inpatient services on request. DMS is available 24 hours a day year round with Endocrinology Attending and Fellow on-call coverage.
General Endocrine/Diabetes Continuity Care Clinics: On average, three months per year during a two-year fellowship are spent in these clinics.
Fellows Continuity Clinics: These weekly clinics serve VAMC patients and a broadly mixed population of the University Hospital patients including uninsured/indigent and private referral.
Thyroid Clinic: This clinic provides an excellent array of thyroid pathology, concentrated in a single setting where both continuity and consistency of care are achieved. The focus of this clinic facilitates close working relationships with Pathology (FNA), Radiology (nuclear medicine and ultrasound) and Endocrine Surgery.
Thyroid Ultrasound/Procedures Clinic: In this clinic, fellows learn to perform and interpret diagnostic thyroid ultrasounds under the supervision of Dr. Soonho Kwon. Participation in this clinic ensures that our subspecialty residents will greatly exceed the number of thyroid ultrasound and FNA procedures needed for board eligibility and ultrasound certification.
Lipid Disorders Clinic: Residents work one-on-one with Dr. Nicoleta Sora in this clinic, seeing the most challenging lipid disorders. Their evaluation is supported by an LRC-accredited laboratory directed by Dr. Sora.
Endocrine Tumor Clinic: Under the direction of Dr. Jyotika Fernandes, this clinic brings together Endocrinology, Neurosurgery, OHNS, and Endocrine Surgery in a multidisciplinary setting. The focus of this clinic is evaluation and management of patients with pituitary tumors, hypopituitarism, acromegaly, Cushing's disease and other hypothalmic-pituitary disorders, thyroid neoplasia, parathyroid disease, and tumors of the adrenal cortex and medulla.
Intensive Diabetes Education, Awareness, and Lifestyle (IDEAL) Program: In this program, fellows participate in the multidisciplinary team that provides the experience of intensively managing patients with type 1 and type 2 diabetes, in collaboration with a team of experienced MSN-CDE nurse educators, dietitians and counselors. Insulin pump therapy and other intensive insulin therapy regimens are initiated and managed in this clinic, together with state-of-the-art surveillance programs for diabetic complications and risk factors.
Obesity Clinic: In this clinic, residents participate in the evaluation and management of obese patients together with Internal Medicine physicians, psychiatrists, psychotherapists and dietitians.
Private Attending Clinics: Here fellows are exposed to a vast array of endocrine pathology.
Elective rotations: Our fellows are assigned an average of 3 months per year in elective rotation. While continuing to attend continuity endocrine clinics and educational conferences, they can devote 50 to 75% of their effort to a research project during these months. Guidance is provided by Dr. Sora. Candidates interested in a research or academic career are encouraged to seek more in-depth, laboratory-based projects, with a goal of defining an area and project which will provide a platform for developing a solid research background and the skills to ultimately direct an independent research program. These candidates are strongly encouraged to devote a third year to research training.
Pediatric Endocrinology Clinics: These clinics provide care for pediatric endocrinopathy patients referred from the entire coastal Carolina region. Here they gain experience in the evaluation and management of pediatric and adolescent endocrine problems including diabetes, delayed or precocious puberty, short stature, growth hormone deficiency, hypopituitarism, Turner's syndrome, thyroid disorders and Cushing's disease.
Gyn-Reproductive Endocrinology: In this community clinic, our residents gain experience with the diagnosis and management of infertility, a range of ovarian dysfunctions (PCO, hirsutism, annovulatory cycles), as well as evaluation and management of less common conditions such as congenital adrenal hyperplasia, ovarian dysgenesis, and sex hormone-producing neoplasms.
Nuclear Medicine Rotation: (2 weeks per year)
Our fellows work under the supervision of Dr. Leonie Gordon of the Department of Radiology. In this clinic they learn the appropriate application and interpretation of nuclear medicine studies in the diagnosis of endocrine disorders. This includes diagnostic and therapeutic use of radioactive iodine in the management of hyperthyroidism and thyroid cancer, parathyroid and adrenal scintigraphy, and the application of combined imaging modalities, such as PET-CT scanning to the diagnosis of endocrine neoplasia.
In addition to our subspecialty fellowship general rotations, weekly-occurring conferences are held to further enhance skills and knowledge.
Introduction to Clinical Endocrinology: This series is held weekly during July and August, replacing Endocrine Grand Rounds for the first 8 to 10 sessions. The lecture content is specific to endocrine subspecialty fellows, although pediatric endocrinology and internal medicine residents, medical students, and clinical faculty are encouraged to attend. Didactic lectures covering basic aspects of the clinical management of endocrine diseases are presented by clinical faculty in the Division of Endocrinology, Diabetes and Metabolic Diseases to provide new subspecialty fellows with the basic information necessary to transition smoothly from medicine resident to endocrine fellow.
Concepts in Molecular Endocrinology: This series is held weekly during September and October, taking the place of Research Conference and Journal Club for the first 6 sessions. The series is intended for endocrine subspecialty fellows and postdoctoral basic research fellows, although pediatric endocrinology and internal medicine residents, medical students, and basic science and clinical faculty are encouraged to attend. The purpose of the series is to introduce fellows to concepts in basic research in molecular endocrinology, to develop a familiarity with the language of basic science and enhance the educational benefit of Research Conference and Journal Club. Didactic lectures are presented by research faculty of the Division of Endocrinology, Diabetes and Metabolic Diseases.
Endocrine Grand Rounds: This conference is held weekly throughout the academic year and is attended by all subspecialty fellows, and clinical teaching faculty, including pediatric, reproductive endocrinology, and endocrine surgery. Faculty and trainees from other collaborating services; e.g. Pathology, Nuclear Medicine, Neurosurgery, Ophthalmology are routinely invited and often attend to participate and present data; pathological material, isotopic scans, etc. It is a CME-accredited conference. Cases for this conference are selected to be particularly illustrative, unusual in presentation or response to treatment, or demonstrate a diagnostic challenge. 
Therefore, all endocrine fellows have the opportunity to learn from unique cases evaluated by others. Visiting Professors are invited throughout the year to present recent, clinically relevant research.
Journal Club: This literature review conference is held weekly, alternating with Research Conference. All teaching faculty attend. Emphasis is placed on learning to critical analyze literature, focusing on selected key articles from subspecialty and general medical journals.
Research Conference: This weekly occurring conference alternates with Journal Club. Faculty, senior endocrine fellows, or guest faculty from other departments or institutions are invited to present their research in an hour-long seminar format. It is a CME-accredited conference and helps to provide cross fertilization and generates collaborative efforts between investigators. Visiting Professors are often invited to speak at this conference, and often participate in Endocrine Grand Rounds as well.
Medicine Grand Rounds: All faculties, residents and fellows as well as medical students in the Department of Medicine are expected to attend weekly rounds. It is a CME-accredited conference. The purpose of Medicine Grand Rounds is to provide exposure to a broad array of topics including historical aspects of internal medicine, evidence-based clinical practice, and important advances in medical practice or research.
How to Apply
Our program participates in the ERAS Electronic Application and National Residency Matching Program (NRMP) for Endocrinology Fellowship match. Applications to the program are accepted until August 31. Interviews are held in September, October, November and are through invitation only.
Application Requirements Via ERAS:
Completed ERAS Application
CV
Personal Statement
Three letters of recommendation