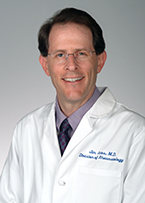 Jim Oates, M.D.
Professor and Director,
Division of Rheumatology & Immunology
Vice Chair for Research
The Oates' laboratory is focused on organ manifestations of systemic lupis erythematosus (SLE). SLE is an autoimmune disease with varied presentations in the population. About half of SLE patients develop inflammatory kidney disease (lupus nephritis), and many are at a higher risk for heart attacks and strokes. Our laboratory is interested in pathogenic mediators and biomarkers of lupus nephritis. We have demonstrated that kidney podocyte dysfunction can be induced by inducible nitric oxide synthase (iNOS) nitric oxide (NO) production via an antibody-independent pathway.
Endothelial nitric oxide (eNOS) production occurs at several lower levels than iNOS NO production, causing a reduction of chemokine production and expression of adhesion molecules on the endothelial surface. In a murine model, we demonstrated that eNOS was critical for modulating the more aggressive crescentric and necrotic glomerular lesions characteristic of the more aggressive proliferative lupus nephritis. The laboratory has VA funding to determine mechanisms through which lupus serum leads to endothelial dysfunction and target those pathways.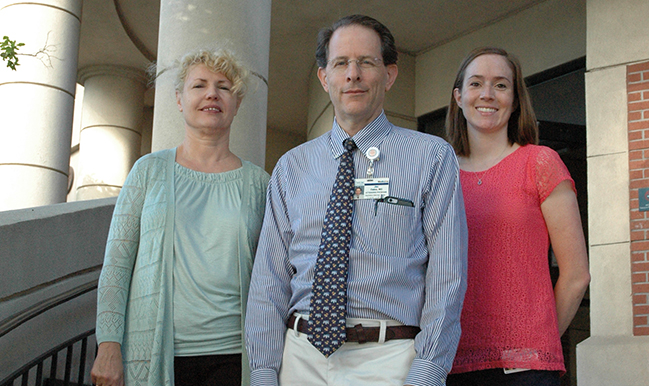 Our work extends to examination of glycosphingolipids as mediators of disease.  In patients with lupus nephritis, lactosylceramide urine levels are significantly higher than in patients with lupus but without nephritis or controls. Lactosylceramide is a known mediator of endothelial dysfunction (in part due to is negative regulation of eNOS expression), but its role in lupus is not known. We demonstrated significant increases in renal cortical production of lactosylceramide and glucosylceramide in proliferative lupus nephritis kidney section. This is the first description of the role of glycosphingolipids in lupus nephritis and offers a novel therapeutic target.
Finally, the laboratory is interested in creating clinically meaningful and hypothesis-generating models predictive of outcomes in lupus nephritis. Over the past decade, we have refined the approach to machine learning modeling to capture the heterogeneous contribution of a variety of chemokines, cytokines, damage molecules, and growth factors to the prediction of outcomes. Using this technique has superior predictive power over traditional biomarkers used in the clinic currently. The machine learning modeling used in biomarker research can also use data from the medical record to predict outcomes.
Publications: