Trident & MUSC Family Medicine Residency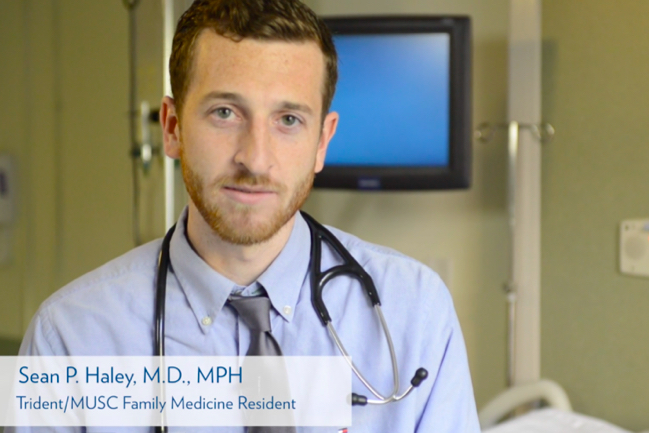 Family Medicine Residency
Trident & MUSC Residency
A Trident/MUSC Family Medicine resident describes why he chose the program.
Family Medicine Residency
A Trident/MUSC Family Medicine resident describes why he chose the program.
On behalf of Trident Health System and the Department of Family Medicine at the Medical University of South Carolina (MUSC), I would like to extend our appreciation for your interest in the Trident/MUSC Family Medicine Residency Program. Our residency is a unique educational partnership between an outstanding community hospital and a modern academic medical center.
The Department of Family Medicine at MUSC was established in 1970 as one of the first university-based departments in the country. The residency program has graduated over 522 family physicians, and we currently recruit for 30 positions. Our graduates have excelled in both private and academic practice.
Trident Medical Center, a nationally recognized 315-bed community hospital, serves as the primary site for resident education. Additionally, Trident Medical Center serves as the sponsoring institution for the program. This location and partnership with MUSC provides us with many of the unique educational opportunities associated with a community medical center while maintaining the benefits of a university affiliation.
In considering quality and excellence in family practice education, we consider the Trident/MUSC Family Medicine Residency Program to be one of the best family medicine residency programs in the country. While subjectively many other programs may be able to state a similar claim, we feel we have the record in patient care, education, and scholarly activity to provide objectivity to our assessment:
High quality faculty with outstanding educational skills.
Educational environment that includes comprehensive didactics, small group teaching and use of a simulation laboratory.
Faculty who serve as exemplary role models in patient care, many of whom have received the "Best Doctors in America" designation.
High level of scholarly activity that has resulted in residents and faculty regularly presenting their work at national and international meetings of Family Medicine organizations.
Faculty members who have over 200 publications in peer-reviewed journals and are actively involved in national Family Medicine organizations.
Additionally, Charleston is a wonderful place to work and live. The downtown area provides an abundance of historical sites, restaurants, and scenic parks, and the surrounding communities offer an array of leisurely activities with beautiful beaches, grand plantations, and numerous golf courses. For more information on the area, please visit the online Charleston Community Guide. We are proud of all the recent awards that Charleston has received:
#1 Hospital in South Carolina by U.S. News & World Report (for the fifth year in a row)
#1 Small City in the U.S. by Conde Nast Traveler (for the sixth year in a row)
#4 Most Fun Place to Live in the U.S. by U.S. News & World Report
#3 Best Cities for Jobs by Forbes
Again, I appreciate your interest in our residency program and hope that you will consider us when applying for residency training. Please let us know if you have any questions.
Respectfully,
Alec O. DeCastro, M.D.
Program Director
Trident Family Medicine Residency Program
Department of Family Medicine, MUSC