Alumni
Alumni Spotlight
Grace Soulen, MPH in Health Behavior & Health Promotion, 2017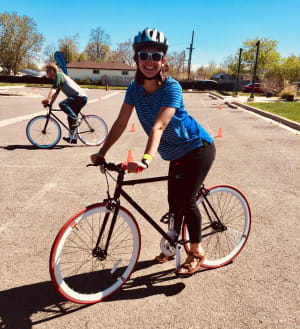 "After graduating from MUSC, I moved to Denver, Colorado to begin my new job as a Family and Community Development Specialist with a Hispanic community organization called Focus Points Family Resource Center. My job responsibilities include resource navigation, coordinating yoga, Zumba, and self-defense classes, Cooking Matters nutrition classes, and our community garden. I continue to rely on my understanding of health behavior theory, research methods, health disparities, and environmental health to find creative solutions to everyday problems. My MPH degree took me where I wanted to go and I'm so thankful to everyone at DPHS for helping me along the way!"
Alumni News
Jaime Speiser, Ph.D. graduate in August 2017 with a Biostatistics concentration, was recently awarded a KL2 grant through the Wake Forest Clinical and Translational Research Institute. The grant will extend her dissertation work on BiMM Forest, random forest for repeatedly measure binary outcomes, and consider novel applications to develop prediction models for outcomes in aging.
Jaime Speiser, Ph.D. graduate in August 2017 with a Biostatistics concentration, was also selected as the co-recipient of the College of Graduate Studies Distinguished Graduate Award for 2018. In addition to an honorarium, she will deliver an address to the incoming cohort of CGS graduate students in August 2018.
Rachel Carroll, a Ph.D. graduate in December 2015 with a concentration in Biostatistics who is now a post doc at NIEHS, just won a $1000 travel award at NIH to use next year. This was an NIH wide competition called Fellows Award for Research Excellence (FARE), based on an abstract of a paper she prepared: Temporally dependent accelerated failure time model for capturing the impact of events that alter survival in disease mapping. Carroll R, Lawson AB, Zhao S­­
Christy Cassarly, Ph.D. graduate in May 2017 with a Biostatistics concentration, has been successful in getting all three papers from her dissertation published.
Below are some of the current jobs of our MPH Alumni:

Chemical Epidemiologist for North Carolina State Dept. of Health
Statistician III for South Carolina Revenue and Fiscal Affairs Office
Program Coordinator- MUSC Pediatric Clinical Trials Group
Database Coordinator and Analyst- MUSC Infectious Disease Dept.
Clinical Trials Program Asst.- Lowcountry Rheumatology
MUSC Infection Preventionist I – MUSC Infection Prevention & Control
Statistical Analyst III MUSC Biomedical Informatics Center
Program Assistant- MUSC South Carolina Clinical & Translational Research Institute
Family & Community Development Specialist w/ Focus Point Family Resource Center, Denver CO
Program Coordinator- MUSC Early Childhood Health Outcomes grant
Also, many MPH graduates have continued on to medical school, Doctor of Osteopathic Medicine School, and graduate school.