Environmental Health Research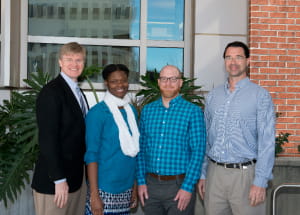 Environmental Health Sciences (EHS) faculty direct a broad range of research projects involving collaboration on local to global scales. Current research projects focus on topics such as contaminated food/water, air pollution exposure and health effects, analysis of large existing data sets that describe patterns of poisonings, infectious disease, and climate change. Other areas of research include environmental pharmaceutical exposures, endocrine disrupting chemicals, international studies of radionuclides, and water sanitation in low-resource settings.
There are many EHS research resources available, such as the Air Quality Lab which accommodates a range of state-of-the-art technologies. Within the region, partners include community organizations, Hollings Marine Laboratory (HML), National Institute for Standards and Technology (NIST), College of Charleston (CofC), and South Carolina Department of National Resources (DNR). Internationally, faculty work with partners in Australia, Japan, Ukraine, and Uganda.
Finally, we have a special focus on the area of environmental health disparities. Students in EHS pursue Ph.D. degrees through the BEACH program and students in any DPHS focus area can center their research on EHS-related projects. For more information about the BEACH program please contact Taneisha Simpson at simpst@musc.edu.