Advertising With MUSC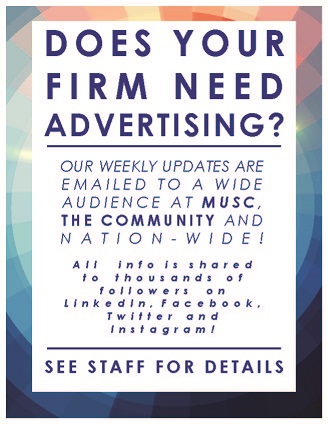 Did you know that depression alone costs our country approximately $2 billion
annually? Did you also know that the state of South Carolina provides just 3% of the MUSC's entire operating budget?
You have likely grown to know and respect the care offered at the Medical University of South Carolina (MUSC) in Charleston. The Department of Psychiatry and Behavioral Sciences at MUSC is a world leader in mental health research and education, and emphasizes excellence in clinical care.
As mental health issues remain at the forefront of local and national media, we will continue to be a standing leader in the field. However, in this uncertain time when funding cuts are rampant, we are counting on you now more than ever. Please consider advertising in our weekly Psychiatry Chair Update that is sent out to individuals at MUSC, individuals in the community, and individuals nationwide. Your advertising contribution would become part of a fund available to all valuable mental health programs in need within the Department of Psychiatry and Behavioral Sciences at MUSC.
Click here to print out our Advertising Packet!
Do you want to be an Exhibitor at one of our events? Click here!