Critical Care Anesthesiology Fellowship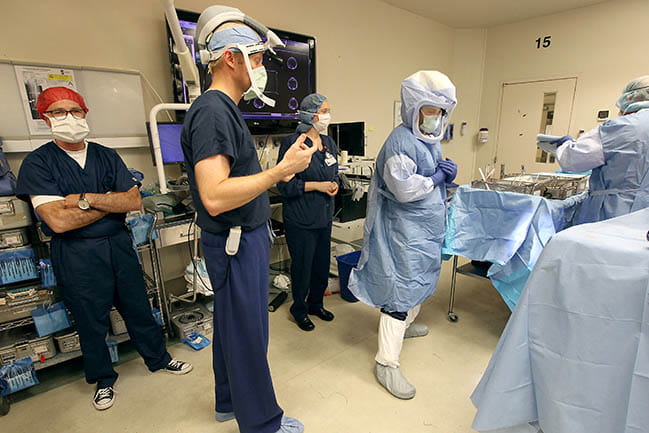 The Critical Care Fellowship at the Medical University of South Carolina is ACGME - accredited for two fellows per year. The fellowship program provides an in depth ICU experience producing well qualified critical care anesthesiologists. The program is designed to allow fellows to gain the experience and knowledge needed to prepare for Board Certification in Anesthesiology Critical Care Medicine. The fellows participate in the Medical/Surgical ICU, Surgical/Trauma ICU, Neurosurgical ICU, Cardiothoracic ICU, and elective rotations at the MUSC hospital. In these units, fellows gain additional experience and instruction in the postoperative management of patients undergoing complicated gastrointestinal surgeries, trauma, transplants (liver, heart, lung, kidney, and pancreas), major vascular, neurosurgical, cardiac, and thoracic surgeries. During each rotation, fellows are appropriately supervised and mentored by well-trained faculty. They will also participate in supervising and teaching medical students, interns, and residents from all medical disciplines. The clinical volume is sufficient to gain a broad experience, but not so onerous as to limit potential research involvement and writing. The institution is committed to providing the necessary support to allow the achievement of all educational goals.

Division Faculty
The Critical Care Medicine division faculty members are recognized leaders in the field with peer reviewed publications and book chapters, in addition to speaking at national conferences such as the American Society of Anesthesiologists and Society of Critical Care Anesthesiologists yearly meetings. All of our critical care faculty members are board certified in both anesthesiology and critical care medicine. The Department of Anesthesia and Perioperative Medicine at MUSC is a highly integrated, collaborative group of adult and pediatric anesthesiologists. The department is comprised of 50+ staff anesthesiologists, 50+ residents in clinical anesthesia training and more than 50+ nurse anesthetists who are all committed to providing optimal care to adult and pediatric patients requiring anesthesia. Members of the department also conduct basic and clinical research and teach postgraduate and continuing education programs. MUSC anesthesiologists supervise over greater than 35,000 annual cases requiring anesthesia. This large number of cases, integrated with ongoing research and education, results in wide-ranging expertise in anesthetic and critical care management. The critical care division of our department maintains an outstanding working relationship with our surgical critical care, pulmonary critical care, neurocritical care, and cardiothoracic colleagues; creating a multidisciplinary environment that benefits our fellows' educational experience.
Lecture Series
Information is presented in many different formats to accommodate different learning styles. In addition to the clinical experience gained in the various intensive care units, there are weekly critical care education for all fellows and staff, including didactics, monthly multidisciplinary Critical Care Grand Rounds and M&M conferences. Information is delivered in pure didactic sessions, group discussions and journal clubs. In addition, fellows will participate in the Anesthesia Departmental Grand Rounds conferences and the multidisciplinary Morbidity and Mortality conferences.
Moonlighting Policy
For those who have a permanent South Carolina license and are in good academic standing, internal moonlighting opportunities exist. Moonlighting should not compromise the educational experience, but rather enhance it.
Application Process
Applications are generally reviewed 12 to 18 months prior to the start of each fellowship year. To apply, please complete an application for our program at SF Match. In addition, please send three letters of recommendation to the attention of Stephanie Whitener, M.D., care of Susan Watson by email (watsons@musc.edu). Your application will be considered complete when all three letters of recommendation have been received. We look forward to reviewing your application.
Program Contacts
Stephanie Whitener, M.D.
Fellowship Director