Pediatric Anesthesiology Fellowship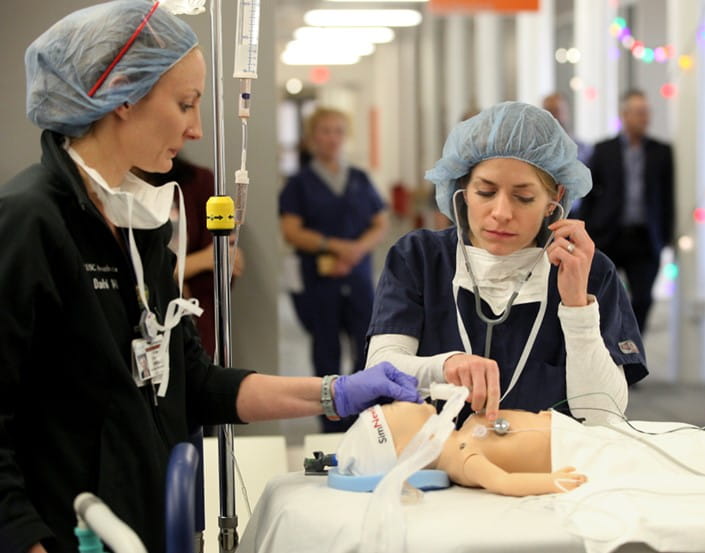 The pediatric anesthesiology fellowship at the Medical University of South Carolina is ACGME-accredited and provides an in-depth and well-rounded experience that produces well qualified pediatric anesthesiologists. The program is designed to allow fellows to gain the experience and knowledge needed to prepare for board certification in pediatric anesthesiology.
The fellows will rotate through the general pediatric ORs, pediatric cardiac ORs, non-operating room anesthesia (NORA) locations, the Pediatric Cardiac Intensive Care Unit, the Pediatric Intensive Care Unit, and the Ambulatory/Outpatient Unit, as well as gain hands-on experience with pediatric regional techniques while on their Pediatric Pain rotation. In these units, fellows gain additional experience and instruction in management of a wide age range of neonatal and pediatric patients undergoing complicated general, trauma, transplant, neurosurgical, cardiac, and thoracic surgeries. During each rotation, fellows are appropriately supervised and mentored by board-certified pediatric anesthesia faculty. They will also participate in supervising and teaching medical students and residents from various medical disciplines.
The clinical volume is sufficient to gain a broad experience, but not so onerous as to limit potential research involvement and writing. The institution is committed to providing the necessary support to allow the achievement of all educational goals.
Rotations
Rotations are offered in the following areas:
Advanced Pediatric Anesthesia (at least four months)
Pediatric Cardiac Anesthesia (two months)
Pediatric Intensive Care Unit (two weeks)
Pediatric Cardiac Intensive Care Unit (two weeks)
Ambulatory Anesthesia (one month)
Non-operating room anesthesia (one month)
Transition to Practice (one month)
Research (one month)
Vacation (15 days and up to five days for conference attendance)
Division Faculty
The pediatric anesthesia division faculty members are scholarly active, producing peer-reviewed publications and book chapters in addition to presenting at national conferences and meetings. All of our pediatric fellowship faculty members are board certified in pediatric anesthesiology.
The Department of Anesthesia and Perioperative Medicine at MUSC is a highly integrated, collaborative group of adult and pediatric anesthesiologists. The department comprises 60+ staff anesthesiologists, 50+ residents in clinical anesthesia training, and more than 50+ nurse anesthetists who are all committed to providing optimal care to adult and pediatric patients requiring anesthesia. Members of the department also conduct research and teach postgraduate and continuing education programs. MUSC anesthesiologists supervise over 50,000 annual cases requiring anesthesia.
This large number of cases, integrated with ongoing research and education, results in wide-ranging expertise in pediatric anesthetic management. The pediatric division of the department maintains an outstanding working relationship with a wide and varied team of interprofessional healthcare providers, creating a multidisciplinary environment that benefits our fellows' educational experience.
Didactics
In addition to the clinical experience gained in the various pediatric units, there are weekly pediatric education opportunities for all fellows and staff, including pediatric fellow lecture series, simulations, journal club, interesting case discussion, and M&M conferences. Information is delivered in pure didactic sessions, group discussions and online lectures. The pediatric anesthesia fellow lecture series includes weekly lectures both in person and online, quarterly journal club, and quarterly M&M conference. In addition, fellows will participate in the weekly Anesthesia Departmental Grand Rounds conferences.
Moonlighting Policy
For those who have a permanent South Carolina license and are in good academic standing, weekend internal moonlighting opportunities exist. Moonlighting should not compromise the educational experience, but rather enhance it. Moonlighting should not be in excess of the 80 hour work week.
Application Process
To apply for a fellowship position at MUSC, please apply through the National Residency Match Program (NRMP) using the Electronic Residency Application Service (ERAS) system. Your application will be considered complete when all of your required attachments and letters of recommendation have been received.
The general application cycle includes application portal opening in December, the application review and interview process starting in the Spring (April through August). The NRMP website opens for both applicants and fellowship programs in June, and the Match takes place annually in October.
Please don't hesitate to contact us with any questions. We look forward to receiving and reviewing your application.
Program Contacts
Amanda Redding, M.D.
Fellowship Director
reddinga@musc.edu
Laura Matthews
Fellowship Coordinator
seeback@musc.edu