AHEC Team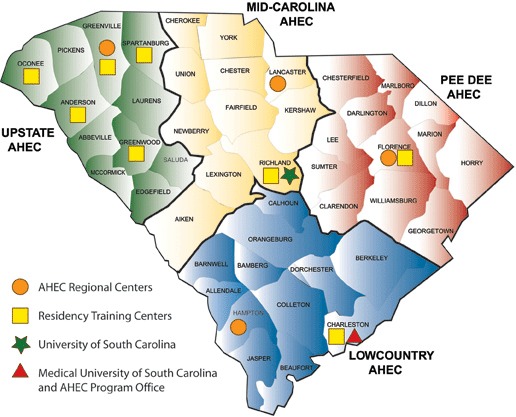 AHEC Site Coordinators
There are four different AHEC regions. Community Site Coordinators (AHEC Health Professions Student Coordinators) will contact students in the weeks leading up to the start of the rotation. Some will maintain contact throughout the rotation and visit students at their site. AHEC arranges housing for students when needed for the clerkship. AHEC coordinators:
Arrange student housing (in areas where housing is provided) and help settle students into housing upon arrival in rural communities;
Are the first point of contact for preceptors regarding medical student scheduling and clerkship curriculum;
Recruit new preceptors;
Maintain a close working relationship with MUSC clerkship faculty;
Introduce students to practice, hospital, community, community resources;
Are a constant resource and point of contact for community/practice projects (in some areas, students may work alongside site coordinators on established projects, i.e. Winnsboro);
Provide guidance in arranging patient home visits;
Offer limited technology assistance (often student must be referred to student coordinators);
Are ALWAYS available to provide support and assistance to students and preceptors.
Student Coordinators by Region
87 Academy Road,
Walterboro, SC 29488
Phone: 843-782-5052
Fax: 843-782-5053
Counties: Allendale, Bamberg, Barnwell, Berkeley, Calhoun, Charleston, Colleton, Dorchester, Hampton, Jasper

Contacts:
Emily Warren, LMSW
Health Professions Student Coordinator
warrene@lcahec.com
Phone: 843-782-5052
Kimbley Stephens, MS.Ed. 
Health Professions Student Coordinator
stephensk@lcahec.com
Phone: 843-782-5052
P.O. Box 2049, 1824 Hwy 9 By-Pass West
Lancaster, SC 29721
Phone: 803-286-4121
Fax: 803-286-4165
Counties: Aiken, Cherokee, Chester, Fairfield, Kershaw, Lancaster, Lexington, Newberry, Richland, Union, York
Contacts:
Julie Ghent
Health Professions Student Coordinator
jughent@comporium.net
Phone: 803-286-4121

Beth McDonald, M.Ed
Health Professions Student Coordinator
bmdonald@comporium.net
Phone: 803-286-4121
Medical Park West, P.O. Box 100551,
Florence, SC 29501
Fax: 843-777-5354
Counties: Chesterfield, Clarendon, Darlington, Dillon, Florence, Georgetown, Horry, Lee, Marion, Marlboro, Sumter, Williamsburg
Contacts:
Stephanie Flowers
Health Professions Student Coordinator
sflowers@mcleodhealth.org
Phone: 843-777-5345

Lance Butler
Health Professions Student Coordinator
lance.butler@mcleodhealth.org
Phone: 843-777-5341
200 North Main Street, Suite 201
Greenville, SC 29601
Phone: 864-349-1160
Fax: 864-349-1179
Counties: Abbeville, Anderson, Edgefield, Greenville, Greenwood, Laurens, Oconee, Pickens, Saluda, Spartanburg
Contacts:
C. Tina Fulton, BS
Health Professions Student Coordinator
tfulton@upstateahec.org
Phone: 864-349-1168