Pediatric Hospital Medicine
*Front row left to right: Sarah Mennito, Andrea Summer, Annie Andrews, Tricia McBurney, Ron Teufel
Back row left to right: Dan Williams, Bill Basco, David Bundy, Conrad Williams, Dave Mills
Vision 
The Pediatric Hospital Medicine (PHM) faculty at the Medical University of South Carolina are focused on delivering the highest quality of care to hospitalized children. We achieve this vision with a focus on evidence-based medicine, quality improvement, medical education, health services research, and clinical research. We remain focused on the high-quality care we give today and developing innovative medical practices to ensure even better care tomorrow.
The Early Years
The program was established in 2005 with a simple guiding principle borrowed from a classic movie: If you build it (well) they will come. PHM programs across the nation were growing using various approaches to recruit and retain patient referrals. Our belief was simple: if we built a great program that delivered high-quality care, our service would garner patient referrals naturally. Clinical volume increased 50% within the first year, and the steady growth resulted in our service consistently discharging the largest number of patients per year in the Children Hospital.
Clinical Care
We care for a diverse group of patients with a vast array of conditions, from common diagnoses such as asthma to more complex conditions such as inborn errors of metabolism. We receive referrals from and often function as the primary attending physicians for local General Pediatricians and most subspecialties including:
Adolescent Medicine
Allergy and Immunology
Child Abuse Pediatrics
Dermatology
Eating Disorder Clinic
Endocrinology
Gastroenterology
Infectious Disease
Ophthalmology
Oral-maxillofacial Surgery
Nephrology
Neurology
Pulmonology
Palliative Care
Rheumatology
In addition, we are often referred more complex patients with primarily PHM medical needs from subspecialists including:
Cardiology
Neurosurgery
Orthopedics
Otolaryngology (ENT)
Pediatric Surgery
Plastic and Reconstructive Surgery
Psychiatry
Radiology
Transplant Surgery
Urology
Our experience with applying evidence-based medicine ensures that high quality care is delivered to our patients with common and rare conditions. For our more complex patients, we utilize our experienced interdisciplinary team of providers from all disciplines within the Children's Hospital. Applying concepts of Family-Centered Care and shared decision-making enables us to engage with patients and families to gain their knowledge and ensure that care decisions fit within their goals and beliefs.
Medical Education and Mentorship
Faculty are actively engaged in medical education at all levels including: medical students, resident physicians, and fellows. Our faculty are involved as program directors (Categorical Pediatrics and Medicine/Pediatrics residencies) and pediatric clerkship directors (for third year medical students). Senior faculty participate in education and mentorship of junior faculty, both locally and nationally. Our faculty have been integral in the development and ongoing success of the Pediatric Evidence-Based Medicine curriculum, Quality Improvement, Simulation Education, the Resident As Teacher curriculum, Transition Medicine, the Academic Generalist Fellowship, and the PHM Fellowship. Faculty mentors have participated in numerous national presentations and manuscripts with both residents, fellows, and junior faculty.
Scholarship, Innovation, and Research Interests:
Asthma
Cost-effectiveness
Global Health
Health Information Technology/Electronic Health Records
Health Service Research
Medical Education
Palliative Care
Pediatric Prescribing Errors
Quality Improvement including Patient Safety
Telehealth including Mobile Health Technology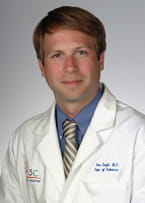 Ronald J Teufel II, M.D. MSCR
Director, Pediatric Hospital Medicine
Professor of Pediatrics and Internal Medicine
Medical University of South Carolina