Epidemiology Research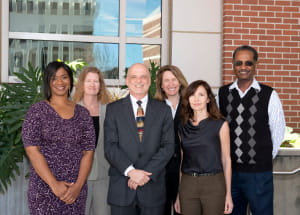 The epidemiology faculty in the Department of Public Health Sciences at MUSC is engaged in research that encompasses many domains applied to a broad range of health outcomes including aging, cancer, cardiovascular disease, diabetes, infectious disease, HIV, injury/trauma, neurological disorders, oral health, tobacco and other substance use, and perinatal/reproductive conditions. A cross-cutting theme across much of this research is a focus on health disparities. The goal of this novel, independent research is to improve clinical care and advance population health.
Further, the faculty is actively engaged in translating knowledge into public health practice through their involvement in a wide range of local, state, and national public health surveillance and disease control activities.
In addition to conducting their own investigator-initiated research, epidemiology faculty members are a strong asset to collaborative team science across the biomedical research disciplines by providing expertise in disease etiology and research methodology. The epidemiology faculty thus collaborate with basic, clinical, and population scientists across the MUSC campus and beyond, on research to advance the frontiers of biomedical research and public health science.
Epidemiology Research Projects
Environmental Influences on Child Health Outcomes (ECHO)
Environmental Influences on Child Health Outcomes (ECHO) is a seven year national research initiative sponsored by the National Institutes of Health (NIH) to determine what factors give children the highest likelihood of achieving the best health outcomes over their lifetimes. MUSC will serve as a coordinating center for part of the project known as the Environmental Influences on Child Health Outcomes (ECHO) Eunice Kennedy Shriver National Institute of Child Health and Human Development (NICHD) Fetal Growth Study. Dr. Vena is leading the MUSC site as Principal Investigator.
South Carolina Traumatic Brain Injury Follow-up Registry (SCTBIFR)
SCTBIFR is a study performed to follow the health outcomes and services needed of people who were discharged from the hospital following a brain injury. More information about SCTBIFR.