The Department of Radiation Oncology offers a challenging four-year program intended to prepare physicians for a highly successful career in radiation oncology. The goal of the residency program is to develop a life-long quest for learning that prepares residents to deal with the problems of today with an eye to the solutions of tomorrow. Residents will acquire a broad base of skills and knowledge in clinical radiotherapy and translational oncology, and work with the most modern techniques and equipment available.
History
Established in 1824 as one of the nation's first medical schools, the Medical University of South Carolina (MUSC) provides the most up to date care and biomedical research available in South Carolina and the Southeast. In an era of shrinking research dollars, the University has increased its research funds dramatically over the last decade, placing it in the upper tiers of medical schools in terms of research dollars with over $247 million in research funds in 2015.
The Hollings Cancer Center (HCC) at MUSC is among fewer than 70 cancer centers that have achieved recognition as a National Cancer Institute designated Cancer Center. It hosts the MUSC Department of Radiation Oncology in the main HCC building, with over 200,000 square feet of multidisciplinary clinics, research laboratories, conference facilities, and more. Core facilities include biostatistics support, flow cytometry and cell sorting, cell and molecular imaging, small animal imaging, tissue biorepository, gene targeting and knockout, lipidomics synthesis and analysis, cellular therapy, drug discovery and screening, and clinical trials support. HCC has over $43 million in research funding. Research programs include Cancer Immunology, Cancer Genes & Molecular Regulation, Developmental Cancer Therapeutics, and Cancer Control. U.S. News and World Report ranks the Hollings Cancer Center in the top 50 cancer centers in the U.S. for 2015 to 2016.
About
The Department of Radiation Oncology is actively engaged in a number of research areas including evaluating the effects of tobacco and other health behaviors on cancer treatment outcomes as relating to:
implementing evidence-based tobacco cessation support for cancer patients,
evaluating the effects of tobacco and cessation on clinical outcomes and quality of life,
identifying critical biologic mechanisms of therapeutic resistance caused by tobacco and tobacco related products, and
participating in influencing national and international tobacco control policy. Other departmental research efforts include investigating causes of racial disparities in cancer outcomes, especially as influenced by vitamin D levels. In addition, Department of Radiation Oncology faculty are developing immunologic methods to treat cancer, using vaccine-mediated approaches to induce specific anti-tumor immune responses in cancer patients. Significant collaborations exist between faculty in the Department of Radiation Oncology and investigators throughout Hollings Cancer Center and MUSC. Through this translational approach, significant opportunities are available for students, residents, and faculty to perform active prospective research to enhance patient treatment outcomes.
As an integral part of the Hollings Cancer Center, the department provides radiation therapy in a high-tech, multidisciplinary environment. Physicians from all the pertinent specialties see and discuss patients at disease-specific clinics and tumor boards, which meet with a genuine esprit-de-corps providing a comprehensive approach to patient management. These multidisciplinary teams and tumor boards include Breast Cancer, Head and Neck Cancer, Thoracic Cancer, Hematological Cancers/Lymphoma, Gastrointestinal Cancer, Genitourinary Cancer, Neurologic Cancer, Pediatric Malignancies, Melanoma and Aggressive Skin Cancer, Sarcoma, and Gynecologic Cancer. Residents also gain rare and valuable insight into the late toxicity of radiotherapy by attending our Long-term Pediatric Oncology Survivor's Clinic.
The Department endeavors to develop and promote the most modern treatment techniques. We have active programs in stereotactic radiosurgery with GammaKnife® Perfexion™, stereotactic body radiosurgery, fractionated stereotactic radiotherapy, total body irradiation for bone marrow transplant, high- and low-dose rate brachytherapy including MammoSite®, Contura®, and Savi® applicators for partial breast irradiation and real-time intraoperative planning for prostate seed implants using QuinkLink® for constructing custom-built seed trains in the OR. Residents also gain experience in the use of Ra-223 dichloride and Y-90 microspheres therapy. We have multiple approaches for delivering intensity modulated radiotherapy including Tomotherapy® and linac-based methods including volumetric-modulated arc therapy. We are installing our third Varian TrueBeam™ linear accelerator in the fall of 2016. We have multiple solutions for motion management as well as intra-fraction monitoring.
We have the highest expectations for the performance of our resident physicians. We support this prospect with dedicated time each morning for didactic education. Our lecture series from 8 to 9 am each day (8 to 10am on Thursdays) rotates between formal didactic presentations by Radiation Oncology or guest faculty, resident-led reviews, Journal Club, Radiation Biology, Clinical Physics, and peer-review chart rounds. This time is protected for the residents to ensure they receive the didactic education required of a well-rounded training program in Radiation Oncology. Resident research and training is supported financially as well, with book-funds and travel support for national and international meetings, in addition to elective rotations for research efforts. Each resident is supplied with a desktop computer and an iPad® to facilitate the educational process and manage patient care. Pagers for residents are currently being replaced with iPhones® provided by MUSC.

Our department participates in the ERAS match program. Our ACGME ID number is 4304521092. Successful applicants for our resident training program will complete a clinical internship/preliminary year after medical school at an ACGME-approved program in Transitional Medicine, Internal Medicine, or General Surgery. The Department of Surgery at MUSC has put together an excellent preliminary year program specifically for interns interested in Radiation Oncology. Residents are expected to pass the USMLE part 3 and a background check during their internship year, before beginning their residency program in our department.
For more information on our resident training program, please contact:
Karma Gathers-Thompson, Program Coordinator
Department of Radiation Oncology
169 Ashley Avenue
MSC 318
Charleston, SC 29425
Phone: 843-792-3273
Fax: 843-792-5498
thompsk@musc.edu
Resident Salaries & Benefits
The most up-to-date information on current resident salaries and benefits can be found in the Graduate Medical Education Handbook.
Current Medical Residents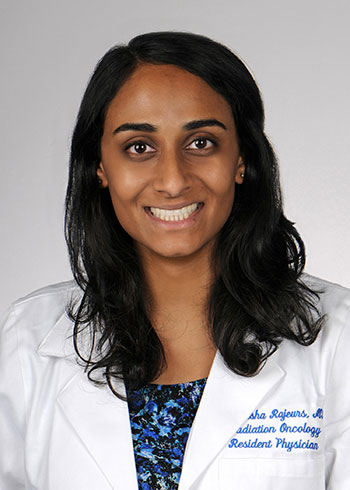 Kanksha Rajeurs, M.D.
Residency, 2016 to 2020
B.S. Biochemistry and Molecular Biology, 2008 to 2011
M.D., University of Louisville School of Medicine, 2011 to 2015
Internship, Internal Medicine, Riverside Regional Medical Center, 2015 to 2016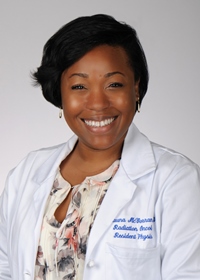 Shauna McVorran, M.D.
Residency, 2017 to 2021
BScH Life Sciences (Research), Honours, Queen's University, Kingston, Ontario, 2001 to 2005
MHSA Health Services Administration, Dalhousie University, Halifax, Nova Scotia, 2005 to 2007
MD Doctor of Medicine, St. George's University School of Medicine, St. George's, Grenada, 2011 to 2015
Internship: Internal Medicine, Icahn School of Medicine at Mt. Sinai (Queen's Hospital Program) Queens, New York, 2015 to 2016
Michael Hall, M.D.
Residency, 2019 to 2023
B.S. Biology, 2004 to 2008, Erskine College
A.H. Nursing, University of South Carolina Lancaster, 2009 to 2012
M.D., University of South Carolina School of Medicine, 2014 to 2018
Sarah Russo, M.D., Ph.D.
Residency, 2019 to 2023
B.S. Biological Sciences, Clemson University, 2002 to 2006
M.D./Ph.D., Medical University of South Carolina College of Medicine, 2009 to 2018
Justin Steinman, D.O.
Residency, 2019 to 2023
B.S. Neuroscience, Nutrition, Russian Language, 2008 to 2012, University of Scranton
D.O., Philadelphia College of Osteopathic Medicine, 2013 to 2018
Facilities
The Department of Radiation Oncology has two physical locations in the Charleston area. In addition, we staff a remote community-based center with a physician and physicist further north. The downtown campus is located in two separate buildings adjacent to each other.
Located in the main hospital are the faculty offices, three patient exam rooms, a Gamma Knife Perfexion, a Varian TrueBeam STx with a 6 DOF table, OBI with the advanced imaging package, RPM, OSMS. Also in this location is a Varian 600C whose vault also serves as our HDR brachytherapy treatment room.
Next door in Hollings Cancer Center the department has seven exam rooms, a Siemens Somatom Confidence RT Pro dual-energy, wide-bore CT scanner, a large dosimetry/physics planning area, Tomotherapy, and a Varian TrueBeam with a 6 DOF table, RPM and OSMS. The resident workroom is also located in this area.
Approximately 10 miles to the north is our local satellite treatment center with four exam rooms, a Varian TrueBeam with a 6 DOF table and OSMS and another Siemens Somatom Confidence CT scanner. There is also a conference room, dosimetry room, and three faculty offices.
Finally, approximately 52 miles further north, we provide a radiation oncologist and physicist to the Francis B. Ford Cancer Treatment Center, a part of the Tidelands Health System. This facility has a Varian iX accelerator and a GE 8 slice wide bore CT scanner. Due to the long distance from the main campus, this site is not included in the physics residency program.
Technology
The Department of Radiation Oncology has a wide variety of modern technology enabling us to treat our patients with leading edge techniques, participate in clinical trials and perform innovative research. Please explore the various options in treatment machines, treatment planning and physics equipment.
Physics QA Equipment & Software
IBA Wellhoffer
Sun Nuclear

MapCheck 2
Daily QA3
Tomodose
1D Scanner with PC electrometer
ArcCheck

Landauer MicroStar OSL system 2
Mobius DOSELAB, Mobius3D, MobiusFX
Various ion chambers, diodes, electrometers
MUCheck
RIT Film Dosimetry System 6.2
Treatment Planning & Simulation
Siemens Somatom Confidence RT Pro CT Simulator
Varian Eclipse with RapidPlan 
Varian ARIA
Tomotherapy Planning with VOLO
Elekta GammaPlan
Velocity Al
Elekta Oncentra brachytherapy
Varian Variseed with Bard Quick Link
Treatment Machines & Delivery Systems
3 Varian TrueBeam linear accelerators

OBI
Advanced imaging package
RapidArc
Optical surface monitoring system (OSMS)
RPM
PerfectPitch 6DOF couch tops
HDMLC 

Varian 600C (dedicated for TBI)
Tomotherapy
Gamma Knife Perfexion
Elekta Flexitron brachytherapy delivery system with advanced CT and MRI-compatible applicators
Animal Irradiator
Precision X-Ray X-Rad 320
About Charleston
Charleston is a city known for its enchantment and charm, as well as its fascinating beauty, history, and culture. Located on the coast of South Carolina, midway between Myrtle Beach and Hilton Head Island, Charleston is recognized by Travel and Leisure as one the Top 10 Cities in the United States and has been a favorite vacation and relocation destination.
More Information about Charleston, South Carolina: