Message From the Chairman
The Department of Anesthesia and Perioperative Medicine (originated in 1956) is a vital part of the oldest medical school in the south, the Medical University of South Carolina (MUSC), which was founded in 1824. Situated in beautiful, historic Charleston, South Carolina, MUSC is a wonderful place to train and to work. Anesthesiology residents rotate through the University Hospital which consists of 21 operating rooms and 12 off-site anesthesia locations; Rutledge Tower, our outpatient ambulatory surgical center with nine operating rooms; Ashley River Tower which houses ten operating rooms and seven peripheral locations; and the Ralph H. Johnson VA Medical Center with five operating rooms. Despite the challenging Health care environment, MUSC continues to rapidly grow, as demonstrated by the building of a new pediatric ambulatory surgical center and multispecialty office building and 350 million dollar Children's Hospital and Woman's Pavilion (opening 2019). View a time lapse video of the Shawn Jenkins Children's Hospital construction. All of our facilities offer state-of-the-art monitoring and equipment in spacious rooms.
Teaching is a priority of the department. The faculty is extremely diverse with extensive fellowship training in adult and pediatric cardiothoracic, pediatric, critical care, regional anesthesia and chronic pain management. Our residents come from throughout the United States. Our caseload is such that residents are able to complete their case number requirements for American Board of Anesthesiology (ABA) certification by the end of their CA-2 year, allowing them the opportunity to concentrate on areas of interest throughout their CA-3 year. In addition, Adult Cardiothoracic, Critical Care, and Regional Anesthesiology fellowship opportunities are available.
The department is significantly engaged in research activities and has recently expanded our ability to impact the field of patient safety through the recruitment and collaboration of three South Carolina Smart State endowed chairs. Dr. John Schaefer, the Lewis Blackman Endowed Chairman for Patient Safety and Medical Simulation, oversees the South Carolina Simulation Training statewide network. Our residents and medical students have a significant opportunity to learn how to handle rare, high-risk events in a simulated environment. Dr. Ken Catchpole is the Endowed Chair of Clinical Practice and Human Factors and leads the Medical University Hospital and department's efforts in quality assurance, infection control, and team building. As a joint recruitment with Clemson University, Dr. Anjali Joseph is the Endowed Chair in Architecture+Health Design and Research. These three Smart State endowed chairs allows us a unique opportunity to study and modify the environment in which we work to improve patient and employee safety and satisfaction.
Significant research is also being devoted to Enhanced Recovery After Surgery initiatives and the Surgical Home concept through the work of Drs. Carlee Clark and Julie McSwain. The department is also heavily involved in delineating the utility of medical devices such as transcranial magnetic stimulation (TMS) and transcranial direct current stimulation (tDCS) for the treatment of acute and chronic pain. Multiple corporate trials are ongoing at any given time. All of this research offers residents the opportunity to be exposed to projects with close faculty supervision. 
Our "can-do" mentality along with all that our beautiful city has to offer creates a wonderful environment in which to train, work, and live.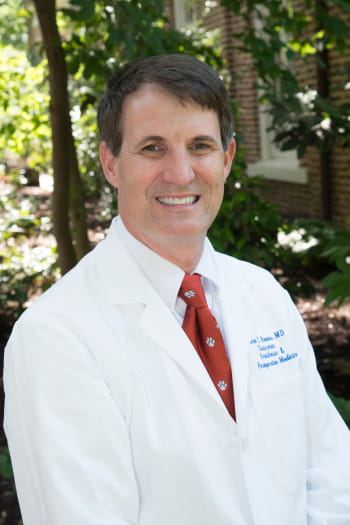 Scott Reeves, M.D., MBA
Professor and Chairman
Department of Anesthesia & Perioperative Medicine