MUSC Flex Research Elective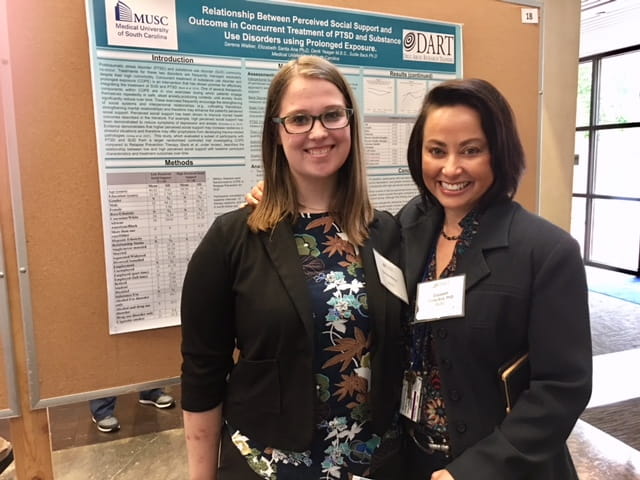 Flex Research Elective
The DART Program will offer a Flex Research Elective starting March 12, 2020 through June 5th, 2020.
Select students will be matched with a mentor who will work closely with and guide the student through a research project. Students will gain experience collecting data, running analyses, scientific writing and training through weekly didactic seminars and journal club meetings alongside other DART trainees.
Application Procedure
This program is open only to MUSC College of Medicine FLEX Students. To apply, students should submit the following materials to DART Program Coordinator Emily Bristol by October 1, 2019.
CV
Letter of Interest
1 Letter of Recommendation (can be included with student's application materials or can be sent directly to Emily Bristol)

Notices of selection will be e-mailed no later than October 15th, 2019. 
Mentor Information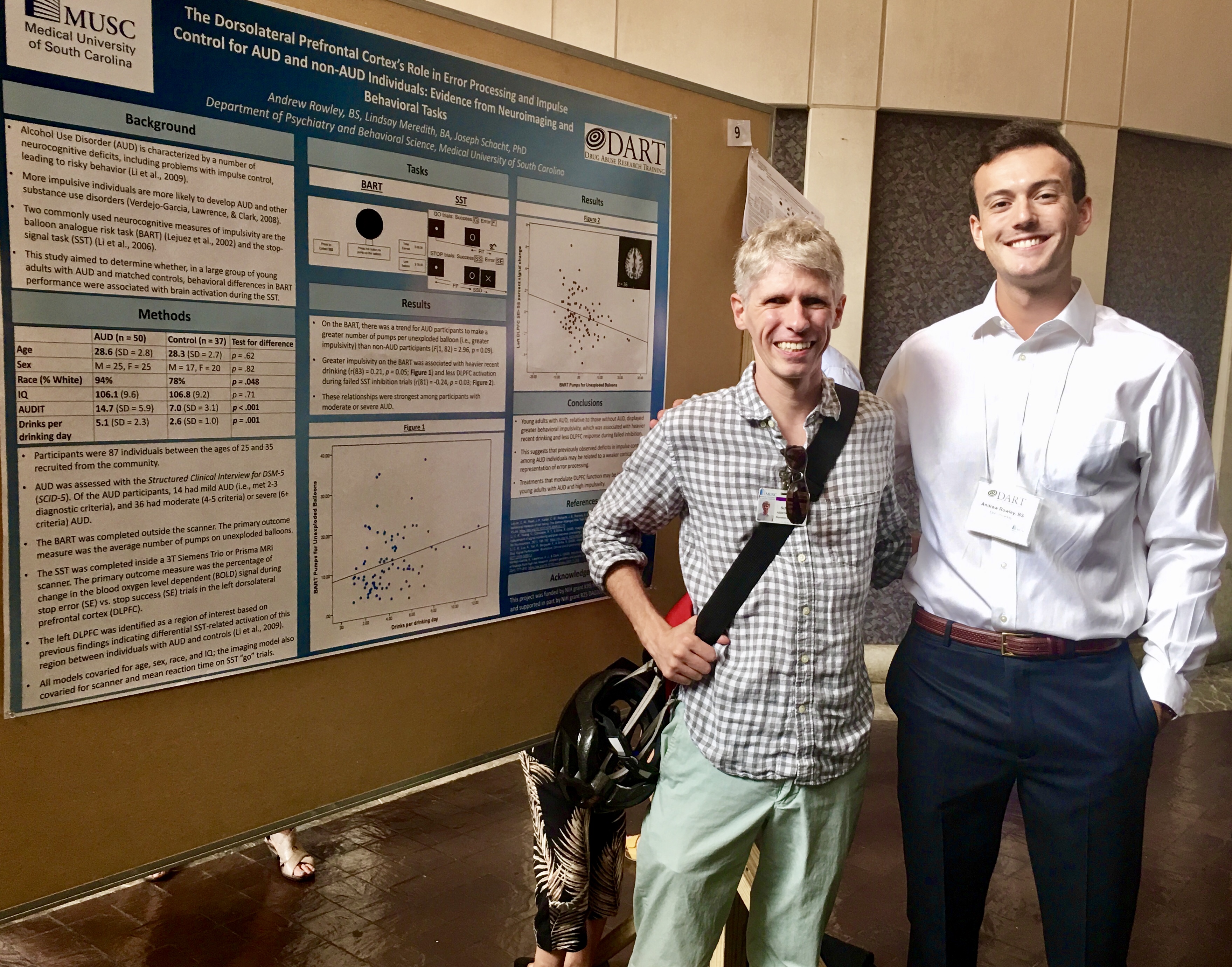 Dr. Joseph Schacht featured with his summer fellow, Andrew Rowley, current medical student at MUSC.
Below are faculty mentors who have worked with the DART Program and will be available for the FLEX elective. Students selected for the DART Program will be matched with a mentor by the DART Leadership Team. Applicants are invited to rank their preferences for research focus in the Letter of Interest. 
The goal of Dr. Rachel Tomko's work is to improve efficacy of substance use disorder (SUD) treatment through two lines of research. First, Dr. Tomko focuses on understanding individual differences in factors that maintain substance use and affect treatment response with the goal of personalizing treatment. She has an ongoing study examining gender differences in young adults' antecedents of cannabis use in daily life to inform gender-specific treatments. She also utilizes data-driven approaches to predict treatment response to medications for SUDs. Second, Dr. Tomko studies how technology can be optimally used in randomized controlled trials to improve assessment of outcomes, treatment uptake (e.g., medication adherence), and sample generalizability to real-world settings. The goal is to expedite treatment development by increasing the accuracy of clinical trial results.

From the Lab: Tomko, R.L., McClure, E.A., et al. (2019). An electronic, smart lighter to measure cigarette smoking: A pilot study to assess feasibility and initial validity. Addictive Behaviors.
From the Lab: Tomko, R.L., Saladin, M.E., Baker, N.L., McClure, E.A., et al. (2018). Sex Differences in Subjective and Behavioral Responses to Stressful and Smoking Cues Presented in the Natural Environment of Smokers. Nicotine & Tobacco Research.
From the Lab: Youth Collaborative Handout (PDF) 

Dr. Erin McClure's research interests focus broadly on improving strategies to treat cigarette smoking and study the complex process of relapse, while integrating technology to improve research and treatment efforts. Dr. McClure has current and past funding from the National Institutes of Health to; 1) support the development and evaluation of a remote monitoring technology to detect smoking and relapse in adolescents and emerging adults, 2) evaluate novel pharmacotherapies for tobacco use disorder in adults, and 3) assess the role of cannabis co-use in tobacco cessation. Dr. McClure is also an active collaborator on several federally-funded research grants focused on the study and treatment of tobacco and cannabis use disorders.

From the Lab: McClure, E.A., et al. (2019). Tobacco and cannabis co-use: Drug substitution, quit interest, and cessation preferences. Experimental and Clinical Psyhcopharmacology. 
From the Lab: Akbar, S.A., Tomko, R.L., Salazar, C.A., Squeglia, L.M., and McClure, E.A. (2019). Tobacco and cannabis co-use and interrelatedness among adults. Addictive Behaviors.
From the Lab: McClure, E.A., Tomko, R.L., et al. (2018) Acceptability and compliance with remote monitoring system to track smoking and abstinence among young smokers. American Journal of Drug and Alcohol Abuse. 

Dr. Rachel Penrod-Martin's laboratory is focused on studying the molecular genetics of neurodevelopmental disorders and drug addiction. The laboratory uses multi-level analysis to study the role of epigenetic molecules, transcription factors, and cell-cell signaling in mediating developmental and experience-dependent plasticity driving behaviors relevant to neurodevelopmental and neuropsychiatric disorders. DART Research Experience participants can use their flex period to work on projects featuring 1) molecular techniques to examine protein and RNA expression and function, 2) analysis of rodent behavior, and 3) manipulations and imaging of neuronal cell populations and brain regions involved in pre-clinical models of drug addiction or neurodevelopmental disorders.
Dr. Trip Griffin's research program seeks to understand the neural pathways and the neuroadaptations in these pathways that perpetuate heavy drinking in alcoholics. In particular, his program focuses on the activity of various glutamatergic pathways converging on the nucleus accumbens, a key reward center in the brain, and their influence on drinking behavior. Using a mouse model of alcohol dependence and relapse that recapitulates important features of the human condition, the pathways can be directly manipulated in behaving mice using DREADDs (Designer Receptors Exclusively Activated by Designer Drugs) or activity of the pathways can observed in behaving mice using fiber photometry or microdialysis procedures. During a FLEX rotation, students will work with mice in an experiment designed to answer a specific research question related to alcohol drinking, learning as much as possible about the design and execution of these complex studies.
Students rotating with Dr. Lisa McTeague will assist with studies of non-invasive brain stimulation for improving regulation of cognition and emotion among patients with neuropsychiatric (PTSD, depression) and neurodegenerative (stroke, dementia) disorders as well as healthy participants. More specifically, the individual will gain experience with transcranial magnetic stimulation, EEG/ERPs, physiological measures (startle reflex, autonomic) and MRI and tasks of emotional and cognitive performance.