Resident Life & Wellness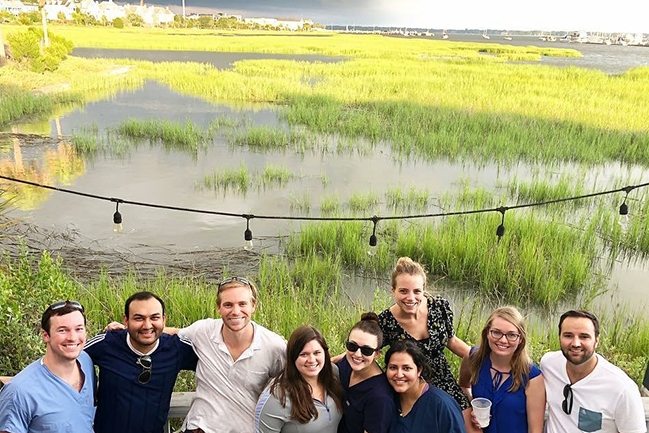 Wellness is extremely important to us. We institute programs every year to promote wellness and avoid burnout. Every individual has different needs to achieve this and our residency program has a strong commitment to supporting this goal. Below you will find some of the ways we are actively maximizing wellness during residency. 
Resident Events
Intern Welcome Party
Interview Kick-off/Fellowship Match Day Party
Resident vs Faculty Basketball Game
Beach week: the residency program rents out a beach house for a week in June every year for exclusively resident use. This culminates in a party on the beach where the entire residency is relieved of clinical duties to attend.
Resident leadership day
Department of Medicine Research Day
Oyster Roast Holiday Party
Food
Free breakfast at morning report conferences
In-House Call meal vouchers
Monthly meal allowance
MUSC Farmers Market where fresh fruits and vegetables are available on Fridays at the hospital
Exercise
MUSC Wellness Center Membership-Provides spouses with a discounted yearly membership.
For activities offered around campus please look here.
Music and Arts
Regular concerts at venues such at The Gaillard Center, North Charleston Coliseum & Performing Arts Center, Dock Street Theatre, The Pour House, Music Farm, Charleston Music Hall, Volvo Car Stadium, much, much more.
Spoleto Festival – annual arts festival with performances by renowned artists as well as emerging performers in opera; theater; dance; and chamber, symphonic, choral, and jazz music.
Food + Wine Festival – this festival infuses our homegrown flavor with top chefs, winemakers, authors, storytellers, artisans, and food enthusiasts from around the globe for a five-day event that spans the first full weekend each March
Charleston Fashion Week - showcases Charleston's most fashionable boutiques & trendsetters, and emerging designer and model talent across the country, Charleston Fashion Week has fast become one of the premier events in North America since its founding in 2007
Southeastern Wildlife Exposition (SEWE) - The largest event of its kind in the US, this three-day celebration of wildlife and nature through fine art, conservation education, sporting demonstrations, food, drink and the people who honor them all.
Financial Planning
Conferences dedicated to financial education not sponsored by financial companies
Employee Health
Emotional health is just as important as physical health. We believe fulfillment in this area contributes to a satisfying and successful life and career. 
Employee Assistance Program (EAP) - confidential free service is available to help address difficult personal, family, and work-related problems. This service is available 24/7 and has confidential appointments available to all residents. 
Social Life
Charleston has been ranked the #1 city in the United States for 6 consecutive years by Travel and Leisure Magazine. Our "Holy City" was even named the Best City in the World by that magazine in 2016. Charleston has such an abundance of festivals, restaurants, beaches (Isle of Palms, Sullivans Island, Folly Beach, Kiawah Island and Seabrook Island), outdoor activities, concerts, parks, historic sites, and museums that you may have a difficult time experiencing it all during residency. Our residents are perpetually taking advantage of all this exceptional city has to offer.
Program Director, Associate Program Directors, and Chief Residents have an open door policy to offer support.