Environmental Influences on Child Health Outcomes (ECHO)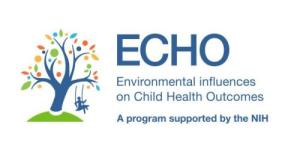 ECHO is a seven year national research initiative sponsored by the National Institutes of Health (NIH) to determine what factors give children the highest likelihood of achieving the best health outcomes over their lifetimes. ECHO is designed to focus on existing participant populations, such as the previous Eunice Kennedy Shriver National Institute of Child Health and Human Development (NICHD) Fetal Growth Studies (NFGS). It will focus on key pediatric outcomes that matter to all children, their families, and thus have a high public health impact.
"Every baby should have the best opportunity to remain healthy and thrive throughout childhood," said NIH Director Francis S. Collins, M.D., Ph.D. "ECHO will help us better understand the factors that contribute to optimal health in children."  Experiences during sensitive developmental windows, including around the time of conception, later in pregnancy, and during infancy and early childhood, can have long-lasting effects on the health of children. These experiences encompass a broad range of exposures, from air pollution and chemicals in our neighborhoods, to societal factors such as stress, to individual behaviors like sleep and diet.
ECHO-NICHD Fetal Growth Study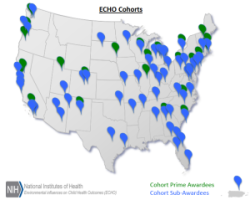 The ECHO-NICHD Fetal Growth Study team is one 84 cohorts from 35 institutions across the United States that will be participating in the ECHO program. To begin this seven-year project, researchers at the Medical University of South Carolina (MUSC) and Columbia University will reconnect with the approximately 2,400 families involved with the NICHD Fetal Growth Study and ask them to enroll their children in the ECHO-NICHD Fetal Growth Study. This cohort team is being led by Dr. John Vena (Principal Investigator) and includes scientists from public health, obstetrics and pediatrics who will then follow the children enrolled at 10 clinical centers throughout the U.S., including MUSC and Columbia University, monitoring their health up through early adolescence.
The ECHO-NICHD Fetal Growth Study group will work to gather data for three key goals:
Explore how the mothers' environments during pregnancy may be linked to the children's health, brain, and learning
Examine associations between fetal development and later childhood obesity and factors that modify these associations
Develop new ways to predict the risk of childhood obesity and neurobehavioral symptoms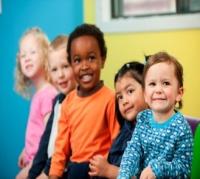 The goal of the MUSC and Columbia University-led team is to gain a better understanding of how environmental influences affect each stage of life. Once this is learned researchers can provide significant information about which environmental factors might be affecting the health and wellness of the country's children so health care providers can offer better, more customized treatments and interventions for pediatric patients and contribute to better health and wellness for all children.
ECHO-NICHD Fetal Growth Study in the News
More information about the ECHO-NICHD Fetal Growth Study can be found using the links below:
Contact Us
If you would like more information about the ECHO-NICHD Fetal Growth Study or ECHO, please contact us.
Contact: JacKetta Cobbs, MPH; Program Manager for ECHO-NICHD Fetal Growth Study
Email: echo-nfgs@musc.edu or cobbsj@musc.edu
Phone: 843-792-0450
Mail:
ECHO-NICHD Fetal Growth Study
Department of Public Health Sciences
135 Cannon Street, Suite 303
MSC 835
Charleston, SC 29425